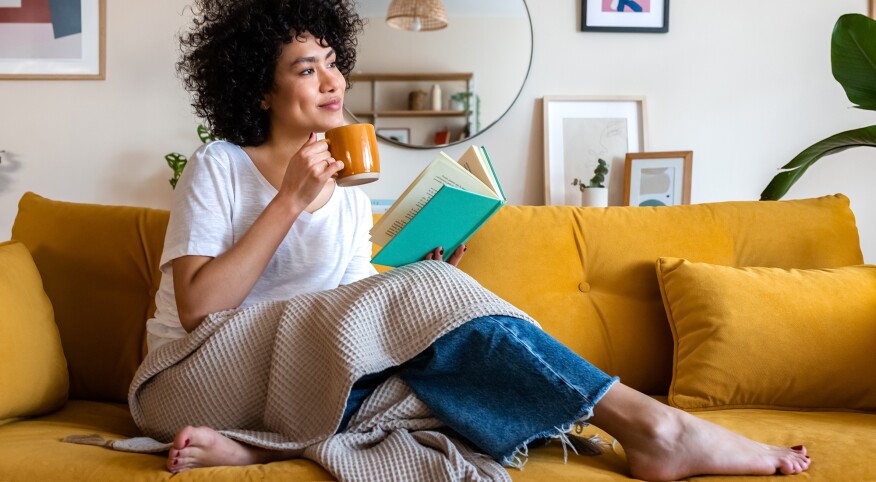 Note to self: I deserve a life filled with joyous spontaneity and recurrent pleasurable moments.

Sis, you, too, are worthy of experiencing blissful moments on a regular basis. But are you present when they happen? Adonica Morgan, an Atlanta-based personal life and somatic coach, says it's the small things that can make life feel more special and less mundane. "We forget what [pleasure] is, especially as we get older and busier," she says. "It can be interchanged with the word 'joy.' It's really a way to slow down, savor moments and connect ourselves with our bodies a little bit more."

But mastering the art of mindfulness is the key to envisioning the life you want to live. And once you perceive your perfect day, you can embody the best version of yourself while adopting simple yet satisfying rituals that coalesce into a daily or weekly experience. Here's how.

1. Start from within

Figuring out what you desire in life requires some soul-searching and moments of stillness. "It's first taking a look at yourself and going with your own intuition," Morgan says. "We forget about that sometimes … we're taking cues from many people so often that we forget what we actually desire."


2. Dig into the details

Try focusing less on the bigger picture and taking more of a microscopic look at what you want your life to look like. To do this, Morgan suggests writing down what your perfect day looks like by incorporating all your senses. For example, "What does it feel like? What do you smell? What do you see? What can you taste? What do you hear?" she says.

Sidenote: At the end of a long week, I made the all-out effort to try this exercise for myself, and I can say that my ideal day is much more apparent — and full of simple pleasures. It's waking up just before sunrise to relish some brief moments of peace and quiet. It's smelling the coffee brewing. It's hearing the laughter of loved ones as background noise in lieu of the television. It's doing as I please, with no agenda. It's seeing life happen in real time. It's thinking openly. It's feeling centered. It's being free.


3. Seek inspiration

Another pro tip? Take notes from those who embody what you want. "It's really examining another person as inspiration so it doesn't become a point of feeling like [you're] not enough," Morgan says. "What do they do daily? How do they take care of themselves? What kind of boundaries do they have? How do they carry themselves every day?"


4. Romanticize your routine

Morgan likes to think of some routines as rituals. Not only can this make your day feel more glamorous, but it can help boost your mental health. "One of my favorites is a [weekly] bath ritual, and that includes lighting candles, really soft lights and some music," she says. "Sometimes, it's really just a matter of my tea ritual. Instead of rushing to put a bag in a mug and put some water in it, I actually take the time to smell the tea before I steep it, and I watch it steep."

Convinced you don't have the time? "If you don't have five minutes, try one minute, and that's OK," Morgan advises. And if you're so inclined, go on and treat yourself to more date nights — with or without the honey. "I encourage people to date themselves, and it's really about learning what you like versus trying to accommodate another person," she adds.


5. Set a daily intention

Being "purposely intentional" every day is a ritual within itself. And once you set an intention, Morgan suggests referring back to it as much as possible. "One thing that I do a great deal is I choose a word … and I use that word throughout the entire year," she says. "If my word is 'commune,' which I think is going to be my word for 2023 … I would say, 'Well, how can I commune with myself and other people today?' And I set an intention [for the day] based on that."