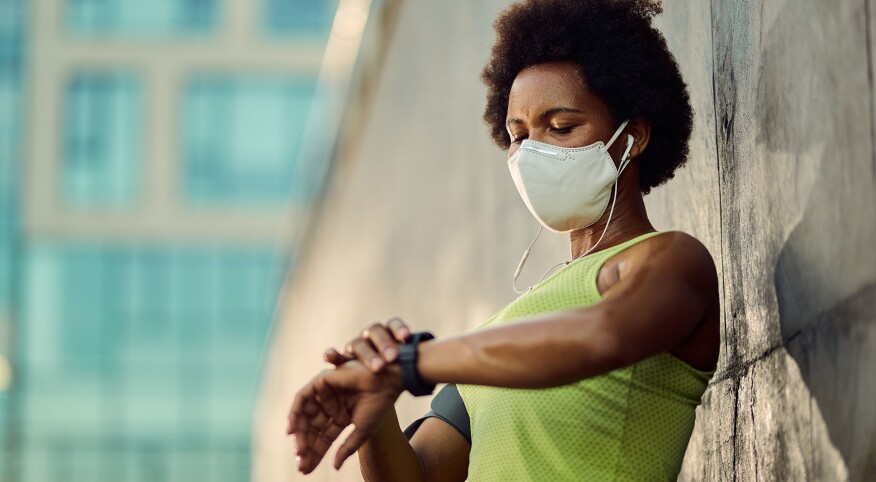 On my resume, right up there with "enthusiastic team player," "creative problem solver" and "collaborative leader," it should probably say "black belt shopper" and "avid runner." After all, when I'm not at my desk writing copy for travel brands, I'm most likely to be found in one of two natural habitats: at my nearest mall (or since the pandemic, "adding to cart" online) or running my favorite waterfront routes in my hometown of Miami.

I've even been known to shop while running, earmarking items in store windows I pass on my sunrise runs and coming back to pick up my "prey" later in the day. So when I got wind of AARP's new rewards program, which allows members (and non-members, too) to rack up points toward serious discounts at a wide range of stores simply by connecting their fitness trackers to a website, I knew I had to check it out.

Signing up (at https://www.aarp.org/rewards) was easy, and I earned 1,000 points right off the bat simply for joining the program, plus an extra 500 points since I'm already an AARP member (membership does have its privileges). Connecting my tracker to the site via its app was easy, as well. I was pleased to see that in addition to Fitbit, the site also is compatible with Garmin (they make the GPS watch I run with), as well as Android smartphones and iPhones. (A word of warning, however: Don't try to be slick like me and attempt to connect two devices to maximize your points. The site only supports syncing with one.) So with a cool 1,500 points in my pocket, I navigated the site to see what was "in store."
Each day that I logged more than 5,000 steps, the program credited me 100 points.
I was impressed to learn, a lot! Of course the deals are always changing, but here's what I found. Rewards are divided into several categories. There are sweepstakes, for which you spend as little as 50 points for a chance to instantly win, say, a $10 Kohl's or Target gift card. Then there are e-gift cards that give immediate digital discounts at retailers such as Michaels and Yankee Candle. On a recent Monday, Michael's offered a $10 gift card for 50 points. With all of us cocooning at home this winter, we're finding ways to bring warmth, light and cheer into our spaces. Scented candles are the perfect accents now. And my crafty girlfriend shops at Michael's for creative inspiration and supplies for her cake decorating, floral arranging and other projects. She'll appreciate hearing about this offer as she selects photo frames for her new gallery wall. The members-only section also caught my eye, with Kroger and Ralph's supermarkets offering $25 cards that I could snag for $22.

Because of the pandemic I'm not dining out now, but it was good to know that Rewards also includes discounted gift cards to restaurants including the Cheesecake Factory, Outback Steakhouse and P. F. Chang's, where savings of up to 20 percent are guaranteed to make my first post-pandemic dinner taste even better.

For the next week or so I had a little extra motivation to pound the pavement (and who doesn't, these days?), my eyes on all those Rewards prizes. Each day that I logged more than 5,000 steps, the program "paid" me 100 points, plus a 50-point member bonus. Logging 10,000 daily steps earned me another 100 points and an additional 50-point member bonus. And my first week, when I completed 30 miles of walking and running, 100 more points and that small-but-significant 50-point member bonus were added to my Rewards balance. Things were progressing smoothly toward my retail rewards. At 50 points a pop, I could enter the daily sweepstakes for a $10 Target card most days of the week. And I had my eye on discounted Wayfair, Lowe's and Home Depot gift cards to fund a much-needed revamp of my messy and disorganized home office.

But then disaster struck. I couldn't find my Fitbit! I searched high and low but it seemed to have disappeared. Resigned to ordering a new one, I went back on the Rewards site to check my points. Good news! You earn 10 points a day just for checking the site (I already racked up 100 just for doing that), and there are other health-related activities you can complete to earn points, too. Joining Denise Austin for a 10-minute body-weight workout you can do in your kitchen and around the house was worth 200 points plus a 100-point member bonus. Jamming to a video of classic '80s dance moves (Cabbage Patch, anyone?) reaped the same reward. Even learning five stretches for my neck and back was worth a total of 300 points. And following along with a video of tips on how to improve my posture, I put another 300 points in the bag. Ka-ching!

So while I waited for my new Fitbit to arrive, I continued to rack up the Rewards, no road running required. By the time it arrived a week later, I'd already earned 9,000 points. It's more than enough to fund my new daily sweepstakes habit. (I haven't won yet, but you gotta be in it to win it, right?) And I've just ordered those discounted home improvement shopping cards. Even better news: I found my Fitbit! It was buried under a pile of incoming manuscripts in my (did I mention disorganized?) home office. Good thing I've got those gift cards on the way.