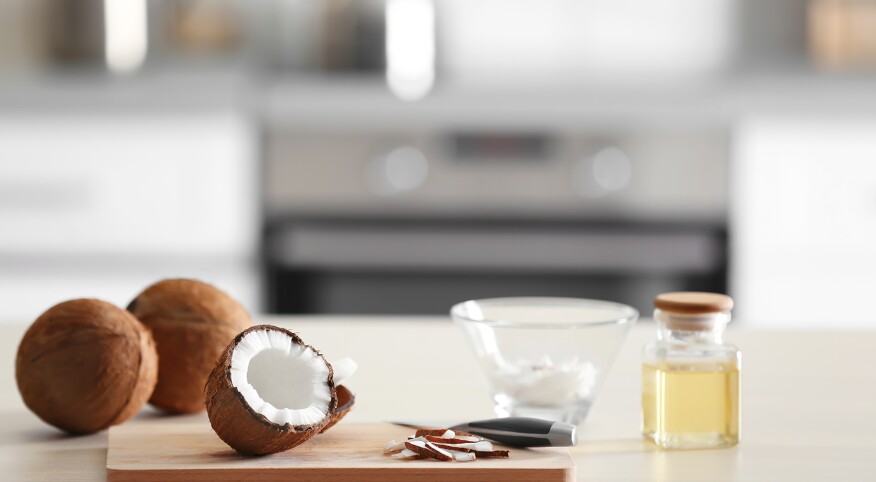 If you're a fan of inexpensive but helpful hair products, or just like to keep things simple, you may want to add a few extra items to your next grocery list.

By shopping the supermarket aisles, you can spend less money than you would spend on pre-packaged hair products. You'll know exactly which ingredients are touching your hair and scalp. And you can use some of these same ingredients for dinner as well. Not bad, right? Here's what to try.

Detangle with olive oil. This well-known flavoring oil can be used to cleanse and detangle your tresses, according to Los Angeles-based celebrity stylist and natural hair specialist Kelsie Lyn. It's not an oil that sits on top of your hair strands (like jojoba oil does), but "it actually goes into the hair," says Lyn, who has styled Jennifer Hudson and Ayesha Curry.

Olive oil also can minimize frizz and friction, strengthen hair strands and add shine, Lyn notes. Before shampooing, you can use olive oil as a detangler when mixed with water or aloe vera juice to help lift product buildup from your scalp.

Detoxify with coconut oil. This multipurpose oil works as a great penetrating oil that can reduce protein loss and strengthen strands. "Virgin oil is the one that changes from solid to liquid because it has all of its nutrients. The others do not," says Lyn. "You always want to use virgin [oil]. Even if it starts to solidify, it will melt in your hand." But, if your hair already has a high amount of protein, and coconut oil is making your hair stiff, it's too much protein for you," says Lyn.

You can use coconut oil on your scalp but it may cause itching if not diluted with other oils. "Coconut oil is antiseptic and antibacterial so some people may find when they're using it on their scalp that their scalp may be detoxing and pulling some other stuff up," says Lyn, noting that a little oil goes a long way.

Cleanse with apple cider vinegar. Diluted apple cider vinegar can be a great alternative to shampoo if your strands feel weak or you suffer from itchy scalp. To safely achieve the benefits of this rinse, mix one-quarter apple cider vinegar with three-quarters water, distribute it throughout your scalp and hair then rinse with warm water. "If [apple cider vinegar] is not diluted then it's too much acidity," warns Lyn. "It can change the softness and viability of the hair and scalp."

"You can use apple cider vinegar as often as you wash your hair," says Lyn. "You should already be following with a conditioner anyway so if there is a scent residue it won't last," she adds.

Moisturize with an avocado mask. If you plan on making guacamole, save an avocado for your hair. Avocado contains natural oils that can penetrate hair cuticles and provide moisture to hair strands. To strengthen your hair, add mayonnaise. "Mayo has extra protein, but it still gives you moisture balance," says Lyn. "[A hair mask] with aloe and honey would be really good for moisture balance and softening the hair."

You can mix one whole avocado with one cup of mayonnaise and one tablespoon of honey. The measurement may vary depending on the thickness of your hair and how much product you need to make. (You also can use avocado to make a homemade facial mask.)

Style with a flaxseed gel. Flaxseeds can make up a pretty strong styling gel that seals in moisture and strengthens strands. "It's very moisturizing while it's wet and then when it dries it has a nice hold to it," says Lyn. "Flaxseed gel does not contain alcohol like other basic gels that dry out your hair but continues to have that strong hold without the flakes," she notes, adding that flaxseed gel also contains omega-3 fats and vitamin E.

To make flaxseed gel, boil flaxseeds in a pot of water and wait for a foam-like substance to rise to the top. Scoop out the foam substance and let it cool into a gel. The longer you boil the flaxseeds, the stronger the gel hold will be. "If you want to soften up the gel, you can mix it with certain oils," says Lyn, noting that this gel can give your hair more mobility as well as "great definition and sheen."

Flaxseed gel can last up to two weeks in the fridge but will only last a few days on the counter. Then, feel free to go back to the grocery store to buy more essentials.