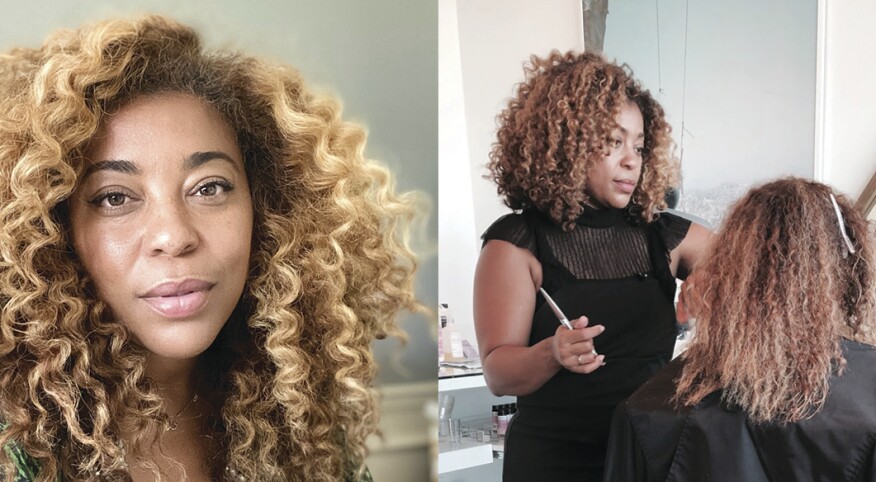 What are you doing with your hair these days?

Here at Sisters, we ran an informal poll on our home page in July 2020 asking what readers planned to do with their hair as we continue to manage this pandemic. The largest share, 44 percent, said they were still planning to style their hair from home. Another 24 percent were looking forward to hair appointments, 18 percent said they didn't care about their hair now, and 13 percent were undecided.

Our hair may seem like a small thing during this pandemic. But, in a general sense, our hair can be tied to our moods. Think about how hair loss can be such an emotional issue. (If you're experiencing hair loss, please see our coping tips.) And why we make sure our hair is cut, combed and coiffed.

As we try to keep our spirits up as we continue to social distance, wear face coverings and frequently wash our hands (our nails are another story), we may continue to do more hair care at home. So I contacted celebrity stylist Tippi Shorter, the global artistic director with Mizani (a division of L'Oréal that offers professional products), who has styled Alicia Keys, Rihanna, Lady Gaga and others.

Shorter knows her stuff — and shared some great info.

Ease your routine. If your hair has been a cause of stress, give yourself a break. We've got enough else going on right now. Then modify your routine. "For example, I used to wash my hair twice a week. … I now do it once a week," says Shorter, noting that she might rock a few more ponytails these days. And that is fine.

Monitor and prevent breakage. "Breakage can happen from lack of moisture and hydration, which is the culprit for a lot of people," says Shorter, noting our hair tends to be dry because of its texture. So hair can then break off if you, say, pull it back in a ponytail every day and leave it that way, Shorter says. Then there's breakage due to chemical or heat damage. And breakage due to medications or health issues.

If dryness is your issue, get moisturized. "You have to put moisture on your hair daily, whether it's an oil, a cream, something," Shorter says. Also ease up on heat treatments, and when you're flat ironing your hair, don't go over the same strand multiple times.

If you're seeing lots of breakage or hair loss, it's time to call your health care provider, as this could be due to a medication issue or health condition. A professional can evaluate you and recommend some treatment options.

Put down the scissors. Unless you really know what you're doing. "I definitely don't recommend taking clippers or scissors to your own head," Shorter says. But if you're thinking about doing the big chop and can't see your stylist, but need to cut your hair because of breakage, damage or just a state of blah, have someone help, she says. "[Then] gently cut your hair at the line of demarcation. So where your hair is doing one texture and then where your hair is at another texture, right at that mark, just make sure that's the only place you're cutting." (Do this safely. Ideally, this would be done by someone from your household as we continue our social distancing.) If you don't have help, you might want to call your stylist for a suggestion. Or have really steady hands.

Care for gray hair. If you're growing out your gray, "the one thing I just have to say is patience," says Shorter. I'll also add: Stick with it, if you want to. Silvery strands can be beautiful.

If you've had gray hair for a while, you know it can require special care. If you're using lots of heat or chemicals, grays can start to look yellow or brassy. If this is your current reality, use a counterbalancing purple shampoo; find one via local stores or online retailers. And prevent problems by easing up on chemicals and heat.

Try a color spray. If you're not ready to show the world your silver, say if you're on lots of video calls or just prefer a different color, that's fine, too. For a quick cover-up for grays, Shorter uses and recommends temporary color spray. Home coloring products were hard to find earlier this year at stores and drugstores for a reason. Just match the spray to your regular hair color and voila. Done.

Be careful with dye. This is not the time to try to go blond from home if your hair is naturally brown. (That's what wigs are for!) "You should never ever be coloring your hair at home outside of covering your grays, period," says Shorter. That's because you can damage your hair or scalp and have less-than-ideal results for color.

One more thing I'll say: If you remember the 2019 study that found women who use permanent hair dye and chemical straighteners have a higher risk of breast cancer than women who don't use these products, and feel worried, talk to your health care provider. And maybe consider semipermanent dye.

Get slick. It's an easy way to be chic. "You shampoo and you condition it. You put some leave-in conditioner in there. You detangle it. You get yourself a really nice, alcohol-free gel and smooth it back into the most sleek ponytail you've got," Shorter says. "Throw on some big earrings and a bright lip color." And then hello, glam — even at the grocery store or on Zoom. (Maybe skip the lipstick under your mask.) Just don't do this every day, to avoid breakage.

This trick works with short hair, too. "Give yourself a really cute part, a deep side part, slick it to the side, tuck it behind the ear. Again, big earrings, bright lips," says Shorter. "Big earrings and bright lips and a deep, side part will do a world of difference."

Buy a secret wig. "I love a good wig, and actually I always recommend that everybody, at least once in their lifetime, gets a custom unit made that looks like their hair," Shorter says. "That way, when you have terrible hair days, you're not struggling to try to run the flat iron over your hair 30 to 40 times. All you got to do is pop on your identical wig and you're ready to go for your online meetings or the trip to the store or whatever you've got to do."

I didn't even think of this. How's that for a quick fix? You can start with your stylist, or a friend whose wig game is always together, to gather info on where to buy.

Go digital. After all of this, you still may miss your stylist. "I love going to the salon, getting my hair done. And so I know that there are tons of women who are also salon women, who depend on their stylist, depend on their expertise," Shorter says.

The solution: a video tutorial. (Some stylists also are offering video consults now, says Shorter, but they're more for people who will make appointments in the future.) For a video tutorial, Shorter says, you'll order any needed products from your stylist and book a time. Then your stylist will "walk you through your entire process, your entire hairstyling … right on Zoom or right on FaceTime or whatever," Shorter explains, noting that these visits can last about an hour and cost less than a regular salon appointment.

Ask if your stylist offers this service or, if not, can recommend someone, says Shorter.

And love your hair — and love yourself — as you look beautiful from home.