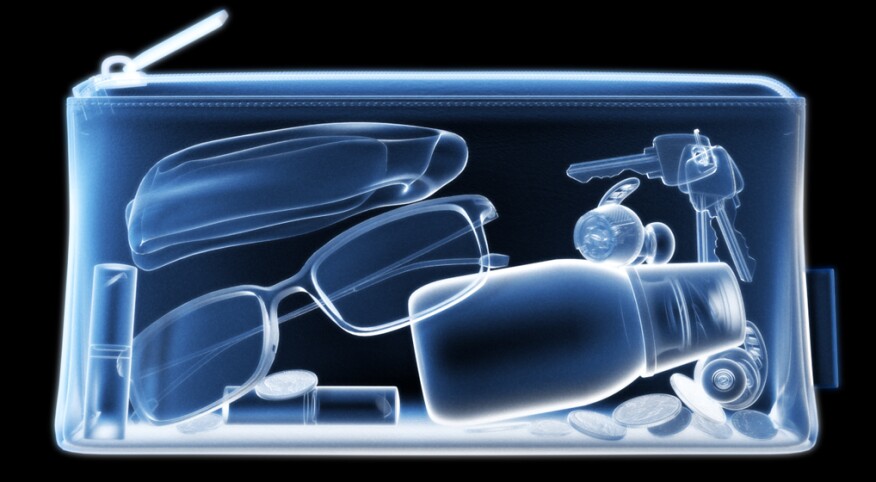 You likely tote necessities like an extra face mask; travel-size hand sanitizer; your favorite lipstick and moisturizing lip balm; a pack of facial tissues; pressed powder or blotting paper to combat T-zone shine; and breath mints or a bag of peppermint candy (grams would be proud).

But what less obvious items should you consider carrying for when you need a quick touch-up, freshen-up or pick-me-up, or in case of an emergency? For instance, contrary to popular belief, Beyonce was actually referring to a baseball bat when she infamously sang, "I got hot sauce in my bag, swag" on her anthemic "Formation." But like verified hot sauce lovers Patti LaBelle and Hilary Clinton, many of us do like to keep the spicy condiment handy in our handbags!

Do you carry a little something to shield your 'do from rain and shrinkage? Sisters suggests nine things every Black woman should probably keep in her purse — and seven things to consider removing immediately.


A fashion-forward pair of readers or shades

Squinting can promote wrinkles, sis. So, preserve your vision in style with a pair of statement-making readers like a cool cat's-eye in a tortoise shell or retro wire frame. Also keep a pair of shades stashed in your purse to shield your eyes from the sun (some sunnies feature magnification for nearsightedness, so you can solve two problems with one pair).


A small umbrella and crushable rain hat

If, like Tina Turner, you can't stand the rain, make sure to keep a mini umbrella tucked into your tote bag or purse. To further protect your hairdo from the mist and dew, carry a cute cap or waterproof rain hat.


Upset stomach relief chewable tablets

Fewer things are more embarrassing than having a case of the bubble guts when you're in a work or social setting. Reduce your chances of making a "silent but deadly" outburst by keeping some chewable antacids or antidiarrheal tablets handy.


Foldable flats for when your feet hurt

After you've put your best foot forward in a fab pair of pumps during a special event or festive night out, give your tootsies a rest and slip on some comfy and fashionable foldable flats.


A fashionable scarf

Need a warm layer or quick way to make an ordinary outfit look instantly chic? Pull a pashmina with an eye-catching pattern out of your bag of tricks.


Noise-canceling Bluetooth earbuds

These will be a lifesaver anytime you encounter noise and chatter you want to tune out, from your daily commute when you want to listen to your favorite Sisters from AARP playlist uninterrupted, to a hotel stay where you want to channel surf and chill instead of hearing the chatty guests in the next room. Don't just use them for audio — they are great for peaceful reading, too.


Portable cellphone charger

In case you need to make or receive an important call, always keep yours within reach. Some purses even have a built-in charging feature!


Emergency snack

Feeling hangry? Pack a small dark chocolate bar or a 100-calorie bag of nuts for a healthy afternoon energy boost.


Stylish reusable bag

In this case, it's OK to be a bag lady. Tuck a stylish and foldable tote or reusable bag inside your pocketbook. It will come in handy for impromptu grocery stops or household errands.


7 Things to Consider Removing Immediately

I don't know who needs to hear this, but keeping the following items in your wallet or purse could make you vulnerable to scammers and identity theft. In the unfortunate event that your purse is lost or stolen, here's a tip: Place a fraud alert on your credit reports. According to the Federal Trade Commission, this can make it more difficult for thieves to open accounts in your name. To learn more, visit www.aarp.org/money/scams-fraud/.


Social Security card

Memorize the number and keep the physical card in a safe and memorable place at home. If you suspect your Social Security number is being used, report it to the Social Security Administration Fraud Hotline, 800-269-0271.


Medicare and health insurance cards

It may be a hard habit to break, but once your doctors and health care providers have your Medicare or other insurance information, you don't need to bring your card to every appointment. If lost or stolen, scammers can use your card to rack up medical bills that will be charged to your account. And in an emergency, don't worry, a hospital can confirm your coverage with the insurance company or the Medicare provider line.


Password cheat sheet

Yes, it's hard to remember all of those pesky passwords. But don't put a cheat sheet in your purse, where both you and a stranger can find them.


Passport

When you're lounging on the beach or sightseeing ancient ruins, the last thing you need to worry about is losing your passport. So, make a copy and leave the original in the hotel safe or securely stashed if you're staying in a vacation rental.


Blank checks/checkbook

Yikes! Did you know that one blank check with your account number and bank routing number printed on it has the potential to allow criminals access to every cent in that account? So, carry only the check or checks that you need that day and leave the checkbook safe and sound at home where it belongs. Learn more about check fraud here.


Work I.D. badge

It seems like a good idea to leave your work I.D. in your purse so you won't forget it. But a cybersecurity expert says that once thieves obtain your employee identification number, they are able to obtain other personal data. Protect yourself by securing it on your person when you need it. Report a lost or stolen identification badge to your employer ASAP.


Birth certificate

In the wrong hands, your birth certificate can be used to obtain a replacement Social Security card, a passport or a driver's license. So please, leave home without it.