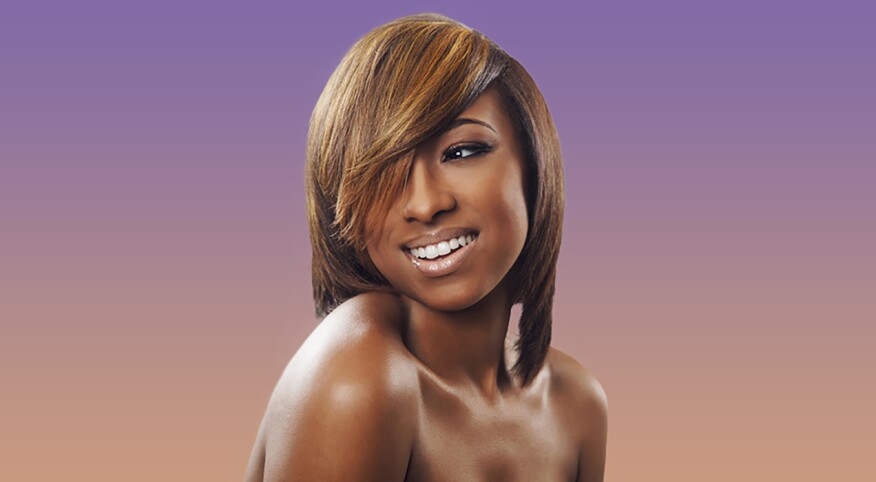 Want to liven up lackluster locks without making a drastic change? Say hello to highlights. Whether you're looking to give your natural hue an extra boost, revive drab box color, complement your curls or make that melanin pop, highlights can add just the right amount of contrast and dimension. They can also make fine tresses appear thicker and enhance the look of dull, gray hair. Here's everything you need to know about choosing the right highlights for your strands, skin, schedule and wallet.

1. Consider your time — and your coins.

Highlights are a great alternative to single-process color if you want to keep your base hue. But they often come with a heftier price tag depending on the color service you choose (e.g., full or partial highlights, foils or balayage), application time, salon location and experience level of your colorist. To keep things low maintenance and budget-friendly, start with a few face-framing streaks instead of full highlights, and opt for a color within two shades of your natural hue to avoid frequent touch-ups. For optimal results, leave highlights to the pros and be honest with your colorist about your hair history, including previous and current color or relaxers. Also, you might want to do away with DIY root touch-ups, as they can make your highlights appear uneven if done improperly. Good to know: Clip-in extensions are a fun and easy way to fake highlights before committing to color.


2. Choose between balayage and foils.

Balayage involves painting random sections of hair to create a dark-to-light effect, usually starting midway down the strands and going all the way to the ends for a natural-looking finish. If you don't want to stray too far from your natural base color, balayage is your best bet. Plus, you won't need a touch-up for three to four months due to the seamless regrowth. Foiling involves lightening specific sections of hair from root to tip for a more symmetrical look. Opt for this method when coloring dark strands more than three or four shades lighter or if you want a higher contrast.


3. Know the difference between highlights and lowlights.

According to Patricia Flournoy, a master cosmetologist and colorist, highlights add sheen and contrast to the hair, while lowlights add darker tones to help blend. "If a client gets blond coloring done and it's a little too much, lowlights would be applied to balance the shades and make the hair color look more natural," she explains. You can also use a combination of highlights and lowlights to help soften the look of gray hair if you want to avoid allover color. "Solely applying lowlights can make gray hair look muddy, and a lot of times it needs both highlights and lowlights to blend correctly," Flournoy adds. "The more dimensions you apply to gray, the more natural it looks."


4. Complement your crown and complexion.

To figure out which highlight hues flatter you the most, your colorist must get familiar with your skin's undertones. According to Flournoy, sisters with warm undertones wear red, copper and gold colors well, while sisters with cool undertones can pull off blue, ash burgundy and purple-violet tones. Your colorist should also understand how to complement and contrast your hair's base color: "I like to do a test strand to ensure that the tone works for the client," says Flournoy. Pro tip: To correct unwanted results, your colorist can use a toner to neutralize or enhance the hue of your highlights.


5. Proceed with caution if your hair is relaxed.

Lifting (aka lightening) the hair makes it more prone to damage and susceptible to breakage. This is especially true for relaxed tresses. The reason: Permanent color contains ammonia to open the hair cuticle as well as hydrogen peroxide to strip your strands' natural pigment — two harsh ingredients. To err on the side of caution, it's wise to avoid highlighting relaxed hair, but if you do, Flournoy says you should never color your hair prior to relaxing it. A good rule of thumb? Wait about two weeks after relaxing your hair to apply color. "[This will] allow [the hair] to return to its normal pH and for the hair bonds to harden back," she adds. "I still would not recommend treating the hair with a high level of lift, even though enough time has passed."


6. Prioritize proper maintenance.

It's not uncommon for natural hair to dry out after the coloring process. But going dramatically lighter in a single session can potentially loosen your curl pattern as the hair loses its elasticity. To minimize damage post-highlighting, load up on moisturizing leave-in products, deep condition weekly or biweekly and consider incorporating protein treatments into your routine to help strengthen your strands. You might also want to invest in a sulfate-free shampoo formulated for color-treated hair to keep your streaks looking fresh. Additionally, Flournoy suggests avoiding heat until the hair reverts back to its normal pH. Pro tip: If possible, go to a professional every now and then to ensure your highlighted mane is flourishing.

Three color-safe shampoo options: Redken Color Extend Magnetics Sulfate-Free Shampoo ($24, Ulta), Moroccanoil Hydrating Shampoo ($26, Sephora) and Pureology Strength Cure Shampoo ($33.50, Sephora)