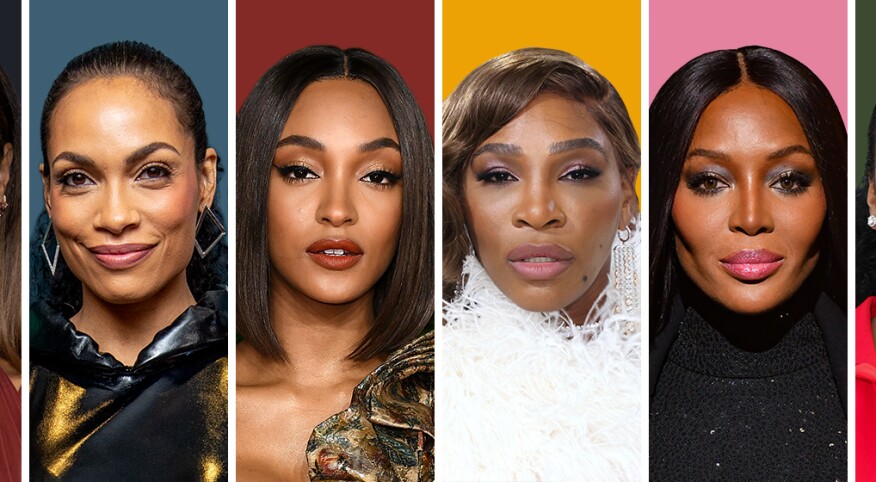 Watching makeup gurus contour a face looks easy until it's time to do it yourself. But mastering your sculpting skills starts with knowing that there's no one-size-fits-all way to contour since everyone's face shape is different. Whether you're looking to slim certain areas of your face or make those cheekbones pop, getting to know your face shape better can help you get the most out of this beauty trend.

A few starting points

To determine your face shape, celebrity makeup artist Camara Aunique, whose clientele includes Angela Bassett, Pauletta Washington and Lisa Price, suggests looking directly in the mirror to examine your facial structure. For example, "if your face is square, you'll be more square at the chin, and an oval-shaped face will be a little more pointy at the top and bottom," she explains.

After applying your foundation, add some depth to your face with a contour color that is at least two shades deeper than your foundation. Then, start sculpting with a soft angled brush. "Creating small lines around the forehead, cheekbones and jawline help [you] to see where more dimension needs to be added," says Camille Ariane, a celebrity makeup artist who's worked with Lynn Whitfield, June Ambrose, Nomzamo Mbatha, Rapsody and Marsha Ambrosius. For a seamless finish, blend well with a damp beauty sponge.

Optional: To enhance the shadows you created with your contour, try highlighting with a concealer that is one to two shades lighter than your foundation. This technique brings forward the parts of your face you want to accentuate. Where to highlight depends on your face shape, but common areas include under the eyes and the center of the forehead and chin.

Related: Which Hollywood Beauty or Cover Girl Shares Your Face Shape?
Oblong - Joan Smalls, Tracee Ellis Ross
Square - Rosario Dawson, Zoë Kravitz
Oval - Beyoncé, Jourdan Dunn
Diamond - Serena Williams, Meagan Good
Heart - Naomi Campbell, Kerry Washington
Round - Queen Latifah, Tatyana Ali



Guidelines for contouring each face shape: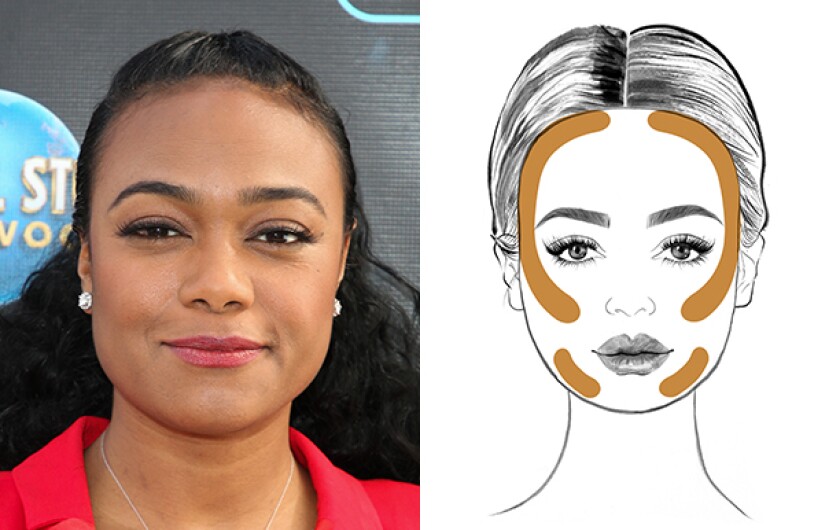 Round: Round faces flaunt fullness, soft edges and great symmetry. With no sharp angles, the goal is to create your own for added definition. Contour the sides of your forehead and temples to make your face appear less wide. Then, contour underneath your cheekbones for a more pronounced look. To give the illusion of a longer face, swipe along your jawline.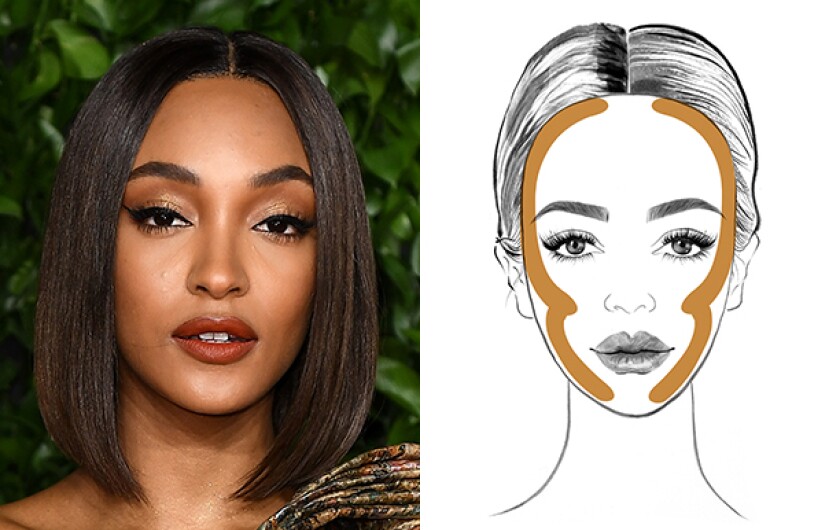 Oval: Oval faces are usually wider at the forehead and narrower at the jawline, resembling an inverted egg. Deemed the most balanced face shape, an oval face doesn't need much enhancement. But for a little more oomph, use the "E and 3" trick. "Create dimension in the hollows of the cheeks, into the hairline and around the jawbone," Ariane advises.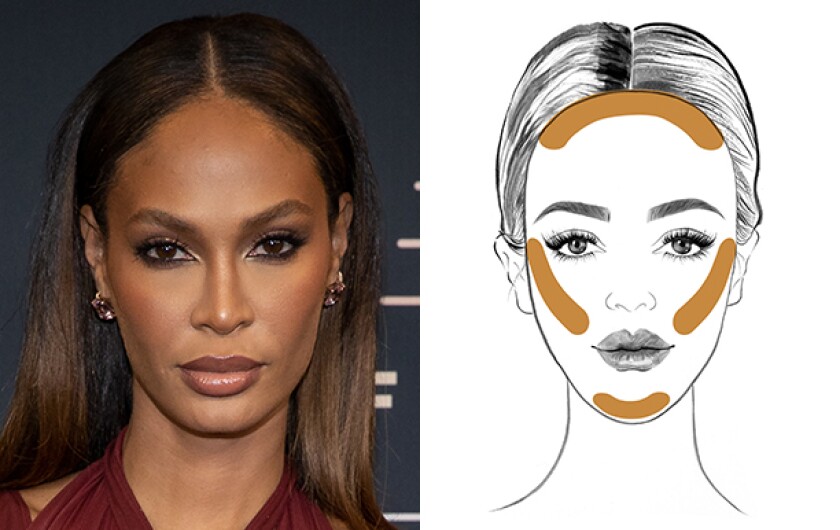 Oblong: Think of an oblong face as a more elongated version of an oval face. It's roughly twice as long as it is wide, while the forehead, cheekbones and jawline are almost the same width. To make your face appear shorter, contour along the top of your forehead and right below your chin. If you want to emphasize your cheekbones, swipe the contour in a curving motion starting from your ears to just below your cheekbones.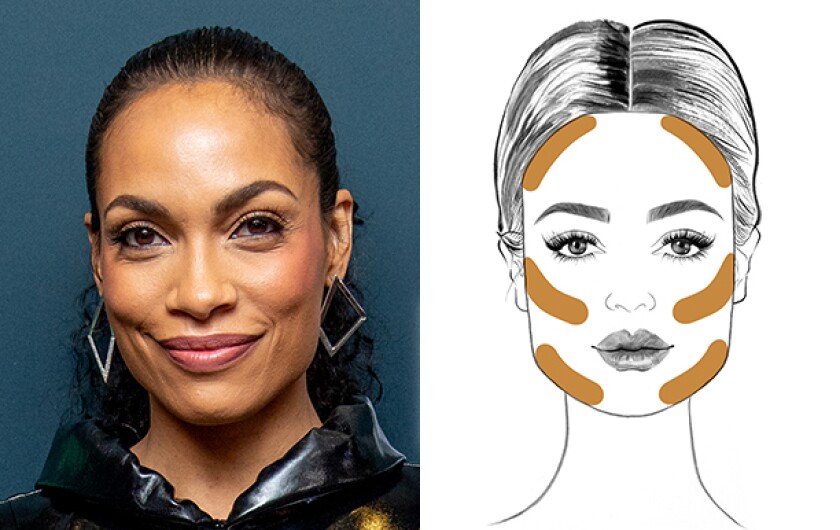 Square: Boasting strong bone structure, square-shaped faces are known for having sharp angles and equal dimensions. When contouring, consider making the perimeter of your face appear narrower. "Contour on the top [outer] corners of the head and under the jawline, coming up a little to soften the lines," Aunique suggests. You can also contour below your cheekbones for added definition.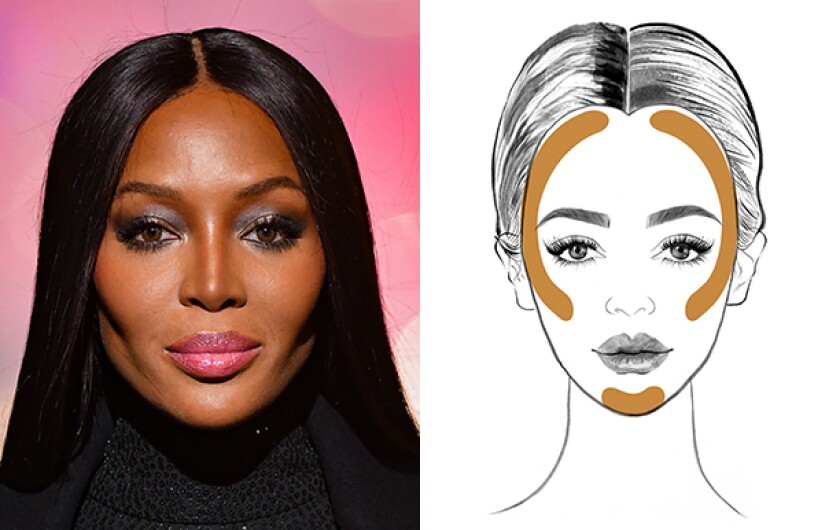 Heart: A heart-shaped face is usually characterized by a narrow chin, wider forehead and sometimes a widow's peak. "Focus on shading the top of the head and enhancing the cheeks," Aunique says. This helps balance out your forehead with your slim jawline and gives your cheekbones a more chiseled look. To make your chin appear less pointy, consider shading it at the bottom.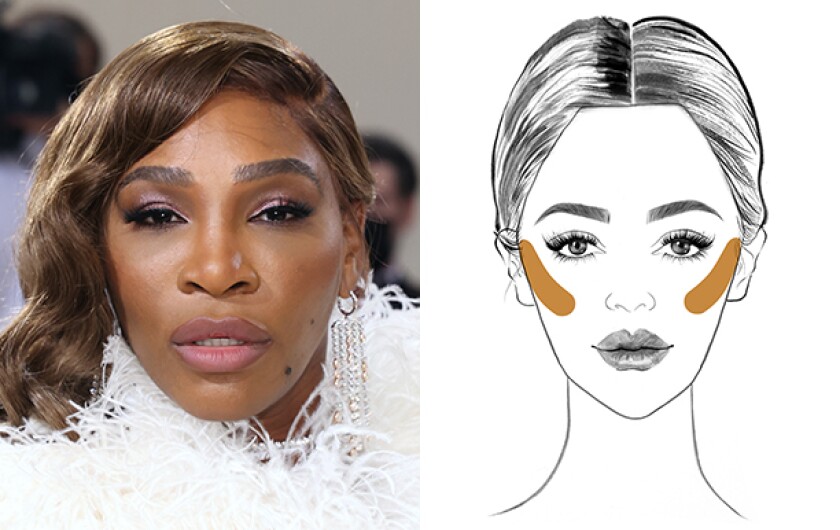 Diamond: If you're a diamond beauty, your cheeks are the star of the show as both your forehead and chin are narrower than the center of your face. Aunique suggests focusing on defining your cheeks. Simply draw a line starting from your ears to the middle of your cheekbones.