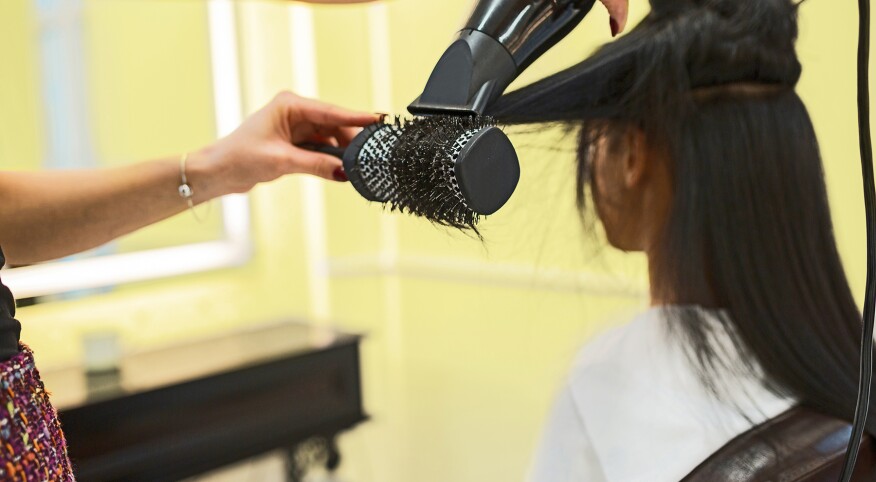 Who among us couldn't relate to that hilarious "Wigzard of Oz" sketch on A Black Lady Sketch Show, featuring a magical salon where "it is our mission to give every Black woman the full-service beauty experience she deserves?" Now more than ever, sisters value our time and money. No one wants to endure long waits at a salon or pay extra for styling longer, thicker hair. Or worse, to shell out money to a salon that doesn't understand our needs. As more sisters ditch relaxers while valuing style flexibility, walk-in heat styling services and products need to be more accessible. Fortunately, on-the-go sisters who want their tresses laid for tomorrow's meeting, or slayed in time for tonight's holiday party, have got some options.


Option 1: Visit a blow-dry bar that caters to Black hair.

Blow-dry bars provide quick styles that typically involve washing, blow-drying and styling the hair — minus the cuts and color. But many lack the proper tools, products and expertise to care for thick curls and coils. Thankfully, blow-dry bars for textured hair are beginning to open in some cities. They offer cleansing, conditioning, strengthening and smoothing treatments for various hair types.

At Paralee Boyd, a walk-in-only blow-dry bar in Detroit, "we do three layers of heat protectant before blow-drying and one more before we style, even though we don't add a lot of heat to your hair," says owner Dana White. "We [also] use lean manufacturing [processes] to get women in and out in a certain amount of time." Pressed Roots, a luxury blow-dry bar in Dallas, also prioritizes healthy hair and swift styling for highly-textured locks. Similarly, Hair + Space Blowdry and Beauty Bar in College Park, Maryland, offers speedy blowouts. It also offers natural curl-care sessions, a service that many general-market salons are not equipped to offer due to a lack of knowledge about tighter curl patterns.

If you're closer to a blow-dry bar that caters to the general market, requesting a standard blowout and flat iron, with add-on services such as a deep-conditioning treatment, may be your best option. But consider calling the salon to inquire whether their stylists are experienced with textured hair.


Option 2: Visit a salon with walk-in services and know what to ask for.

While traditional, appointment-based Black salons offer full services, such as heat styling, color, perms and sew-ins, some accept walk-ins where you can simply ask for a wash and style. If you're at a Dominican hair salon, you can usually achieve heat styling in a hurry with the "Dominican Blowout," which involves washing, deep-conditioning, roller-setting and blow-drying the hair on high heat with a round brush. Sometimes, this is followed by a flat iron.

Good to know: High heat in excessive amounts may loosen your curl pattern over time. Try to limit heat styling to once a month and ask your stylist not to exceed 400 degrees on the flat iron or blow-dryer. Deep condition your hair prior to your appointment to ensure strong, moisturized strands. You might also consider bringing your own products with you, such as your favorite heat protectant.


Option 3: Achieve a flawless blowout at home.

Cleanse: Shampoo. Follow with a deep-conditioning treatment.
Blot: Use a microfiber towel to remove excess water.
Part: Divide hair into sections.
Detangle: Use a wide-tooth comb to detangle each section. Start at the ends and work up to your roots.
Protect: Apply a thermal protectant prior to blow-drying.
Two thermal protectants to try: TRESemmé Thermal Creations Heat Tamer Spray ($6.99, Ulta.com) and Kenra Professional Thermal Styling Spray 19 ($18.99, Ulta.com)
Smooth: You might also consider using a lightweight serum for smoother results.
Two serums to try: Paul Mitchell Super Skinny Serum ($23, Ulta.com) and Biosilk Silk Therapy Original ($28, Ulta.com)
Style: Using a low-to-medium heat setting, glide a nine-row brush and a blow-dryer with a narrow nozzle attachment simultaneously through your hair to direct the heat from the blow-dryer onto the brush. This technique gets your strands as stretched as possible. If you desire to finish your style with a flat iron, this also will allow you to pass the flat iron through each section of hair once.
Two brushes to try: D4 Original Styler 9 Row ($21.95, DenmanBrushUS.com) and CHI Turbo Styling Brush ($14.80, CHI.com). Two blow-dryers to try: Conair Professional SilverBird Turbo Dryer ($54.99, SallyBeauty.com) and FHI Heat Platform 1900 Nano Lite Pro Hair Dryer: Chrome ($160, FHIHEAT.com)