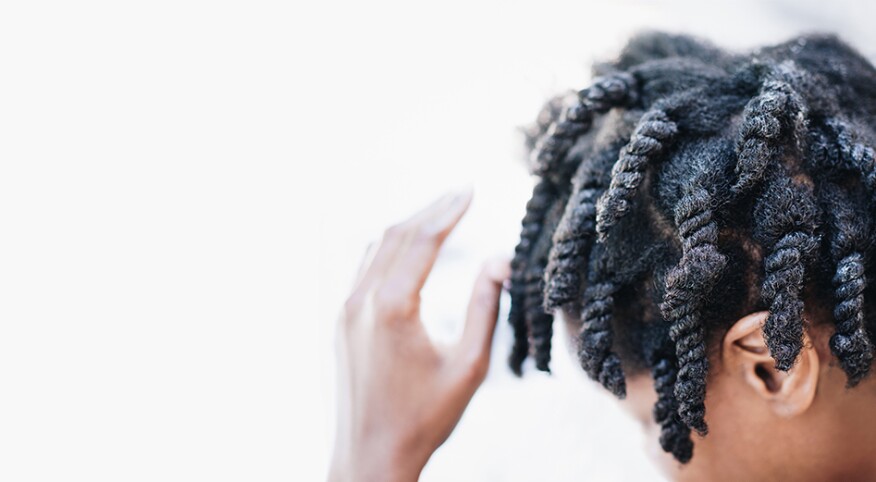 Two weeks into working from my New York City studio apartment, I stood in front of my bathroom mirror between video meetings fussing with my mane. My kinky, type 4A hair wasn't cooperating: The $17 curling custard wasn't holding my curls, the $12 leave-in conditioner wasn't conditioning. In a fit of frustration, I put my hair in a pineapple, wrapped my head in a silk scarf, put on some hoop earrings and joined my next video meeting.

The truth is, I was fed up and exhausted with trying to make my hair look and behave like the big, bouncy curls on the perfect women I would watch on YouTube. As the days wore on, exhaustion set in. Exhaustion from hours spent twisting and twirling my hair so every curl was perfectly defined and frizz free. Exhaustion at myself for trying to maintain "good" hair while the entire world was in crisis.

Though I can't remember the last time I had a relaxer, I wore full sew-in weaves for more than a decade. As a young pageant competitor, I'd maintain the signature beauty queen style: long hair with large, voluminous barrel curls. So I did what many pageant competitors did: I fried my leave out with flat irons and curling wands, held it in place with drying sprays, and most importantly, got tight and expensive weaves of silky "Brazilian" hair (though it more than likely came from a woman in India or Southeast Asia) to mimic the hair of the women who were always deemed the most beautiful and desirable.

Though weaves can help protect your hair from the elements and heat styling, due to complacency and simply not knowing how, I had hardly been caring for my hair and scalp under the weaves, let alone my leave out, which eventually became a dry, broken-off mess. The styles I used to wear also usually concealed my rapidly thinning hairline, so I could usually push the reality of the long-term damage these weaves were doing to me to the back of my mind. But it's only fine until it's not. It took two years after I stopped competing for me to finally say "enough." It was after a particularly bad install — my weave was so tight I could not sleep — that I lifted my closure and examined my tender hairline. I thought back then: Was my insecurity about my hair worth potentially permanently losing it? How could I preach to my little sister and niece about self-acceptance, all the while I went to such great lengths to not accept myself?

I had my breaking point with weaves — literally — and vowed to wear my hair natural from that point forward.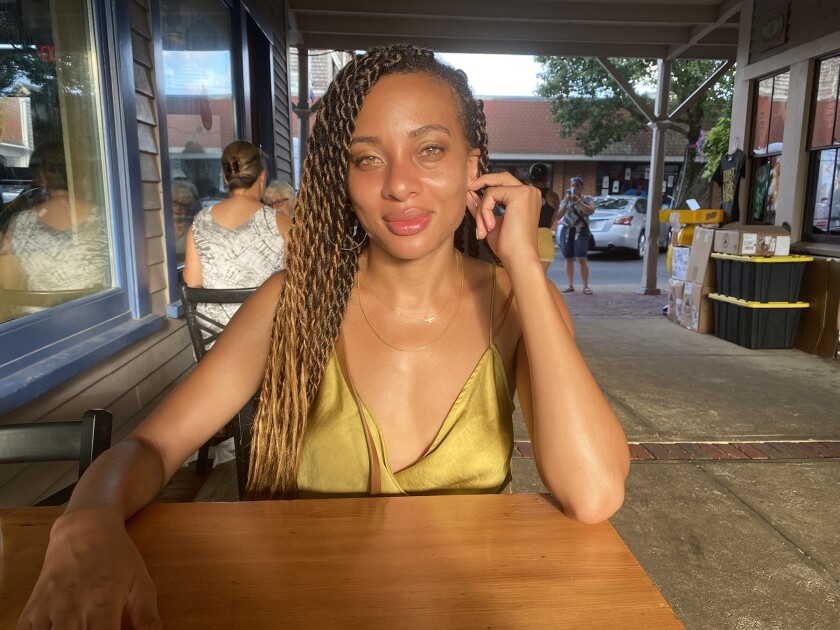 But the road to total self-acceptance isn't linear. When I switched to going natural, it involved months of trial and error with expensive products, hours of watching YouTube to find styling techniques and disappointment when my style inevitably didn't turn out like the style of the woman with 3B hair in the video. Even though on the outside it looked as if I was embracing my hair, I was still doing everything possible to change it, to make it less kinky, to make it shrink less, to make it have the perfect amount of volume without being too big or frizzy. I had simply traded my weave for a new mask, one made of pricey curling creams and gels.

When my workplace closed our offices in early March 2020, I tried to do what some "experts" said to do when working from home. I resisted the urge to stay in my pajamas and bonnet all day and instead got dressed as if I were going into office, doing my hair and makeup as well. This meant spending an hour or more each night retwisting my hair so I would have a perfect twist out in the morning, or getting up early to finger curl my strands to have a defined wash 'n' go — even if I barely slept the night before because my anxiety about the pandemic kept me awake. Sometimes, I would be in front of the mirror while listening to Gov. Andrew Cuomo's daily coronavirus press briefing, fussing with my hair before a meeting while he solemnly talked about how many New Yorkers had died the night before. The nonstop noise of ambulance sirens in my Manhattan neighborhood and worried texts from family started to make it difficult to focus on work. As the days wore on and the crisis deepened, making my hair "presentable" moved further down my priority list.

Being almost frustrated to tears about your hair during a global pandemic will finally wake you up to the absurdity of your insecurities. In a time where uncertainty is the only constant, the weight of my self-imposed mask became too much wear day in and day out. It was time to let my hair and, by extension, myself to just be.

Staying inside was finally what freed me from the boundaries and expectations I had created for myself. The government forcing me to stay inside forced me to sit with myself and recognize that my hair, healthy and full, was enough on its own. Letting my hair flourish in its natural state without over manipulation and focusing on health over style is my priority now. Don't get me wrong, this doesn't mean I'll be tossing my styling products in the trash; it simply means I won't be fighting to make my hair something it is not. If my wash 'n' go shrinks, so be it. If I wake up late and have to throw my hair into a frizzy bun, that's fine, too.

I had put so much emphasis on always being "presentable" and immaculately groomed. Now I realize that this emphasis was actually reinforcing the negative perception that our hair is wild and needs to be tamed. If a messy topknot is a chic style for women with straight hair, it should be viewed the same way for women with Afro-textured tresses.

As New York City reopens and life starts to have a little bit more normalcy, I haven't reverted to my near-obsession with perfect hair. I'm rocking Senegalese twists I did myself — the parts aren't straight and my hair is frizzy, but I think I look damn good.

The mask of presentability is one that I'll no longer be wearing. Ironically, the stay-at-home order is what forced me to finally take it off.