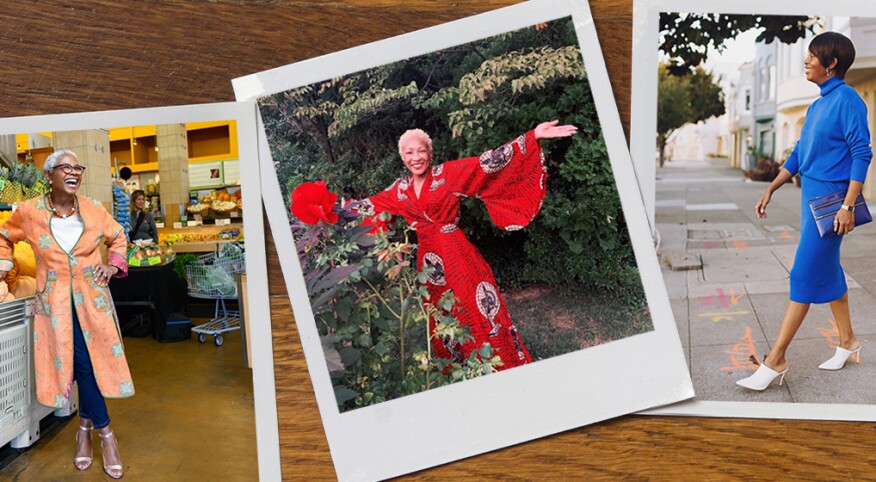 After the weeks of stay-at-home orders I'd spent in tights, leggings, jeggings and sweatpants, I was asked by a fashion designer to do a virtual photo shoot. (You can read about my journey to becoming a 74-year-old model here.) She sent me several remarkable pieces to model: three luxurious dresses, a trendy pair of high-waisted pants in a heavyweight cotton twill and "hot" sandals with a four-inch white patent heel, all a far cry from the doldrum attire I wore the previous few months and a stark reminder of how much I missed fashion.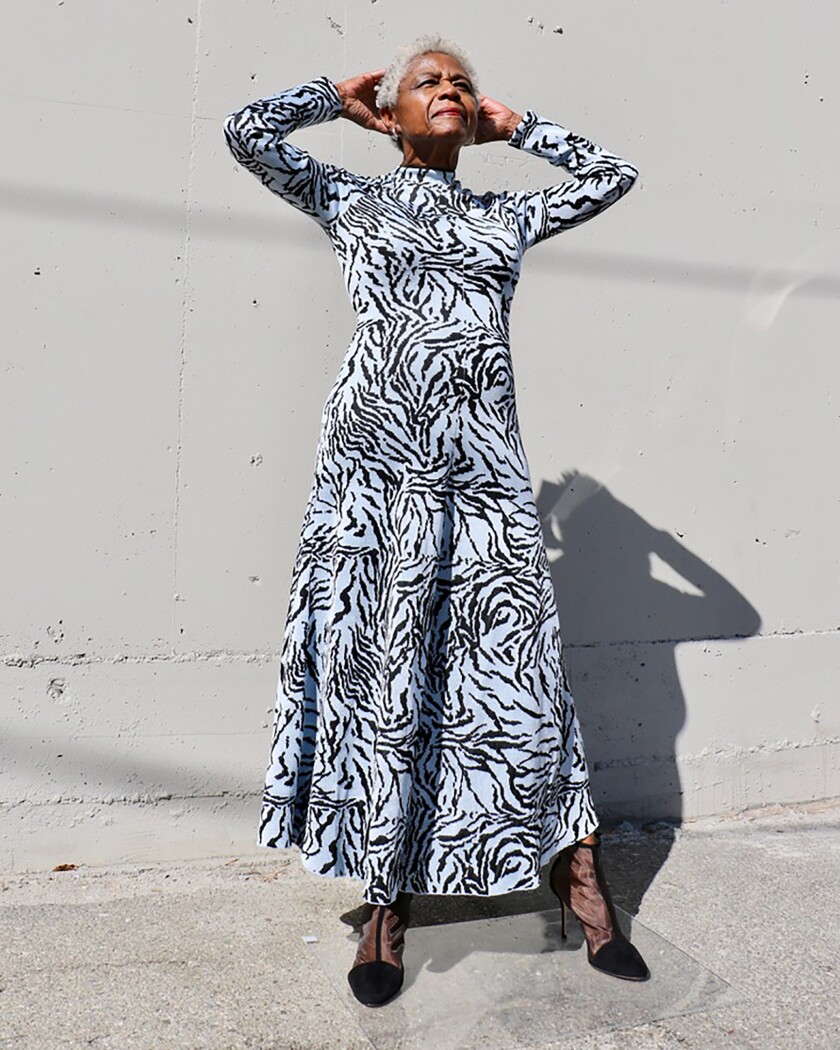 One voluptuous dress of silky, velvety cotton had flirty side slits. It felt so exquisite, I thought I might never take it off. When the photo shoot was over, I decided to wear it as I walked a few blocks to the local ATM. Just as I got to the corner an older Black man yelled across the street: "Ma'am, you look like a million bucks. You know it's not Sunday, right? You look like you dressed for Sunday go-to-meeting and this is only Tuesday."
We both chuckled and I moved on feeling pleased that he, too, appreciated the magic of the dress. I realized this exchange was one of the few joyful moments, one of the few laughs, I had enjoyed in months. The comments from this fan of street fashion reinforced what I knew well before COVID — dressing well brings delight and happiness to myself and others.
Just as I got to the corner an older Black man yelled across the street: "Ma'am, you look like a million bucks. You know it's not Sunday, right? You look like you dressed for Sunday go-to-meeting and this is only Tuesday."
That was a turning point in dealing with these times of uncertainty and despair. I dumped the sweatpants. I now dress more elaborately as I go about my menial tasks: taking out the trash, picking up the newspaper, going for a walk in pursuit of the daily 10,000 steps, escaping from the ordinary to the extraordinary. The "street fashion fan club" can use the extra bubble of joy and so can I.
I reach into the back of my closet each day, pulling out flamboyant hidden treasures — hot pink pants that I'll couple with the bright magenta sweater, then top with a marigold scarf. I shamelessly do my kickboxing workouts in my driveway wearing purple tights and a chartreuse top or bright red leggings for all passersby to see. What the heck … we can all use a heightened level of glee right now.

Today I sashayed into the grocery store during the senior-hour wearing my midnight-blue taffeta cocktail dress, the one with the ruffles around the hem and neck and a large bow at the waist, accessorized with the sapphire necklace I bought for my 70th birthday. As I swished down the produce aisle in my satin-bowed, five-inch heels, I received a few puzzled looks. But the majority of the comments I received were both amusing and encouraging.

Our Grown and Sexy Style Squad on the Gram

As the world seems to be spinning out of control, dressing up is becoming a trend for many women, providing something to feel good about. I'm noticing more sisters like me, who are fed up with restrictions and sweatpants and are now performing their most mundane tasks wearing fashionable, colorful garb. Many find joy and connection while turning heads, relishing the happy faces and cheerful comments. Some of us post our outfits of the day on social media.

I'm inspired by stylish sisters such as Kim Mitchell (@kimair), who wears knits and neutral tones with easy sophistication, and actress/photographer Furaha Moye (@furaha.moye.actor), who makes patterns her playground. Also Adria, aka Southern Belle (@65inlivingcolor) who tells me, "[during the pandemic,] I still celebrate myself through clothes. Some days I feel sassy and wear clothes that reflect that. Other days I just want to chill and wear clothes that reflect that calm side of me. I'm retired, so I love dressing up for no reason at all." And, like me, Adria loves color. "It makes me happy, energetic…. No matter what I decide to wear, it has to have a pop of color."

As we get older, we can make bold authentic choices, choices that embrace joy. Denise (@simpleand_slique), whose style I admire, shares, "People really love … my positive attitude towards aging and life. I'm no longer commuting for work … so I don't need to dress up as much. But your creative juices start to flow, you begin to think more outside the box." Amen! I've posted some of my photo shoot looks on Instagram as well (@doellingcarolyn).

Believe me, ladies, dressing up delivers. Come join the party. Let's look good to feel good.