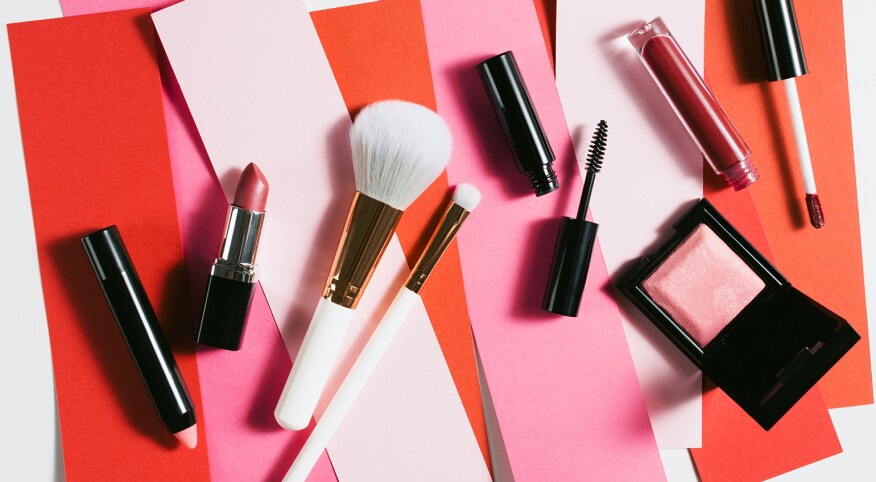 He changes the energy when he walks into a room. The low hum of our winners chatting with the Sisters team, utensils clinking at the catering table, glam squad members prepping tools and our creative director typing at a nearby conference table surges into an electric buzzing of greetings, jokes and laughter. It's the excitement that erupts when longtime friends reunite, but it's shared equally among those of us meeting for the first time.

The go-to artist for African American A-listers, Sam Fine has graced the faces of Beyoncé Knowles-Carter, Halle Berry, Queen Latifah, Kerry Washington, Jennifer Hudson, Tyra Banks, Iman and Naomi Campbell. The week of our winners' makeover, he reached a milestone birthday — 50 — making him eligible for an AARP card (and you know we're on it!). Actress Nia Long surprised him and his crew at work with cake, champagne and gifts — a moment he shared with his 124,000-plus followers on Instagram.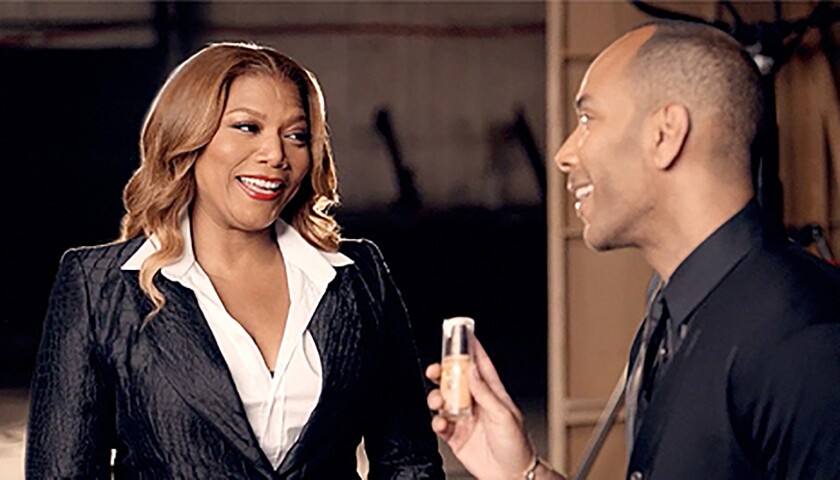 But the makeup master beloved by Hollywood's most glamorous women first honed his skills by taking care of everyday women at department store makeup counters. He's famously called that experience "the real school of beauty." And that common touch, the ability to help any woman own her unique allure, is what elevates his magic touch with pencils, brushes and sponges to an unforgettable experience.

"With Sam, there was something special about the way he dealt with me," Eugenia Hargrove, winner of our Sisterhood Is Beautiful contest first prize makeover would later tell me. "First of all, he came right over and spoke to me saying, 'Hello. You are my client for the day.' He didn't look at me like oh girl you need some help."

"Let's get started," announces one of Fine's two crew members. An assistant has meticulously laid out tools. Neat rows of packing cubes filled with compacts, tubes of lipstick and eyelash glue. Trays of circular makeup pans in nudes, soft roses, brights. He stands over the makeover chair dressed as a painter might in a white tee, track pants and some serious sneakerhead kicks; he has shed his hoodie, folded and stowed his Balenciaga scarf. The statement-making watch he's removed now sits facing backward on a table, leaving his hands free to work and signaling he's in no mood to rush things.

His patient, detailed — almost obsessive — artistry on eyes and lips is a sight to behold. When Hargrove says something to Fine, almost apologetically it seems, about her thinning brows, he replies in a playful baritone, "I'm not scared."

"Everything Sam did, he taught me as we were going along," Hargrove says later. "He said my eyebrows were shaped like commas and … you know… he could have been harsh with me about the outdated shape and he wasn't. He did what he does very nicely, very smooth. I told him he had a wonderful bedside manner, as if he were a doctor."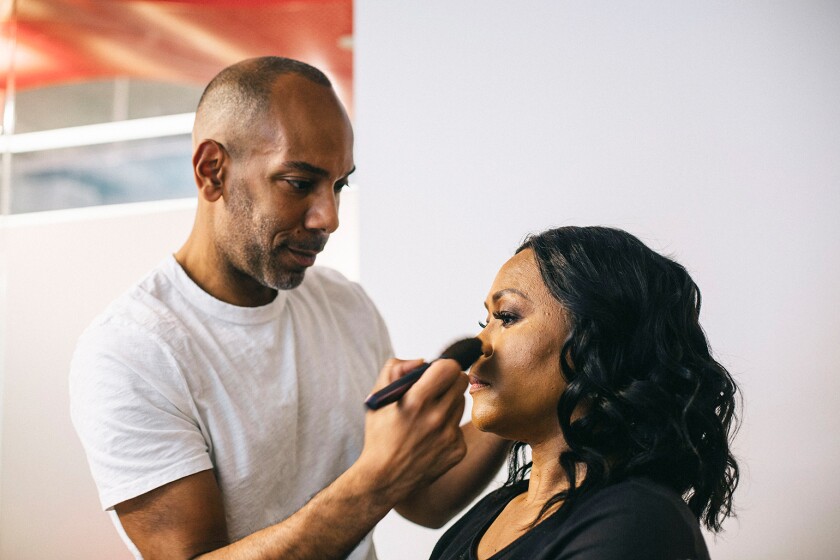 Hargrove's bestie Cynthia Lawson, who tells me she cried when learning that her ride-or-die had won a girls' trip and makeovers for the two of them, is next to get Fine's full attention.

Meanwhile, hairdresser Tamara Lareus customizes a lace front wig of Hargrove's choosing with face-framing waves. "I have been wearing my hair up in a topknot for at least four years, because when you start losing your hair on top, you can't wear it down," Hargrove later told me. With the expertly-styled wig, she added, "I felt I had a solution to make me feel confidence, to make me feel good about my hair situation."

The chorus of the Isley Brothers' "Footsteps in the Dark" oozes softly out of Bluetooth speakers and someone says, "Turn that up."

"I'm trying to set a mood," says Fine.

"Well we want to share that mood," Lawson wisecracks, and there's laughter among the many sisters in the room, including stylists, AARP staffers and our photographer. We are professionals on a job, but we easily lapse into that familiar camaraderie that is girl talk at any Black salon on any given Saturday in Anytown, USA. There are heated opinions about gender reveal parties; speculation about whether a certain pair of newlywed celebrities are in a sham marriage to further their careers; and our own intimate and surprisingly confessional stories about weddings, childbirths, crises endured, miracles received. Fine interjects with bemused questions or humorous comments now and then.

All the while, Lawson and Hargrove have their backs turned toward the vanity mirror. Each offers the other excited progress reports on her friend's transformation, but she can't see her own reflection. "Ain't Nobody," by Rufus and Chaka Khan, keeps the party rolling on. The glam squad is in a groove, rotating around the two clients in an effortless choreography.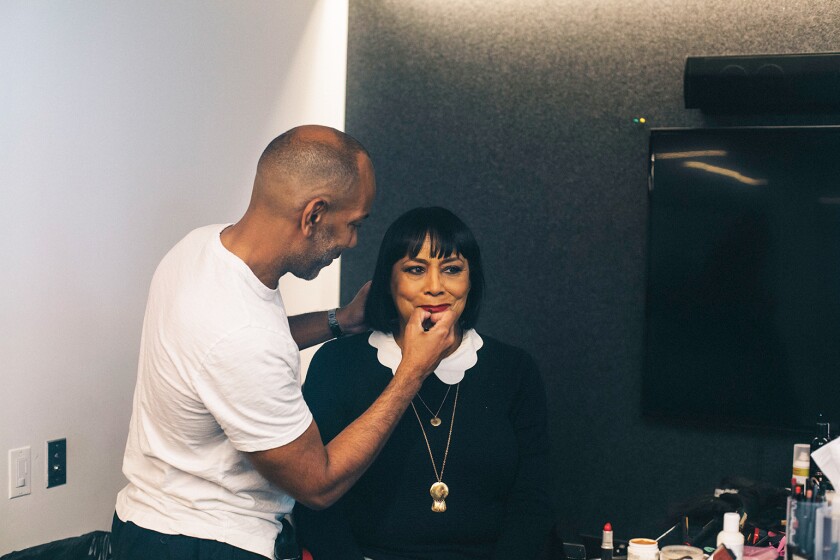 Hargrove's standout feature is her almond-shaped eyes. Fine layers smoky earth tones on her lids and browbones. Multitasking, he holds an eye pencil between his lips while reaching for a false eyelash an assistant has prepped with glue. Fine then gets to work lining the eyes with one hand while the lash waits in the other for the adhesive to become tacky.

On Lawson, he builds layers of bold red lip color, extending her lip lines to a generous fullness with his brush. The 3-D effect reminds me of trompe l'oeil, French for "deceives the eye," this style of painting depicts objects in photographically realistic detail. Fine's artistic skill emerged at an early age. He was awarded a summer scholarship to the Art Institute of Chicago, where he set his sights on a career as a fashion illustrator.

Our stylist smooths Lawson's signature blunt cut with a flat iron and gives her bangs a casual, piece-y effect.

Once the makeovers wrap, the ladies head to a changing area to don their selected looks. When they return rocking LBDs and snakeskin high-heeled boots, the room erupts with oohs, aahs, hoots and compliments. It's time for the big reveal.

Hargrove puts on her glasses, leans toward the mirror and asks, "Is this me?" I lovingly scold her about getting teary-eyed and smudging that mascara, and she shuts off the waterworks. Lawson checks herself out and says, "Now this is a face beat!"

Backdrops are set up. Lighting is adjusted. Poses are struck. Groups shots are taken. Hugs and selfies are shared. Memories are made.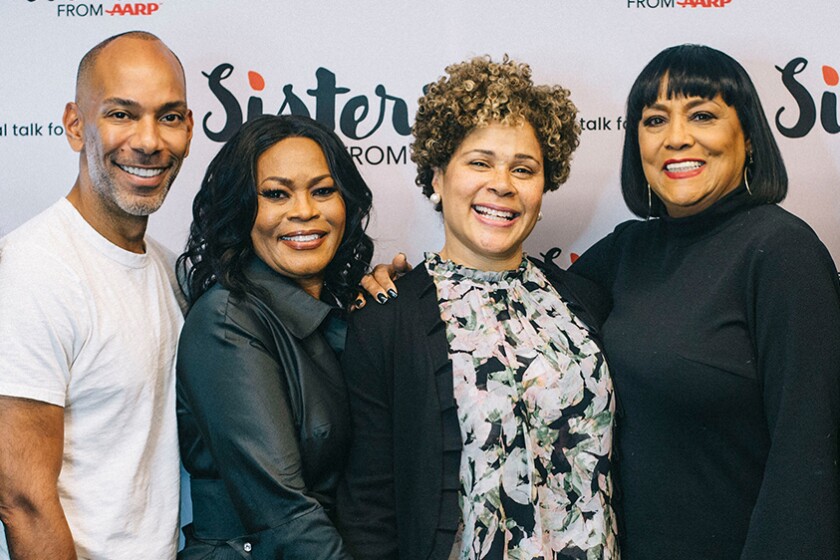 And then, a late lunch. A lot of love went into this project and the styling went overtime. Over bites of chicken Alfredo, salmon Caesar salads, fruit and sweets, we celebrate the day and promise to stay in touch.

Two weeks later, the girlfriends call me. Hargrove tells me, "I have not worn my hair up in a topknot since I was in New York. I want to encourage women who are having hair loss issues to not be afraid. Cynthia had always said to me 'you're not the only one dealing with this.' Of course you think you are. There are so many options with weaves, natural hair. But the main thing is to not be in a place where you can't be confident or feel good about who you are. I have the wig pulled back today. I wore it in a side knot on Sunday. I'm working it like it's mine."

Lawson, who is still rocking a red lip, added, "This experience made me realize everybody needs a makeover, honey. It's amazing how you can be transformed into a better version of yourself. I didn't know I could look that stunning and it made me feel even more confident."

It was a fine day indeed. A very Fine day.


Photographs courtesy of Sam Fine; Noémie Marguerite