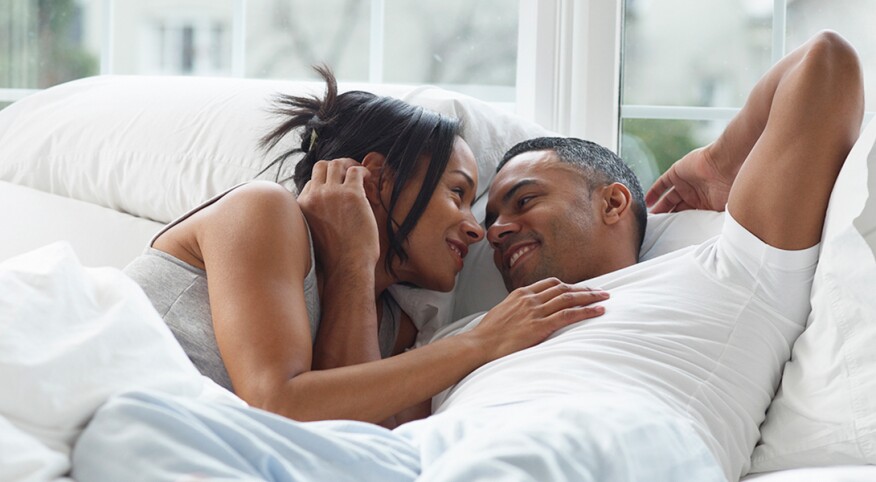 Let's admit it, ladies. With all the responsibilities and roles we juggle in midlife, a lot of us would choose extra sleep over lovemaking. Maybe we put off intimacy until the weekend. You may deny yourself pleasure if you are currently without a partner. Well, there are several surprising bedroom benefits you may get from sexual activity (which includes self-pleasure). One of them is sleeping more soundly after that roll in the hay! More bonuses getting busy may offer you:

1. Relieves headaches
Hilda Hutcherson, an ob-gyn and coauthor of Pleasure: A Woman's Guide to Getting the Sex You Want, Need and Deserve, points to research from Rutgers University.

2. Sculpts and burns
Personal trainer Charlene Ciardiello, founder of Shut Up & Move, advises that squeezing and thrusting during sex sculpts the muscles in your abs, back, butt and thighs.

3. Good for your skin
Melissa Piliang, a dermatologist at Cleveland Clinic, told Insider.com that sex improves the overall look of your skin. The sex afterglow "provides an oxygen boost to the skin." Also, the boost of estrogen levels helps to "plump" collagen.

4. Ditches stress
Christine Egan, a certified health coach and author of the book The Healthy Girl's Guide to Breast Cancer, says studies have shown that the body's stress hormone, cortisol, is reduced by physical and emotional closeness.

5. Reduces pain and inflammation
"Studies show that vaginal stimulation, even without orgasm, can help reduce pain in the legs, pelvis, menstrual and arthritic pain and in some cases headaches," says Marianne Ryan, author and physical therapist specializing in pregnancy and postpartum fitness. "Chronic inflammation is at the root of numerous diseases," says Rachael Ross, a family physician, sexologist and former cohost of The Doctors. She adds that studies find that sexually active adults have less inflammation.

6. Helps memory
In a study published by the Journal of Gerontology, regular sex was linked to better cognitive ability in older people.

7. Burns calories
Sex uses about three calories per minute.

8. Lowers blood pressure risk
A 2016 study "found that a rewarding sexual relationship benefits women's cardiovascular health, specifically by lowering the risk of hypertension."

9. More sex, more sleep
Sex before bed can improve sleep quality thanks to the hormones released. The brain chemicals ease anxiety and help you relax.

10. Keeps him healthy
Based on a 2016 study, men who reported frequent ejaculations (at least 21 times a month — but don't worry, that includes him masturbating!) lowered the chance of prostate cancer by 20 percent compared to those who did it four to seven times a month.

11. Boosts confidence
"As a breast cancer survivor, during my journey through remission, special time with my husband made me feel sexy," Egan says.

12. Unlocks your inner power
By saying "yes" to orgasms you unleash your voice at the most primal level. We release our bodies' inhibitions that often restrain us day-to-day, says Megwyn White, a somatic sensuality guide and director of education at Satisfyer.

13. Improves mind-body connection
"If you feel sexy with yourself, it will help you articulate your desires with a partner," sexologist and author Michelle Hope says.

14. Helps you chill at work
A 2017 study found married couples who fooled around at home improved their mood and job satisfaction.

15. Boosts mood
According to a 2015 study conducted in China, more sex increases happiness.

So, do what you gotta do, whether that's taking a day off, booking a hotel, hiring a sitter or ordering a sex toy. But don't let work, housework or anything else deprive you of this vital and loving connection. Besides the obvious reasons sex feels good, it also helps us feel alive.