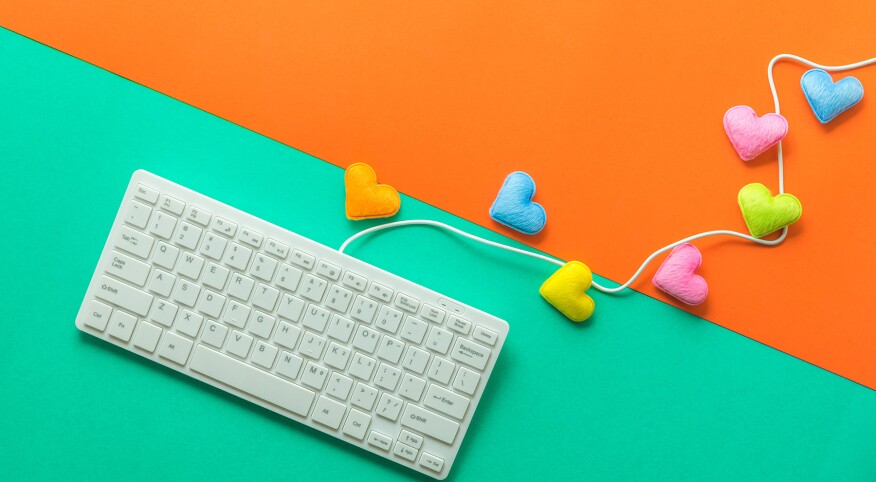 I don't have a quarantine boo, and I'm a little bit conflicted about that. There are moments when I wish someone were here to talk to and share this insane coronavirus experience. And then there are other moments when I hear the couple upstairs arguing, and I'm so dang glad that I don't have to manage someone else's mood during this time.

Each night, I lie in bed and think about the different aspects of my life that I'm not satisfied with. I must admit I find myself thinking I'm no longer content waiting for love to somehow arrive in my life, and I'm tired of the phrase "if it's meant to be, it will be."

I was happy doing my thing as I focused on growing my business, having fun with friends and working on cleaning up my finances. Now I wonder if it would have been OK to date more aggressively as I worked on myself.

I'm also no longer satisfied with waiting for the perfect time to start dating someone because I've learned the hard way that there is no perfect time. However, my approach to attracting love into my life and dating will be changing moving forward. And the pandemic was the emotional tipping point for making this decision.

As a Gen Xer, I was part of the first waves of online dating, and I absolutely hated it. I felt that dating went from being so easy to unnecessarily complicated during the digital age. Many of my Gen X friends have said the same thing. Online dating was like having another job — but I was paying to work. And I wasn't making the dating connections that I thought I would. I tried free sites and paid sites and met some nice guys and some duds until one day I logged off and vowed never to date online again.

At the time, I still preferred meeting people in person. I could look them in the eyes, hear the timber of their voices and see if they were taller than my 5 feet, 4 inches. In fact, one of the great loves of my life I actually met randomly at a club on Valentine's Day, too many years ago to remember. I felt that instant zing of attraction that happens when you meet someone you're excited about. He was Australian and cute, and we went on to date pretty seriously for several years. But I had constant distractions connected to finances and family and, sadly, he eventually returned to Australia for good.

After that breakup I eventually dipped my toe back into online dating. It finally felt like the right time, and I was over the club scene. I was hoping to meet someone who was on the same page as I was and looking for something a little more serious. Something more than the occasional fun dates I found myself going on that never seemed to progress to something more. But I still found myself hating it. And, I will say, I felt that being Black online made it harder for me. I found myself attracting fewer matches than my white friends, getting virtually ghosted or finally meeting up with men who had clearly misrepresented themselves online.

But I knew that online dating worked; I'd seen a number of my boomer, Gen X and older millennial friends of all colors eventually meet their significant others online. Now that it's obvious that the pandemic is going to last longer than any of us expected, I'm 100 percent committed to embracing online dating.

Currently I'm trying to figure out which platform will make the most sense to use at this time. Tinder is definitely out. I feel like it's set up to encourage booty calls, and during this pandemic no booty calls are happening anytime soon.

I'm looking at Bumble because the app empowers women to step out of their comfort zone, and they get the chance to say yes to matches that have also said yes to them. I've used it before but found that moving offline was often tricky. Now, I think there's an opportunity to get to know the guys better without the pressure of moving offline quickly. Eharmony also is a great platform; several of my friends have met their significant others on it. The one issue with eHarmony, for me, is the amount of work that it takes to do it well.

No matter which platform I use, dating is always a little unnerving. And I would be a little disingenuous if I didn't admit that I'm not sure what to expect and I'm wondering how this will work. What I do know is that I will no longer wait for the perfect moment to attract love into my life. Like many of us watching what's going on in the world have learned, there's no perfect moment. There's only now.