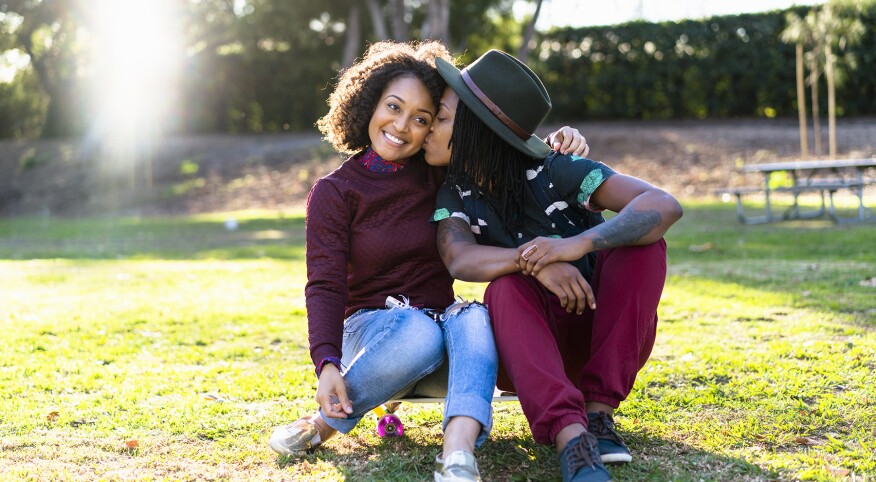 In August 2020, Claws actress Niecy Nash nearly broke the internet when she posted on Instagram her wedding pictures to Jessica Betts, a woman. While most of us know Nash to be straight — she's been married to two men in the past — the 50-year-old was clear that she wasn't coming out, instead, she was "going into herself."

Thankfully, not only was the Emmy-nominee surrounded by loved ones on her special day, but she was also celebrated on social media and showered with well wishes from across the internet, including her substantial Black fan base. Honestly, it was beautiful to witness, considering how crucial that acceptance is for many Black LGBTQ individuals. Sadly, this type of validation isn't always the case given that religious convictions, homophobia or simply a lack of understanding may stand in their way and lead to familial rejection.

But times are definitely changing. Whether it's celebrating the recent marriage of "Good Morning America" host Robin Roberts to Amber Laign, the existence of the critically acclaimed TV show Pose and Gabrielle Union and Dwyane Wade celebrating the Paris Fashion Week runway debut of their trans daughter Zaya, there is a much-needed shift happening in society, our communities, and most importantly, in our homes. To honor National Coming Out Day on October 11, we wanted to explore ways to be part of this progressive change and support LGBTQ people in our families and beyond.

Remember that your love may be their everything

Shonda Simpkins had a child with a man in her 20s but started dating a woman shortly after. She feared that her mother, who is Muslim, was going to reject her when she came out as bisexual. She recalled being riddled with anxiety and worried she would lose her mother's love. "I didn't want to disappoint her. We are so close," she said. Yet, when she finally revealed her truth, her mother surprised her, telling her, "I love you, and as long as you take care of your son, that's all that matters to me."
"Because of her love, it made me proud of who I am. As long as my mother is OK, I don't worry about navigating or hiding from the world."
Shonda Simpkins
Simpkins, 46, shared that while at that time her mother still hoped it was a just phase, because she led the conversation with love, it transformed the way she saw herself as queer person.

"Because of her love, it made me proud of who I am. As long as my mother is OK, I don't worry about navigating or hiding from the world. This is so important for parents and family members to know. You may be your loved ones everything and not having that love can feel like a death, regardless of how old they are," she says.

She adds, "And remember to give that person a hug. They are going to need that touch."

Just 'cause you grown, doesn't mean you can't listen

When it comes to terms such as "sexual orientation," "gender identity," "sexual fluidity" and "nonbinary," a lot of folks may need some help understanding what they are and how they are different from one another. Yes, you may be a grown woman, as Simpkins stresses, "But that doesn't mean you can't learn from these babies."

"Just because we've lived a life, it's important not to dismiss people's lived experiences, especially these young folks, who can teach us a lot. Don't be afraid to learn from them and ask questions, lots of them!"

Blogger and writer Marsha Badger, 39, who came out as a lesbian when she was 19, adds that understanding a younger generation may require you to go back in time. "For the older generation, this may be hard because when they were coming up, all of this wasn't as visible. But [they need to] be gentle, and go back to that time when they were young and trying to figure [things] out, especially when they didn't want to be judged," she says.

Choose understanding over judgement

One of the most important steps in acceptance is checking your own biases. Given that Black women are one of the most religious demographics in the United States, faith can be a barrier to acceptance. But as Badger points out, "For every scripture that speaks negatively about homosexuality, I point to the ones that speak about God loving all of his children and not judging others."

Badger also stresses the need to unlearn what you think you may know about sexuality, especially when it comes to Black lesbians. "Some people will look at masculine-presenting lesbians and make assumptions about them and look at feminine lesbians and say things like, 'Oh, she's too pretty to be gay,' or 'Why is she with that masculine-looking woman? She should just be with a man then.' We really have to step away from that type of thinking, and honestly, start minding our own business."

While unlearning certain mentalities is one step of the work, Simpson adds, "so is educating yourself on the issues that Black LGBTQ folks face."

"Get on your computer and research the laws around same-sex adoption, employee rights and health care, and read about what happens when we turn our backs on folks who need us. Also, join a support group, participate at Pride — you don't have to be on a float — but volunteer at a table so you can learn and see more."

In the end, whether it's your teenager, an adult child or even a parent who is coming out, they need you to see and love them for who they are at this exact moment. Whether you know it or not, you have the ability to be exactly who they need and deserve. It just takes you to be as brave as they are.