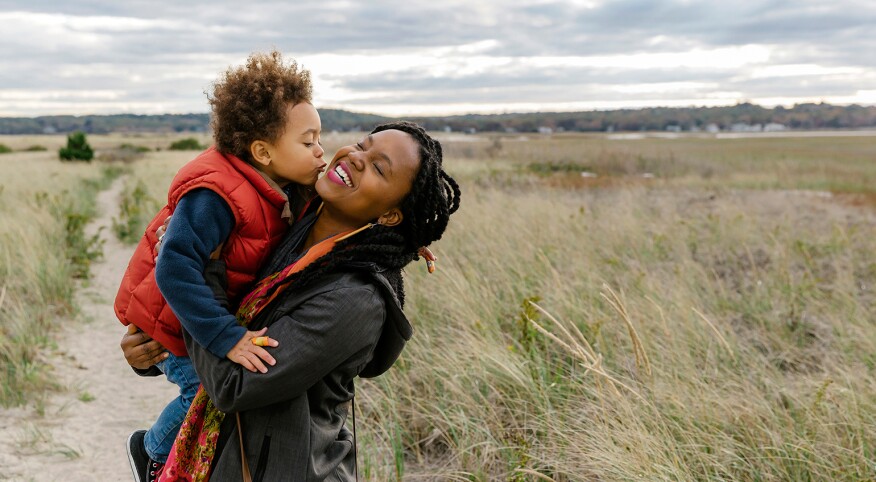 As a mother of five, lately I've been having deep conversations within my sisters' circle about raising kids. And there's one thing on which we can all agree: Motherhood is a never-ending job. From morning sickness through labor pains, first steps, homework, recreational activities, illnesses, tough times, bills, weddings and beyond, we're on the clock. We are the primary source of love, support, direction and often discipline. At the same time, our families are navigating spaces that weren't created to help kids that look like ours thrive.

It's a lot.

So, whether our sons and daughters are in diapers or they are grown and flown, a lot of us ask ourselves at times, Am I doing a good-enough job? "Sometimes I catch myself thinking that if I were a good mom my kids would never get mad at me, they would always behave and I would know how to fix every situation," shares Jeanne R., 54. "Real-world parenting is messier, and there isn't a one-size-fits-all approach." My friend Baiyinah S., 43, shared, "I'm constantly asking myself how I can better support my daughter's needs. I pray to God for assistance and forgiveness in my efforts."

Leaning on faith is important. So is trusting ourselves and leaning on each other. Children don't come with instructions. So let's forget the myths, guilt and unrealistic expectations. This is your invitation to celebrate your efforts, lessons and victories during the 364 days of the year that don't come with cards and brunch. Through laughter, tears and surprising "aha" moments, here's what several sisters shared about that moment you realized you're a good-enough mama.

11 Mama Moments You Handled Just Fine

1. That moment you were present and accepting

"My daughters know that they will be represented at the Doughnuts for Dad event at school because I'm there." —"Dual mom" Michelle C., 55

"Whenever my child wants to talk to me, I stop whatever I'm doing to listen with my heart. Then I respond with my heart." —Ruby S., 43

"When they trust you. They're comfortable coming to me about sensitive stuff — things that may come with a consequence, yet they still want me to be in the loop. It feels good to know they value my opinion." —Ribbon W., 39

2. That moment you accepted help from the village — or offered it
"My seven-year-old was missing. I rang neighborhood doorbells. Embarrassed, I thought, What kind of mom can't find her kid? I was terrified but trying to play it off. One neighbor dropped everything and stayed with me until we found my son. He's my hero. Since then, we've all signed up on a neighborhood alert app to help each other in emergencies." —Michelle T., 41

"My husband's ex entrusted their kids with me, not him." —Janice H., 58

3. That moment you trusted your gut
"I stopped researching everything about everybody including whatever they were going through. Instead, I began to trust my instincts, insight and intuition ... all free." —Sarah S., 53

4. That moment you understood their love language
"They come over for no reason and give you a kiss or hug. You don't initiate it, but you know they need that closeness as much as you." —Foosiyah M., 48

"You get excited that your college kid is (still) coming (back) home to do laundry." —Sonia S., 44

5. That moment you got creative or resourceful
"My oldest child tells me that he never realized when times were hard and that he actually thought we were middle class because he had all of what he needed and most of what he wanted." —Aisha A., 52

"When that first-base glove is on sale, you're on top of it." —Tabi D., 40

"The school principal knows that I am 100 percent that parent not to mess with when the issue is a bully or a bad teacher." —Renee W., 47

"You create sweet memories." —Tamera M., 35

6. That moment you managed what you could and accepted what you couldn't
"My teen son had to be hospitalized for depression, which runs in our family. We could only visit him for an hour a day. The rest of the time I spent worrying and crying. I called my sister and she sent me an inspirational song called "Just Be Held." It helped me breathe until my son could come home again." —Kimberlee R., 41

"I continue to aspire to be the mother I want to be. I continue to love, listen (still working on that), be honest and offer support when asked." —Jessica N., 60

7. That moment you modeled healthy boundaries
"If my daughter wants a ride to the mall or to a friend's house, she knows to plan around my workout schedule." —Marie M., 50

"Our sons know they can't divide and conquer us as parents. We make decisions as a team." —Clara W., 50

"You repeat those same dreadful words that your mama said to you, like 'you just wait.'" —Imani B., 43

"You finally have a mutual understanding with your daughter that rolling her eyes or sucking her teeth isn't the only form of communication." —Angie H., 57

"I set certain expectations when my kids were young. We call the den 'the quiet room' and whenever I was in there the kids knew to keep quiet when they came by. I also used to just tell them, 'I'm on break right now.' A friend, shocked, asked me, 'You can do that?'" —Jeanne R., 54

8. That moment you owned your truth
"From out of the blue, my 30-year-old daughter said, 'Mommy, you were right. I should have listened,' as she gracefully walked into the kitchen and prepared my breakfast." —Jadwa H., 51

"You've mastered that Black mama death stare, the one where everybody hears you without you saying a word." —Amirah B., 36

9. That moment you practiced gratitude
"Realizing your children are not just your gifts, but blessings to share with others." —Asma M., 48

"I can look at the artwork of the stretch marks on my body as a map to my children's souls." —Sadiyah B., 40

10. That moment you kept the faith
"You refuse to allow your children to be limited by your fears, even when it means watching them go through something scary." —Angela Y.M., 48

"I'm good enough because God said so when he made me a mom." —Sharon V.F., 58

11. That moment you clicked on this story
Because if you weren't a great mom, would you have bothered? Sis, you're not just a good-enough mom. You're an amazing one. You got this.