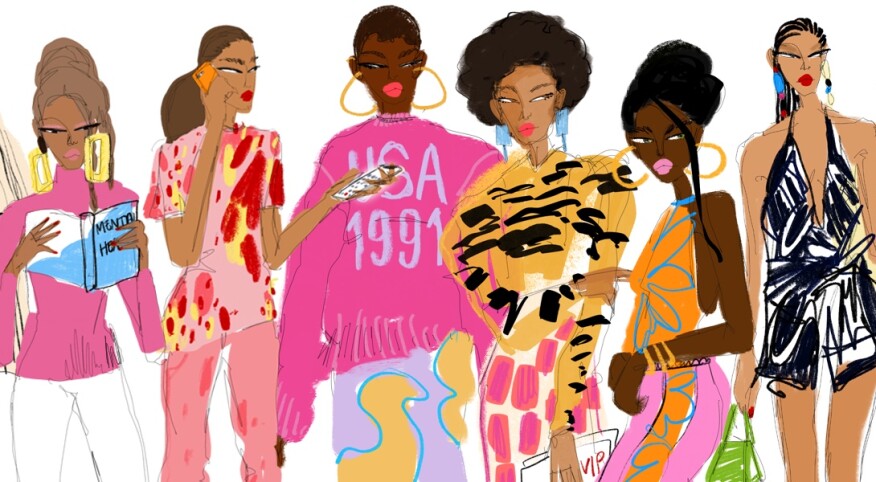 Listen. I'm a wonderful mom, amazing at my job and an all-around fantastic person. But I'm quite clear that I'd be none of those things if it weren't for my girls. They've been with me through my best (birthing my kid) and worst (ugh, divorce) moments, providing support, love and petty laughter the whole way. In the spirit of celebrating the ladies closest to us, here are the friends we all need in our orbit. Which one are you?

The Truth-Teller
Whether she's breaking down why you need to leave that trifling man alone, getting to the heart of your struggle with your kids, giving you the reality check you need to move on from your stagnant job or making you change that trying-too-hard outfit, she says the things you need to hear that no one else is bold enough to tell you. Seriously, where would you be without her?

The Turn-Up Queen
Need someone to join you for happy hour? A plus one for a work event? A partner on a random road trip? She is always down to accompany you on adventures and will drag you along on all of hers if you let her. Even if you'd rather skip her most social moments, y'all can have fun one-on-one; she never met a new exercise class she didn't want to try, will accompany you on a decorating mission to Michaels and is game to do reckless ish like skydiving because, "Why not?"

The Ride or Die
Send up your distress signal and the only question she will have is "Who we fighting?" as she takes off her earrings. She will help you move out after you break things off with your ex, ask the young chick who keeps walking by and bumping you at the bar, "What's good?," and watch your kids when you have a work emergency. She knows that being a great friend means not only being there when things are fun, but rallying when they are extra hard, too.

The Work Wife
You spend at least 40 hours a week at work. Can you imagine doing all of that without someone you consider a friend? Y'all might not hang out much outside the office, but your lunch sessions are epic and she's your go-to person to text during meetings when your boss is on that bull again.

The Therapist
Maybe she's a mentor committed to helping you avoid pitfalls or your homegirl who has successfully navigated a lot of drama. Either way, this friend has uncanny insight into how people tick and always knows the right thing to say. In one conversation, she can point out your issues, remind you who you really are, give you strategies for turning things around and hype you up to get started on a new path.

The Uber-Connector
You're long past the days of standing in lines or going out without a table, and thanks to this well-connected friend, you never have to. She has cellphone numbers for every event organizer and promoter in town, sits on at least three boards and can help you land a new gig with just a few well-placed emails. And the best thing is that there's no tit for tat here — she does it all because she truly loves bringing people together.

The Planner
Your crew would rarely see each other if it weren't for this Type A friend. From assigning dishes for the '90s R&B karaoke potluck, to buying a block of tickets for the Anita Baker concert, to reminding you that your deposit is due on the vacation house, she gets y'all together daily. Some might call her a bossy, but you know that she's just a boss who will do whatever it takes to keep your group tight.

The Loyalist
You know we couldn't forget about your bestie. She might be your oldest homegirl or y'all might have connected in college — however long you've been tight, she is your most loyal friend. Your kids have no idea she's not their blood auntie, she knows all your stories and has a map stored in her head of where the bodies are buried. Your relationship is the definition of radical, nonjudgmental acceptance; she knows all your mess and loves you anyway. She's your go-to person, whether you're grabbing lunch at a new restaurant or sitting around in your PJs drinking wine and binge-watching Black movies on Lifetime.