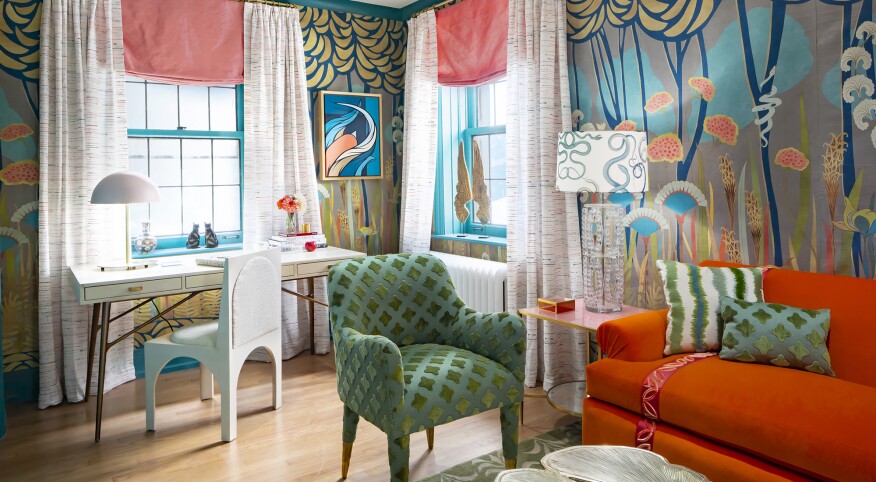 Hey, sis. How do you feel when you arrive home at the end of a busy day? Does the space revive and relax you? Do you feel centered in the present moment or do you immediately shift gears into here's what I gotta do next? Is a grouping of beautiful objects the focal point of your entryway or is it a grouping of your family's gear and shoes?

A lot of us are spending more personal time at home. And right now, we could all use a home that feels like a hug — a place where our breathing becomes even and effortless. Because everything that's happening outside our doors? It's a lot. A volatile economy. A virus with no cure. Vitriolic racists called out on Black Twitter.

Of course, there's light and love and growth and beauty in the world too, and that's what we want our private spaces to reflect. Here are some easy ways to perk up your place, inspired by Black women interior designers at the top of their profession, plus some key wellness trends.

Let your rooms reflect your story. Show off sentimental objects and art that sparks joy. New York City-based designer Courtney McLeod was born and raised in New Orleans and remains a southerner at heart. A believer that good design allows us to live "more colorfully, more beautifully, more joyfully" she finds inspiration in her Creole background and her travels.

Get in the zone. Envision a pleasant, designated spot for each activity, such as reading or a hobby. That way, you won't have to leave your home workspace to find printer paper, watch TV where you sleep or fold laundry in the living room. You may notice a pleasant change in your energy as you flow among these spaces.

Create an outdoor room. The weather's nice! Give yourself an excuse to spend more time outside by arranging everything you need to relax. You'll need seating, shade and a table to set your iced tea on. A container of plants and an inexpensive outdoor rug pull the look together. Kesha Franklin, who designed Colin Kaepernick's California home, angles chairs toward a scenic focal point or in a conversational grouping.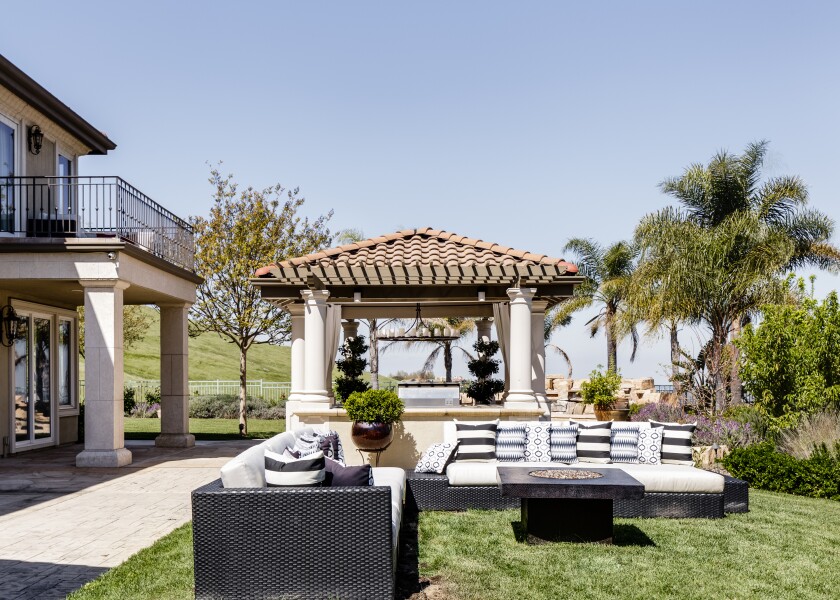 Open a space for grace. That means decluttering. But you don't have to make this the project that ate your weekend. Set a goal each day to either spend three minutes eliminating or putting away stuff, or to tidy up an area that is 3 square feet. Ask family members to do the same. The incremental effect of this speed straightening will amaze you.

Make virtual room for loved ones. Don't you love connecting with family and friends via video chat? Now that everyone's social distancing, consider adding a dedicated device, such as Amazon Echo Show or Google Nest Hub, for doing so in your family room. That way, your visits aren't cramped by a tiny smartphone screen.

Green up the scene. Houseplants in pretty containers aren't just gorgeous, they can lower stress and clear the air. Don't stop at one or two. Chicago interior designer and HGTV host Tiffany Brooks likes to place potted greenery in several spots in a room, varying the height, shapes and size of the plantings.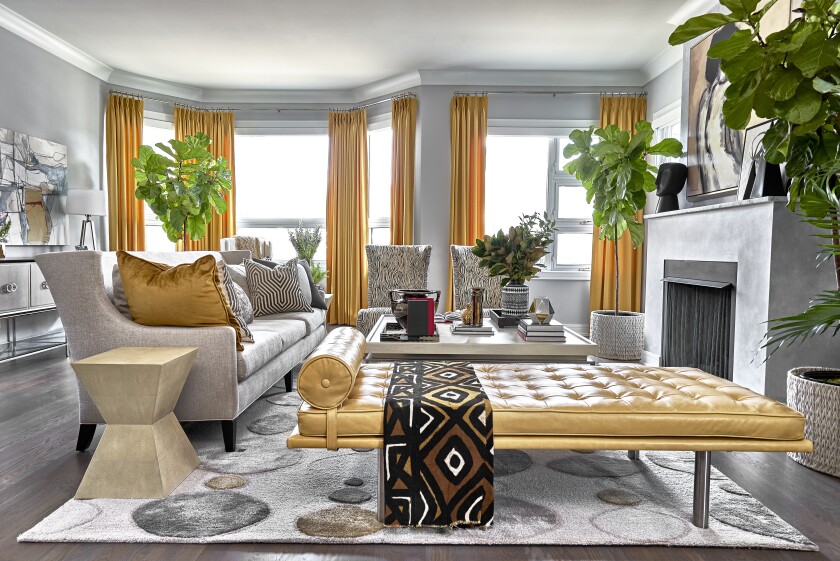 Make your bed. Won't it look inviting at the end of the day?

Add a spot for reflection. Mirrors open up a room and make it brighter by reflecting ambient light. Brooks often chooses a statement mirror with a sculptural frame as a wall accent. Another trick she uses: Arrange a variety of mirrors as you would pictures on a gallery wall.

Play with scale when adding accents. Designer Courtney Sloane, who's created spaces for Queen Latifah, Sean Combs and Disney, might display a row of miniature bottles with just a few stems of greenery in each on a coffee table, or arrange tall flowers in a giant jug that dwarfs a dining table. Just as pretty are her groupings of empty vessels of similar design but varying sizes.

Get tray chic. Designer Keita Turner uses trays or shallow baskets to artfully group small objects, whether on a living room ottoman or a kitchen island. She also favors tray tables in varying heights, such as an oversize coffee table or a pretty bathroom stand.

Create a workout space, even if it's a simple area rug plus a few resistance bands and a yoga mat hidden inside a storage ottoman. Now you can fit in fitness even if your gym has closed.

Put some wow on your walls. McLeod favors murals, bathroom tile mosaics, oversize artwork and bold graphic wallpaper. Try papering or painting just one wall in a bold hue.

Bring in music. Just like a dimmer switch on your lighting can adjust a room's mood, so can your selection of tunes. A mini-Bluetooth speaker can travel with you from room to room, providing audio ambience while being barely noticeable. Don't forget to stream your Sisters From AARP playlists!

Layer your lighting. Even if you have recessed lighting overhead, accent the room with a table or floor lamp.

Color yourself happy. Brighten up a neutral space with accent hues. Los Angeles- and New York-based designer Marie Burgos will complement a beige sofa with purple and sky blue pillows. A dark wood dining area gets a color pop from teal armchairs at either end of the table.