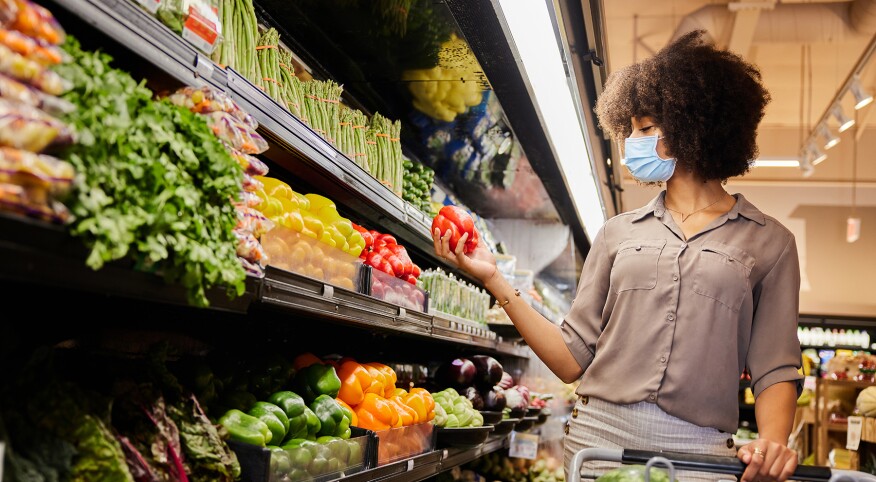 Your favorite supermarket offers a few services you probably don't know about and you're definitely not taking advantage of. From access to dietitians to knife sharpening (yes, knife sharpening), grocery store chains across the nation have unique services available to their customers.

You won't find all of these services advertised, but with a bit of digging or a stop by the customer service desk, you may be surprised to discover what's available. The next time you're in your favorite store or grocery shopping online, see if they offer any of these services.

Recipes. Most supermarkets have a recipe database on their website. You can access a broad range of meal ideas based on in-season produce, holiday events, how much time you want to spend cooking and even the number of ingredients you want to use. Some chains, like Northeast-based ShopRite, offer personalized features, such as recipes based on the items in your online cart, dietary needs and family size. Publix, a Southeast chain, provides recipes for items in their weekly ad. If you prefer physical recipes, some stores have printed recipes available at customer service.

Meal plans. Go beyond one-off recipes and take advantage of meal plans offered by many stores. ShopRite has a rotating weekly meal plan, while Whole Foods has free plans to meet every lifestyle, from vegan to keto-friendly.

Cooking classes. Some supermarket chains offer in-person cooking classes for a fee, but you can access Publix's Aprons Cooking School online at no charge. Stores that paused in-person classes due to the pandemic, like Indiana-based Martin's, may also provide videos online. Take your cooking skills up a notch by learning from, and cooking along with, professional chefs.

Taste testing. We all know about the free samples available in supermarkets, Costco and other warehouse stores. But did you know some grocery store chains allow customers to sample almost any product? At Whole Foods, store associates can open products and slice produce for you so you can try before you buy. And Aldi's Twice as Nice Guarantee takes the risk out of trying new products. The chain will replace and refund your money for just about any item you're not satisfied with.

Seafood prep. You may be underusing your seafood department big time. At many supermarkets, you can get cooking advice and request special cuts. But some stores go above and beyond. At Big Y stores in the Northeast, customers can have their lobsters steamed for free.

Butcher services. The meat department at some stores will cut your meat to order and provide cooking advice for free.

Free grocery pickup. While many supermarkets charge for grocery delivery and pickup, some chains are making it easier to shop contactless. Kroger stores and Midwest-based Meijer both offer free pickup on orders over $35.

Free magazines. Some retailers publish in-house magazines. Stop & Shop, a Northeast supermarket chain, publishes Savory, a high-quality magazine with recipes, tips and food trends, which you can grab in the store or access online. And Costco makes its Connection magazine accessible online to nonmembers.

How-to guides. If you don't know your yams from your sweet potatoes, or want to learn the best way to cut a mango, take advantage of the food tips available on your grocery store's website. ShopRite, Publix and other chains offer guides and videos about seasonal produce, essential kitchen skills, entertaining and more.

Knife sharpening. The butcher department at some supermarkets will sharpen your dull kitchen knives for free.

Dietician services. You can connect with a registered dietitian at several supermarket chains for nutrition advice, product recommendations and meal solutions. Services include one-on-one consultations, live chats, virtual calls and in-store events.

Health and wellness resources. Many supermarket chains, including Publix, ShopRite and Stop & Shop, offer general health and wellness resources on their websites. Access fitness tips, herbal remedies and information on managing diabetes and blood sugar. Some stores, including CVS and Meijer, provide a variety of health screenings and tests, including cholesterol, blood pressure, BMI and glucose. CVS also offers smoking cessation counseling that is often covered by insurance. And Costco customers can get free hearing tests and other hearing-related services.

Medications and vitamins. Some stores have a free prescription program that offers specific medications and vitamins at no cost with a doctor's prescription, regardless of insurance or copay. For example, Martin's offers free prenatal vitamins, and Meijer customers can also get free antibiotics, in addition to prenatal vitamins.

Eyeglass adjustments. If you're a Costco member, you can get free eyeglass adjustments, even if you bought the frames elsewhere. Optical departments at other retailers may offer similar services.

Free Wi-Fi. Several supermarkets offer complimentary Wi-Fi, which comes in handy for loading up your digital grocery list in the store, accessing online coupons or lounging in your store's cafe.

Special orders. Don't see your favorite item at your store? Ask for it. Many supermarket chains are happy to stock items upon request or deliver them to you for free. This service is not only available with shelf products but also at the seafood departments at some stores.

College scholarships. Some regional supermarket chains have scholarships for high school seniors and current college students who reside in the surrounding area. If you've always considered going back to school, see if your local grocery store has scholarships. Big Y offers its scholarship program to college students of any age.