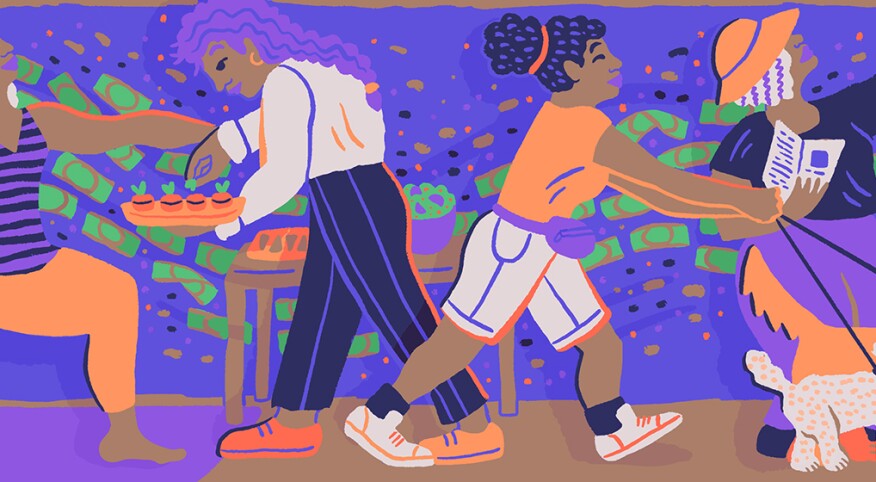 When one of my girlfriends wanted to earn some extra money and get in shape some years ago, she killed two birds with one stone. She took on a side hustle as a referee for a youth basketball league and, not only did she save enough to come up with the down payment for a house, she also lost 10 pounds in the process.

From her, I learned the value of doubling up on my goals. If saving money and losing weight top your resolution list for 2022, try one of these seven side hustles to pad your pockets and slim down by spring.


Weight loss coach

If you stay fit using WW, Nutrisystem or some other health plan, consider encouraging others to reach healthier goals like you did. WW health and wellness coaches may command between $20-$30 per hour, according to worker postings on Glassdoor, although salaries vary by region. A small number of Nutrisystem coaches who posted their wages on Indeed.com reported earnings of $16-$17 per hour. You'll get an accurate idea of your potential earnings by applying with such companies directly.

The qualities you'd need for this gig would be a passion for wellness and a willingness to connect with others and help them succeed. Read to learn more. Consider checking out Wellness Coaching for Lasting Lifestyle Change or searching "wellness coach" on salary.com.


Vegan caterer

The foods we eat can go a long way toward helping us maintain our ideal weight. If you like to cook, consider using your skills to benefit others as they try to meet their nutrition objectives. Working to prepare vegan meals may reinforce your own commitment to a plant-based diet.

Experienced caterers can bring home more than $18 per hour, according to Payscale. If you know how to prepare vegan meals, you may be able to command even more, as ZipRecruiter lists the average pay for vegan chefs at $31 per hour.

The number of Americans who have embraced a plant-based diet rose from 290,000 in 2004 to 9.7 million in 2019, according to market research company Ipsos Retail Performance. Follow Black vegan bloggers for new recipe ideas at JessicaintheKitchen.com and SweetPotatoSoul.com.


Yoga or Pilates instructor

A 2021 study found that five days of yoga a week may help us lose weight. Likewise, eight weeks of Pilates can help us cut down on body fat, according to a study by researchers in Turkey.

Get paid while you tone up. Both yoga and Pilates instructors can earn more than $30 an hour, according to Indeed. Consider reading The Professional Yoga Teacher's Handbook or Pilates for Everyone: 50 Poses for Every Type of Body.


Deliver for Uber Eats — on foot

Delivering meals via Uber isn't just a good way to make money. It could also be a good way to shed some pounds if you leave your car home. The company allows side hustlers to work via bike or on foot in some cities, which could be practical if delivery destinations aren't spread out so far. Uber Eats delivery people can make, on average, $19 per hour, according to Indeed. To get started, sign up to deliver.


Line dance instructor

If you taught everyone in your family the wobble and the cha cha slide, put your expertise to work and have some fun by teaching others how to line dance. Not only do studies show that dancing can help you get physically fit, but it may also reduce your risk of dementia, according to a study published in The New England Journal of Medicine.Dance instructors can command, on average, $24 per hour, according to Payscale. If your clientele outgrows your basement, check with your local Parks and Recreation Department or look on sites such as EVenues.com to find a local community center to rent out a space.


Dog walker

At least 1 in 4 new pet owners bought their pet because of the pandemic, according to the American Pet Products Association's 2021-2022 National Pet Owner's Survey. But now that people are returning to work, many will need dog walkers to ensure their fur babies get the exercise they need.

A Michigan State University study found that people who own and walk their dogs were 34 percent more likely to get the recommended amount of exercise they needed than the general population. ZipRecruiter pegs hourly wages for dog walkers at about $14 per hour. To find clients, hang out at your local dog park or sign up through Rover.com, which lets you set your own prices and hours.


Walking-tour guide

If you live in an area that's a tourist destination, consider a hustle as a walking-tour guide. While showing visitors your local area, you can burn calories and meet a lot of people.

Good tour guides can earn, on average, $23 per hour, according to ZipRecruiter. Find tour guide jobs on employment websites like SimplyHIred.

When it comes to making money, you're only as limited as your imagination. Make 2022 the year you get your health and your finances in shape for good.