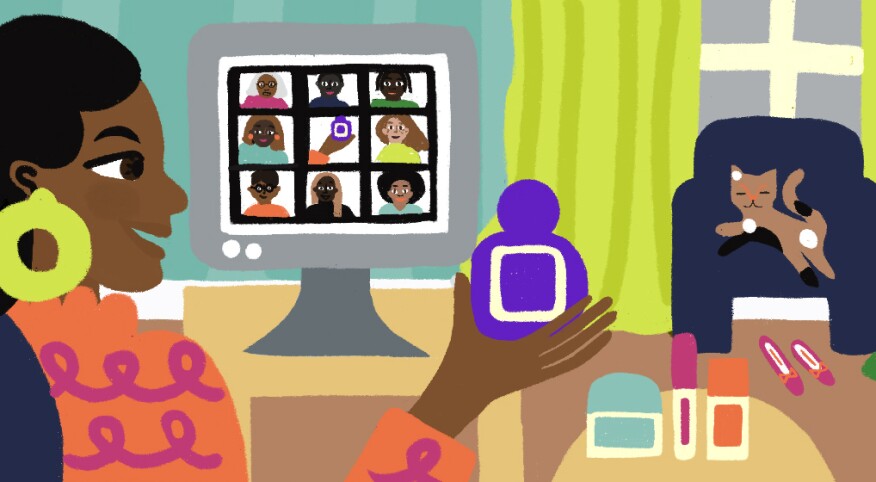 With the COVID-19 crisis continuing to batter the economy, who isn't looking for an extra source of cash? For many sisters, hosting parties while selling products such as makeup, jewelry, lingerie or wine has appeal as a potentially fun and lucrative side hustle.

While we all likely know someone who sells products by multilevel marketing (MLM) companies — businesses that use independent sellers to peddle products and enlist new sellers — does an MLM business make sense in an ongoing pandemic? Plus the business model itself can be risky. Here's what you need to know.

MLM companies are adapting

The pandemic has cut off one of the main sources of MLM success: the house party. With social distancing still important as the vaccination campaign continues, sisters can't easily gather friends and family to sample essential oils or share recipes while shopping for cookware.

But the coronavirus hasn't shut the party down altogether. Many popular MLM companies are helping their consultants host virtual parties instead. Among them:


Bedroom Kandi, which offers sex toys; bath and body products; and makeup
Wineshop at Home, a company that teaches about wine as customers sample
Pampered Chef, a seller of kitchenware
Stella & Dot, a retailer of jewelry, bags and accessories
Some sellers are thriving

For some in the MLM business, the pandemic was not the knockout punch it had threatened to be. In fact, for one sister, it ushered in more income than she had ever made before.

Freda Hobbs, 48, of Los Angeles, got a preview of what the pandemic had in store back in January 2020. Hobbs, already an established consultant for Bedroom Kandi, the company started by Real Housewife Kandi Burruss, was surprised when a girlfriend asked her if she could host a party on Zoom so her friends in other cities could join in. "I was not a fan of virtual parties," says Hobbs. But nevertheless, "We put together a really fun experience for her on Zoom. I had no idea that God was preparing me for 2020."

The January event prepared her well. In May, Hobbs had her first five-figure month, and by the summer, her business was triple what it had been during the summer of 2019. In fact, 2020 was the first year that Hobbs made over six figures in commissions, and her entire Bedroom Kandi sales team of approximately 1,500 people collectively earned $1.1 million.

The thing is, Hobbs is not your ordinary consultant; she made her money through direct sales and team commission. Still, the pandemic was a major factor in her success. Early on, Hobbs recognized that the pandemic inspired a whole new audience — those who missed interacting with loved ones and wanted to connect with friends online. Also, with the economy in freefall during the pandemic, Hobbs knew other women were looking for new ways to make money. So she adjusted her marketing pitch to appeal to those groups by letting people know that they could attend to connect with their friends, buy products or learn how to potentially make money selling Bedroom Kandi products.

MLM can be risky

While Hobbs, an upper tier consultant, found a winning formula, MLM businesses aren't nearly as lucrative for everyone. Roughly 1 in 13 Americans have tried their hand at an MLM gig at some point, yet only a quarter of them made a profit, according to a 2018 AARP study. Of those who did make a profit, most earned less than $5,000. Even more discouraging, nearly half of respondents who worked for an MLM company lost money and about a quarter broke even.

Despite these dismal figures, recent media reports hint at aggressive recruiting by some companies aimed at vulnerable women who have suffered financial setbacks. Some are even encouraged to spend their only lifeline — a stimulus check — to buy product inventory. Prospects suffering from isolation have been told that sales teams offer a built-in sisterhood. Many end up disillusioned.

Those who succeed in MLM gigs sell a product they genuinely believe in and build authentic connections with their customers. For example, Hobbs hosted virtual naughty bingos and held a webinar on breast cancer where participants weren't asked to buy a thing. Some of those participants later attended one of her virtual parties. "You want to build a sense of community," she says.

If hosting parties in-person or online doesn't sound like you, there are plenty of side hustles you can start with as little as $15, or you may even find a pandemic-inspired gig such as contact tracing or tutoring kids online.

For those considering a MLM business, virtual parties are likely to outlast the pandemic, as people plan celebrations with loved ones all over the globe. "Even if you prefer the home-party model, now everybody knows how to work Zoom," Hobbs says. "You can't deny that you have more access to people than you've ever had before."

On the other hand, the pandemic can just as easily hamper a seller's success. Zoom fatigue is real and the idea of meeting online for a party after a long day of business meetings can discourage potential customers, which is one reason Hobbs keeps her virtual events no longer than 45 minutes.