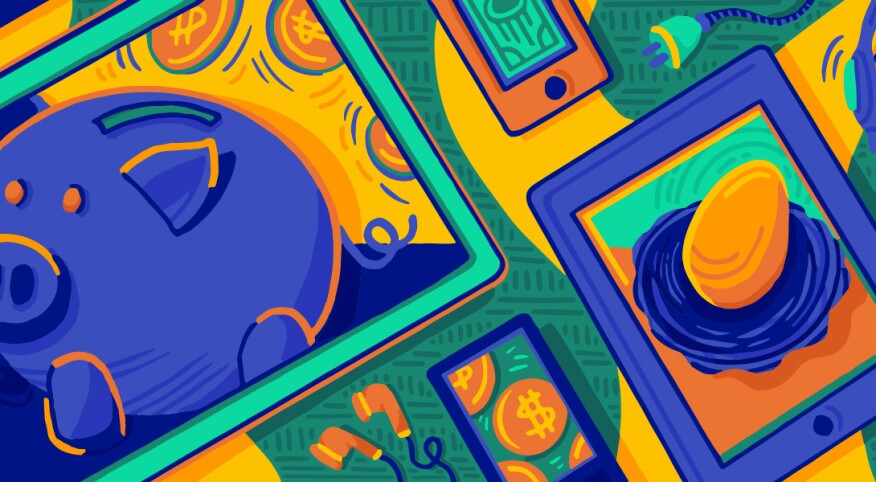 Making money will only get us so far. We need to know how to save, spend and invest smarter. We follow fashion influencers and celebs on the web. Why not do the same for financial gurus? These Black women and men are mastering the money game and pulling back the curtain so that we can do the same.

Podcasts
"I want to increase my earnings."
Listen to: Side Hustle Pro by Nicaila Matthews Okome
Okome highlights Black women entrepreneurs who have turned their passion projects and side hustles into profitable businesses. sidehustlepro.co
Start here: Identify your top three measurable goals for growing your sideline business for the next 90 days. Create four to five action items per month to get there.

"I want to start or grow a business."
Listen to: Support is Sexy by Elayne Fluker
With new conversations every weekday, the podcast features over 350 diverse and inspiring women business owners who get gut-real about the ups and downs of their entrepreneurial journeys — where they started, when they struggled and how they still made it happen! elaynefluker.com
Start here: Remember that having it all doesn't mean doing it all alone. Learning from others can help you make powerful shifts in your business strategy.

"I want to retire while I can still enjoy it."
Listen to: Journey to Launch by Jamila Souffrant
In 2016, at the age of 33, Souffrant set the goal of being able to retire by the age of 40. The podcast follows her journey toward financial freedom and provides examples and lessons on building enough wealth to leave the shackles of corporate America behind once and for all. journeytolaunch.com
Start here: "Are you good at doing hair or fixing things? Barter services with a friend or neighbor to save money," Souffrant says.

"I want inspiration and support from financially savvy sisters."
Listen to: The Clever Girls Know by Bola Sokunbi
Sokunbi saved her first $100,000 in a little over three years and founded Clever Girl Finance to give women a safe space to share money moves and missteps. clevergirlfinance.com
Start here: "Always remember your 'why' — the reason why you want to pay off debt, save money and achieve financial wellness. Having a reason to pursue your financial goals will help you stay focused and motivated even on the difficult days," Sokunbi says.

"I want to get on the same financial page as my partner."
Listen to: His & Her Money with Talaat and Tai McNeely
The couple says the number one lesson they've learned about marriage is to always maintain a united front, particularly when it comes to finances. Through their podcast and blog, they're teaching other couples how to do it, too. hisandhermoney.com
Start here: Prioritize with your partner one short-term goal such as a car or a vacation. Then create what the couple calls a "sinking fund," a separate account or designated allotment of cash set aside to be used on a specific item or desire. "This will take the stress out of large purchases that can affect your budget," Tai says.

Blogs
"I want to change limiting money beliefs."
Read: The Frugal Feminista by Kara Stevens
Stevens believes our relationships with money can be healed through sisterhood, support, sacred self-care, solid steps and strategies. Along those lines, her blog provides real talk about the feelings that often accompany our financial habits. thefrugalfeminista.com
Start here: Put a face, a feeling and a function to the savings. "Name the savings account 'My Dream Job Fund,' 'My Girlfriend Getaway' or 'My Get My Mama Out the Hood' fund to inspire and cement the commitment to the goal," Stevens says.

"I want to adopt a wealth-building mindset and habits."
Read: Deborah Owens, America's Wealth Coach
Seeing her mother struggle financially after divorcing had a profound impact on Owens and inspired her to help women learn to achieve financial security on their own. Today the financial expert operates WeathyU, a financial coaching program that teaches how to build seven-figure wealth. deborahowens.com
Start here: "Find an investment tribe. Socialize with like-minded people with similar financial goals and aspirations."

"I want to stop living paycheck to paycheck."
Read: My Fab Finance by Tonya Rapley
Rapley founded her blog with the goal of helping readers gain control over messy financial lives and climb out of debt. Blog followers who took her debt elimination course have collectively paid off more than $230,000 of debt. myfabfinance.com
Start here: Wait at least 24 hours before making purchases over a predetermined amount. Do not buy items you didn't leave the house for.