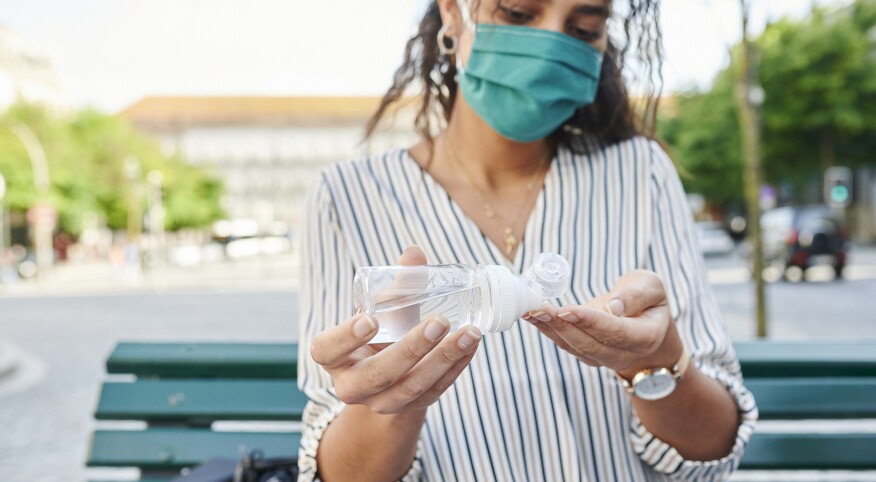 Having weathered the coronavirus outbreak since winter, people know the basics of preventing its spread — social distancing, hand washing, wearing masks. So why are we seeing so many folks walking around with bare faces or leaving the ladies' room without a stop at the sinks? Behavioral scientists call it "caution fatigue." We may be less motivated to comply with safety guidelines, simply lacking the same energy we did when the threats were new. Do you ever feel yourself letting your guard down at times?

The thing is, though the drill can feel like drudgery, the risks are still real. One way to maintain motivation is with self-care. You'll be less likely to see your 12th trip to the sink as tedious if you follow it by massaging in a rich, fragrant lotion that'll help keep the fragile skin on your hands soft and supple. And that's key to ensuring that the ageless beauty that we melanated women are known for extends beyond our faces. The same applies when we use sanitizer. The Centers for Disease Control (CDC) guidelines say to use sanitizers with a minimum of 60 percent alcohol to kill germs, and that alone can leave us with dry, chapped hands.

More skin and health-saving tips:

• The American Academy of Dermatology suggests wearing gloves when cleaning or sanitizing.

• Look for creams and ointments with ingredients like olive oil, jojoba, aloe and shea butter.

• Avoid hand sanitizers formulated with methanol, which the Food and Drug Administration has warned is unsafe.

Another way to beat caution fatigue is to connect the healthy habit with a new motivator. What about supporting Black businesses during these tough times? With those goals in mind, we've sourced a selection of skin care products perfect for giving your hands, and the community, some love. (We gave you the 411 on fierce face masks designed by sisterpreneurs here.)

Touch Body Works
Hand sanitizer with aloe to-go pen: Pocket-sized protection
Evoketouch.com
Based in Detroit, this company offers skin salvation in a pen-shaped, plant-based hand sanitizer infused with aloe vera and vitamin E. The handy spray is moisturizing yet effective, and features 65 percent isopropyl alcohol. The best part? It's sulfate-free, formulated with botanical extracts like tea tree and lavender and handmade with love.

Yaaganix
Cherry blossom aloe-based hand sanitizer: Gentle germ killer with lower alcohol
Yaaganix.com
The brand uses 62 percent alchohol, which is just effective enough to meet CDC guidelines but won't overstrip. Plus it's blended together with pro-vitamin B5, aloe and vitamin E and smells like a florist housed in a bakery.

Sw&g
Ultra moisture hand cream-peptide formula: Hydration with a conscience
Pure-Swag.com
You may remember Stafford, Texas-based, esthetician-turned-entrepreneur Lydia Evans from Shark Tank, which gave her skin care line a boost. You'll find everything from patented all-in-one soaps that cleanse, exfoliate and disinfect to sanitizers and lotions. A standout: The fragrance free hand cream whips peptides together with sustainably sourced shea and mango butters for deep moisture with a lightweight feel. Plus, it's vegan, cruelty-free and dye-free.

Garner's Garden
Organic hand cream: A touch of shea goes a long way
Garnersgarden.com
Owner Philip Garner started this brand with the goal of creating oxygen-infused, 100 percent natural, vegan-friendly products. The sanitizers and creams contain a blend of therapeutic-grade essential oils in your scent of choice. The convenient travel-sized hand cream with a touch of shea is moisture-packed but light to the touch. A little goes a long way.

Hairizon
Hand sanitizer: Family-friendly protection that's made to order
Hairizonbeauty.com
This Sister-owned beauty bar based in Durham, North Carolina, offers hand sanitizers in your choice of aromatherapy blends. You can also choose from spray or gel, in the size that best suits your needs.

Olive Branch Wellness Boutique
Oliveberry organic hand sanitizer: Potency with artisanal flair
Shoptheolive.com
This clean beauty brand offers an array of vegan and natural handcrafted products. Their 100 percent organic sanitizer is made with aloe vera and vegetable glycerin to soften up the potent formula of 95 percent alcohol. Choose from five essential oil blends, including wild tangerine and natural lemongrass.