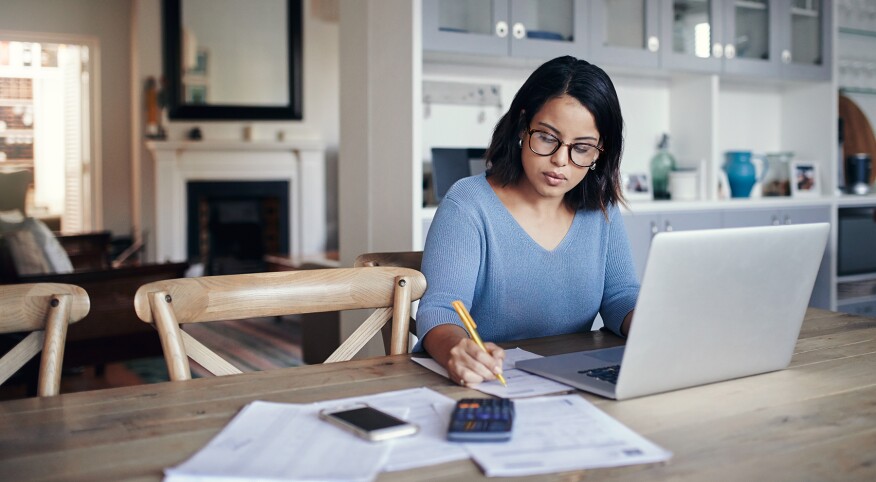 Do you find yourself procrastinating on financial tasks? Maybe you've noticed an increase in your internet bill and need to call your service provider. Or you want to make changes to your 401(k) contributions. You tell yourself you'll get to those tasks someday, but weeks later, someday still hasn't come.

Procrastination can get the best of us. I mean, there are more fun things to do than wait on hold or try and make sense of your 401(k) paperwork. But when it comes to delaying financial matters, procrastination can cost us. One way to avoid this trap is to set up weekly money meetings for yourself.
Holding regular money meetings was a game changer as my family climbed our way out of debt. Now, I have my financial coaching clients commit to them too.
What is a money meeting?

Money meetings, also called "money dates" for couples, are regularly scheduled appointments you have with yourself specifically to work on your finances. They're like checkups for your money — the same way you have health physicals or scheduled maintenance for your car. Think of money meetings as appointments so you won't be tempted to skip them. You can use these meetings to take care of routine tasks like paying bills and budgeting or occasional to-dos like checking your credit reports or making changes to your investments.

Holding regular money meetings was a game changer as my family climbed our way out of debt. Now, I have my financial coaching clients commit to them, too.

These recurring appointments can help keep you organized, save money and make sure you're on track to meet your financial goals. During one of my recent money meetings, I shopped around for car insurance and switched companies. This move will save me $1,053 over the next year, not a bad use of my hour-long meeting.

Money meetings hold you accountable.

With a standing appointment on the calendar specifically for money tasks, my coaching clients never have to find the time to work on their finances. It's built-in accountability.

One client says her money meetings have helped her to be more mindful of her day-to-day spending. She uses her appointments to track her expenses and recently learned that she spends over $400 on restaurant orders. She decided to reduce that amount so she could build her emergency fund faster.

Another client credits her weekly meetings with getting her organized. She would often let her mail pile up and miss bill due dates as a result. She now incorporates opening the mail in her money meetings and says these appointments save her both time and money.

How to begin your money meetings

The beauty of these meetings is you can tailor them to your needs and preferences. Here are some steps to getting started.

1. Choose a recurring time and put it on the calendar.

Look at your schedule and set aside a day and time for your money meetings. Weekly is ideal, but choose a frequency that makes sense for you. You can always tweak it as you go.

When deciding when to have your meetings, make sure it's during a time you can keep — and one in which you'll feel up for working on your finances. Scheduling your money meetings right after your squad Zoom call probably isn't a good idea. Also, increase your chances of keeping your appointments by putting them on your calendar.

2. Make your money meetings enjoyable.

Set the tone you want to have for your sessions. If the environment around your money appointments is positive and pleasurable, you'll look forward to working on your money. And you'll experience a greater sense of accomplishment once you finish. I encourage clients to play music, have snacks and drinks or even light candles during their meetings.

Think about what will make your sessions fun for you. Making your meetings feel less like drudgery is especially helpful if your money situation stresses you out or if your partner is less than thrilled about working on your finances.

3. Designate a place for your money meetings and stock it with everything you need.

If you have the luxury of a home office or other space you can dedicate to your money meetings, make sure it's well stocked with any supplies you need, such as a calculator, envelopes, stamps, file folders, a notebook, paper shredder, etc. If you don't have a dedicated space, consider creating a mobile money meeting station — a bin or box that houses everything you need. It's also a good idea to bookmark helpful digital tools like this investment calculator and this retirement calculator.

4. Create a standard checklist or agenda.

I have my clients create a checklist that they complete during a typical money meeting. Having an agenda to guide your sessions will help them run efficiently and prevent things from falling through the cracks.

For example, a typical money meeting may include two or more of these tasks:

Open and process mail
Pay current bills due
Balance checkbook/reconcile checking account
Check balances on bank accounts, retirement accounts and investment accounts
Complete any additional money tasks
Review financial goals
Express gratitude and celebrate recent wins
Again, tailor your checklist to your situation. For example, you may want to add tasks such as tracking your spending, filing papers, ordering your credit report or calculating your net worth.

5. Use your money meetings for monthly or occasional tasks.

Every money meeting won't look the same. Maybe once a month you'll need to dedicate your time to creating a budget. Annually, you may want to see what recurring bills you can negotiate. Or, as tax season approaches, you may decide to spend a couple of meetings pulling things together. Use your money appointments to accomplish any money tasks, especially those you tend to put off.

6. Reward yourself.

Building a new habit isn't easy, but the payoff can be huge. So consider planning a small reward for sticking with these meetings — and any time you hit a financial milestone. For example, schedule an activity that you look forward to after your money meetings. Or plan a budget-friendly celebration every time you pay off a debt or reach another savings milestone.