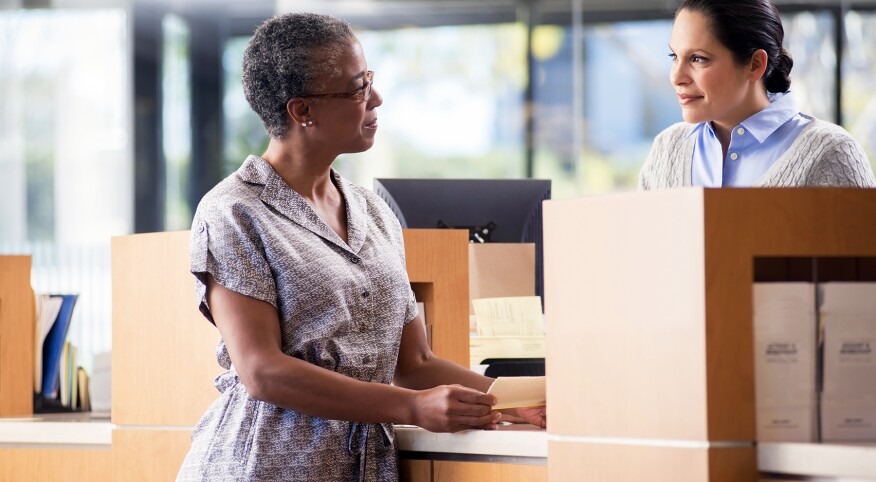 In the Black community, it's common knowledge that bias exists throughout the U.S. financial system. Lending discrimination is well documented, with figures from 2019 showing Black mortgage applicants denied at twice the rate as white borrowers. From the Great Recession onward, bank branches have closed in communities of color at higher rates than in others. And on average, Black checking account holders pay double the fees of their white counterparts. Inequities such as these have fueled a decades-long mistrust, and recent high-profile incidents of racism only stand to deepen the rift.

Famed Black Panther director Ryan Coogler was mistaken for a bank robber and detained by police in Atlanta after using a note to discreetly withdraw $12,000 from his checking account.

TikToker Baby Storme went viral after sharing that a Citibank teller refused to cash a $30,000 check from her father.

And 37-year-old Minneapolis-area house flipper Peter Wogbah had to visit a second U.S. Bank branch to get a $30,000 cashier's check, with the first reporting him to the police, who questioned him in the parking lot.

In each of these instances, fame, status and success didn't insulate these Black men and women from prejudice. It was automatically assumed they'd only possess large sums of money through illegitimate means. As a result, they each suffered humiliation and trauma while attempting to access their own funds.
"In addition to putting your dollars with local, community-based institutions, consider opening an account with a digital bank that specifically serves the needs of Black communities."
These are frustrating stories to hear, but, sadly, they reflect the reality of banking while Black, and there are undoubtedly countless other instances of financial racism that we never hear about.

It's an unfortunate truth that many of us have faced, or will face, some version of these indignities in our banking experiences. However, we aren't powerless. It's important to understand why these discriminatory practices continue and what steps we can take to protect ourselves.

A Better Way to Bank While Black

Starting in the 1960s, laws were established to fight lending discrimination. Nonetheless, harmful financial-practices violations and unequal treatment remain rampant.

Federal data in March of this year showed that in 2020, Wells Fargo approved less than half of mortgage refinance applications from Black homeowners, compared with a 72 percent approval rate for white applicants.

Although white applicants were approved at higher rates at all major lenders, Wells Fargo lagged significantly behind other lenders in approving applicants of color. Overall, 71 percent of Black refinancing applicants in the country were approved in 2020; the rate was just 47 percent at Wells Fargo, according to a Bloomberg news analysis.

Considering the history and the current state of banking, finding fair, just ways to manage your money can seem daunting. But hope is not lost.

If you face discrimination while banking, there's often little recourse for you in the moment. You do, however, have options afterward.

First, get familiar with your rights as a banking customer. The Consumer Financial Protection Bureau (CFPB) has several resources that clearly state the information and services you're entitled to regarding your accounts. It's much harder to spot mistreatment if you don't know what you're guaranteed.

Second, speak up about the mistreatment to all relevant parties. File a complaint with the bank as your first step. If there isn't a satisfactory resolution, report the bank to the Federal Reserve as well as the regulatory agency that oversees the bank: the Office of the Comptroller of the Currency. Both steps are necessary because the Federal Reserve can only investigate complaints but cannot resolve them. If, after these steps, you still need help, file a final complaint with the CFPB.

Lastly, don't just bank while Black — bank Black, too. Even if you still do business with a majority institution, consider also opening an account with the nearest Black-owned bank. Admittedly, this can sometimes be easier said than done. After all, there are only 42 Black-owned banks or credit unions in America. And with half of all Black financial institutions closing between 2018 and 2021, roughly 70 percent of African Americans don't have a bank branch of any kind in their neighborhoods.

That's why, in addition to putting your dollars with local, community-based institutions, consider opening an account with a digital bank that specifically serves the needs of Black communities and that provides its services primarily through mobile banking apps.

Banking shouldn't be a source of trepidation for Black customers, but financial institutions are yet another space in which our Blackness can unfortunately be a barrier to equal treatment. By knowing our rights, using available communication avenues and sometimes even changing where we bank, we can rewrite this narrative.