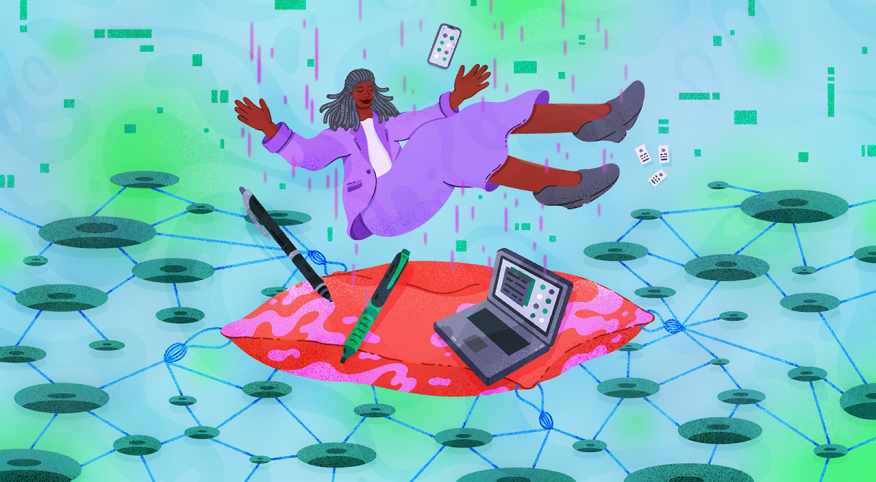 I once worked for a media company that was notorious for announcing random layoffs. In fact, one year, my colleagues and I had to reapply to keep our jobs.

During that time I was constantly stressed — until I started discreetly sending out my résumé and even going on a couple of interviews. Though I didn't want to leave my company at that time, exploring potential opportunities led me to believe I could land on my feet if I suddenly had to.

Turns out I was "career cushioning," a term that describes actions you take — such as networking, sending out résumés and applying for jobs while you have a job — to cushion your fall if you lose your job and set yourself up for the next gig.

In today's work environment, it's been feeling lately like the odds of needing a new job are getting higher. A December survey of business leaders by ResumeBuilder.com found that 61 percent expected their companies to have layoffs this year, and recent high-profile layoff announcements from such companies as Microsoft, Disney and Amazon suggest those expectations may not be so far-fetched.

But waiting until you need a job to start positioning yourself for your next job is too late, experts say. That's where career cushioning comes in, a skill that many Black women have been cultivating for years.

A cautionary tale

Like many Black women, Candace Steele Flippin, D.M., senior vice president and chief communications officer for Acuity Brands, learned the importance of career cushioning early in her career. "I once had a colleague who refused to participate in networking events and focused solely on working hard as the means to get noticed," she says. When the colleague's division was outsourced, her job went with it, and, unfortunately, "she didn't know anyone inside the company or the industry, leaving her with few options," Dr. Steele Flippin says.

Thanks to the advice of mentors, Dr. Steele Flippin used a different strategy. She got to know people at all levels of her organization, joined professional and industry organizations and kept her résumé up-to-date. "Throughout my career, I've had seven jobs, including my current one, that were referrals from people in my network," she says. "While having a network may not guarantee job security, it can be invaluable in helping you find new opportunities and navigate challenging situations."

Maybe we do it out of a sense of self-preservation, but cultivating authentic relationships is nothing new for Black women. We are always ready to drop a word of advice or solicit another sister's opinion whether at a church service, sorority meeting or trade conference. We're also always on the lookout for a better opportunity. In fact, 49 percent of Black workers are either considering or taking steps to find a new job, according to a recent survey by the job site Indeed.com. Perhaps that's why 93 percent of Black and Latinx workers feel confident about their job outlook, according to LinkedIn, despite the layoffs taking place all around us.

With life returning mostly back to normal after the turmoil of the pandemic, many of us are also venturing back out to after-work happy hours and professional networking sessions. When you use career cushioning tactics such as expanding your network, your actions are saying, "I'm being intentional, I'm being strategic, I know where I'm trying to go," says Velera Wilson, a speaker and author who helps women build career leadership skills. Even if you love your job and you're happier than you've ever been, "when things start turning sour, you've already got people that you can connect with and it doesn't feel like a cold call," Wilson says.

As Black women, we're not ones to let grass grow beneath our feet. To make sure you're ready when opportunity strikes, try these career cushioning tactics yourself.

Use social media to build your professional brand. Post what you want people to know about you, says Wilson. If you received a new certification or got a promotion, share it with your network on LinkedIn. You never know when a hiring manager who needs those skills will see it. It positions you as the person who does X, says Wilson. When people in your network see opportunities, you're likely to be top of mind.

Nurture relationships from different stages in your career. Reach out to current colleagues and those at companies where you used to work. This can be as simple as going to lunch or taking a virtual coffee break together, Dr. Steele Flippin says. Also join professional and industry organizations and attend their events to expand your network, Dr. Steele Flippin adds.

Know when to be discreet. There's nothing wrong with your manager knowing that you're developing your network and improving your skills, Wilson says. But don't publicly announce on social media that you're looking for a job unless you don't mind if your current employer knows. However, if you're asked to participate in industry functions such as sitting on a panel or giving a speech, make sure your employer is OK with it. It may even increase your value in their eyes.

Keep up with what's going on in your industry. Getting to know people in your profession lets you learn what skills are most valued so you can build them. You're also more likely to receive intelligence that can pay off at your next job interview, such as salary information and what it's like to work at certain companies.

While there's much about our professional lives that we can't control, career cushioning can help us stay in the driver's seat. "You have a bit more of a safety net," says Wilson.