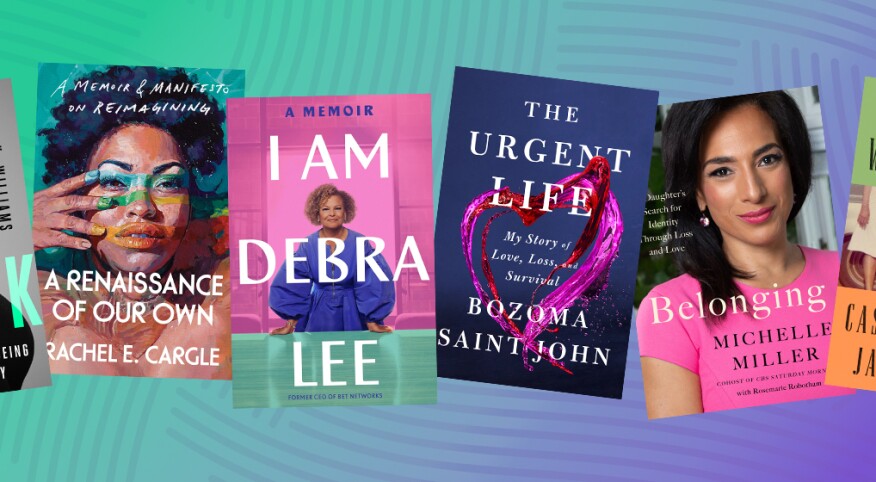 These new and powerful memoirs were penned by influential women. Some of them live large. All have sizable platforms. They are C-suite executives at major corporations, professors, journalists and activists. That's their public side. Yet each one held close the untold stories about what it took to get them where they are today. They finally reveal the events that shook them and the status quos that they were compelled to shake up. Each sister's story is unique yet completely relatable at its core. And each author boldly models for us what we gain by living intentionally — and what we lose when we don't. These books inspire and encourage readers to do what is best for themselves despite the challenges, heartbreaks and setbacks. Only then can we seize the moments that are meant to be ours!


Bet on Black: The Good News About Being Black in America Today
By Eboni K. Williams
You may find yourself proclaiming aloud, "I'm Black and I'm proud," after devouring this rich, relatable and at times roaringly funny memoir by attorney, journalist and podcaster Eboni K. Williams. A media personality, former public defender, former pageant queen and the first Black cast member on the reality show The Real Housewives of New York City, Williams has certainly navigated many spaces. Still, as her memoir reveals, Williams unapologetically and unequivocally took up space as her full self. She encourages other Black women to forget code-switching, foster community (because we are better together) and to be Black and proud! Williams illustrates that the joys of being authentic far outweigh the challenges. You are sure to sit up a little straighter with pride as you read this celebration of Blackness.


Belonging: A Daughter's Search for Identity Through Loss and Love
By Michelle Miller
Journalist and CBS Saturday Morning cohost Michelle Miller is as real and raw as it gets in this memoir. She shares her origins as the love child of a Black, married surgeon and a Chicana woman who presented herself as white, which may have factored into her choice to abandon Miller as a baby. There are more fascinating facets of Miller's family history. Her father, Ross Miller, M.D., was the first doctor to tend to the late Sen. Robert F. Kennedy after he was shot at the Ambassador Hotel in 1968. Author Miller found love with and married former New Orleans mayor Marc Morial, with whom she has two children. Her journey into womanhood was filled with the struggle to understand her identity and place in the world. She was raised by her father and paternal grandmother. She was bused to a predominantly white school while unaware of her mother's background or her own Mexican heritage. Then, in her early 20s, a serious situation concerning her father led the author to seek out her mother. This memoir reckons with family secrets, race and belonging.


A Renaissance of Our Own: A Memoir & Manifesto on Reimagining
By Rachel E. Cargle (coming May 16)
Most likely all of us have experienced times in our lives in which we stop and come to the realization that we no longer want or need to do or be a _____ (you fill in the blank). Cargle had such an epiphany, which catalyzed a renaissance of her own. Her memoir unravels how her identity evolved from that of a Christian wife living in a small community to that of a queer feminist with a huge platform. We share this journey as she imagines or reimagines intersecting roles as the daughter of a disabled mother and a poor youth growing up in a wealthy neighborhood. We share in her triumph as she begins to flourish as the person she was destined to be. In fact, Cargle includes a series of prompts that encourage readers to reimagine their own identities and create a manifesto that moves them forward.


The Wreck: A Daughter's Memoir of Becoming a Mother
By Cassandra Jackson (coming May 16)
This fascinating read illustrates generational resilience, hope and love. Jackson's intimate and vulnerable memoir simultaneously enlightens readers about health care bias and disparities (including around infant and maternal health) that might impact our own families and medical outcomes. As a young girl, the author didn't understand why her father would cry out her name in his sleep. Much later she would discover that his trauma stemmed from an auto accident that took the life of his mother and others he cared about. She was shocked to find that another passenger killed in the wreck had been her father's first wife. Jackson, an English professor, narrates hurtful personal experiences with medical personnel as she struggled with infertility, and details instances in which these personnel seemed not to take her seriously or dismissed her concerns. Her unflinching interrogation of the past unearths telling parallels, and we discover that generations of her family met similar mistreatment or neglect by health care providers.


The Urgent Life: My Story of Love, Loss, and Survival
By Bozoma Saint John
Any reader who has experienced loss and disappointment or who has found herself at one crossroads after another will appreciate a personal story that deftly blends heaviness with heart and humor. Bozoma Saint John, former chief marketing officer at Netflix and former chief brand officer at Uber, details how, despite setbacks and the heartbreak of losing her husband to cancer, she lived life urgently. Through many challenges and harrowing personal experiences that often complicated (or occasionally contributed to) public success, Saint John continued to show up for herself and her loved ones. The author and thought leader strengthens our determination to live out loud through it all. This read is especially for you if you are experiencing the uncertain in-between times that bridge what you've found the courage to release and the unseen blessings that await.


I Am Debra Lee: A Memoir
By Debra Lee
This memoir is for all the boss ladies out there in every field of work. Debra Lee's memoir pulls back the curtain on what it was like to be the first female CEO of Black Entertainment Television. Lee does not shy away from admitting the complexities she faced as a Black woman leading a team of mostly men. She candidly delves into the misogyny that exists in the corporate world. She shares how she unexpectedly went from a career in law to one in the entertainment industry. Personally, she grappled with fertility issues, new motherhood and the notion of having to "have it all." Lee epitomizes what makes successful Black leaders. She models the importance of saying no when necessary and knowing how to maneuver within the corridors of power. No matter what industry you are in or what position you hold, if you strive to lead, this is your book!