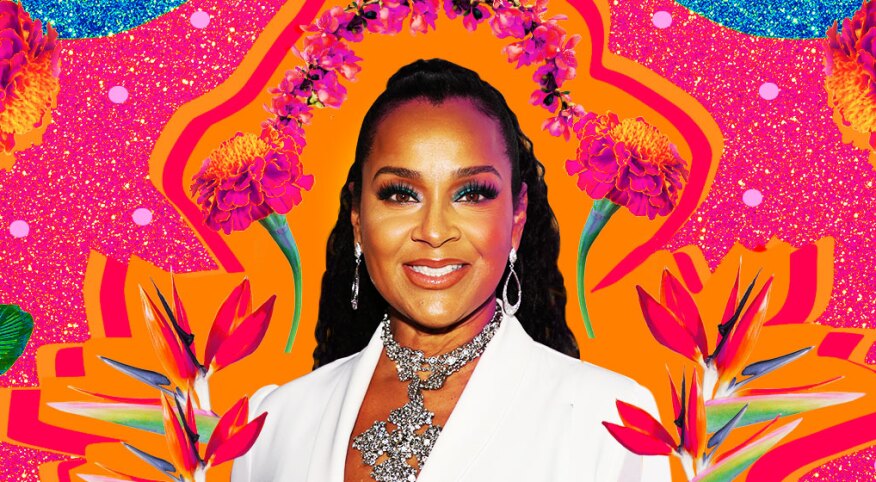 When you see LisaRaye McCoy, you may first notice her beauty. The actress and model gained early attention via her role in The Players Club in 1998, and she's more recently had roles in HBO's Ballers and the Emmy-nominated show A House Divided, as well as in the recent film For the Love of Money. McCoy also has made an impact as an entrepreneur; former first lady of Turks and Caicos; and host, including her work as cohost of Fox Soul's Cocktails With Queens, alongside Vivica A. Fox, Syleena Johnson and Claudia Jordan.

But if you fail to understand her depth — her willingness to speak out on everything from politics to Hollywood and to take time to connect with people, pray and heal — you'd miss the full picture of her contributions.

McCoy was born and raised in Chicago, her father a businessman and her mother a model. After her father was tragically murdered in 1988, she was able to find success but also dealt with personal and familial hurts, which she openly addressed with Iyanla Vanzant in recent episodes of Iyanla Fix My Life.

Today, she still has a lot to discuss. "You cannot please everybody. You're going to have haters. You're going to have congratulators. You're going to have people that you're going to have to bend over to your side," McCoy recently told me in a wide-ranging interview. (More on that chat in a moment.) "You've got to take it with a grain of salt," she continued. "You know what I mean? I do, and I have fun doing it."

And her more than 2 million followers on Instagram and the audiences of McCoy's multiple shows — she also recently was a guest host on Daily Pop by E! and a cohost on Dish Nation with sister Da Brat — are listening.

Her openness can be refreshing, especially now when disagreements can abound (even in our everyday lives) and some people can be afraid to speak up. So, Sisters extended the invitation to host her for a special event, so you can learn more about her story, and what she's learned and why today, at age 54, she's feeling more fabulous than ever and remains open to sharing her thoughts. Plus, in our interview McCoy reveals why vision boards, yes vision boards, can help if you want to move forward this year and beyond. And since she also hosts vision board workshops, she shares exclusive tips to help you meet your own life goals.

Please watch the premiere event on Wednesday, February 16, 2022 at 7 pm EST/4 pm PST, and RSVP on the Sisters Facebook page to see McCoy get into some real talk. Or catch the replay! And keep reading for a sneak peek into this dynamic interview. (Responses are edited for length.)

Watch the replay video here.

On why she's so willing to speak up
I'm an actress, and so I jump into characters and make you guys believe in this character as I build her and breathe life into the words. That's enough. When you call "cut," I need to go in the cut and have my real life. My real life is not pretend. My real life is who I am, how I hurt, how I deal with emotions, how I deal with my family, which makes everyone on an even plane, because we're all human. […] When you enter into a certain age, you feel like, hey, I'm not trying to do the same things that I did 10 years ago. I've grown from this, and I've learned from that, so it has to reflect in my life.

On her advice to people who feel afraid to be honest
It boils down to knowing what your self-value is and your confidence.... Fear comes from the unknown, of what you don't know. When you know what you have to offer, and you know that you're talented, and you know your position […] your contribution to whatever level you're at is still a contribution.

On the significance of her TV appearances with Iyanla Vanzant
A lot of people [were] like, "This is me and my mother," and, "Oh my God, I'm so glad that you were able to tell your truth, and how are you dealing with it?" It allowed me to be able to share my story and help other people. That is why we live. We learn from other people's stories.

On how she feels right now, at age 54
I feel encouraged. I feel strong. I feel powerful. I feel more focused. I am healing more every day. Every situation that happens makes me have to deal. You know what I mean? That's the only way you learn from any situation is that you go ahead, plant yourself and deal with it.

Remember to watch the premiere event Wednesday, February 16, 2022 at 7 pm EST/4 pm PST. RSVP on the Sisters Facebook page to hear all of what McCoy shared on setting your own vision, healing, being open and more. Look forward to seeing you there!