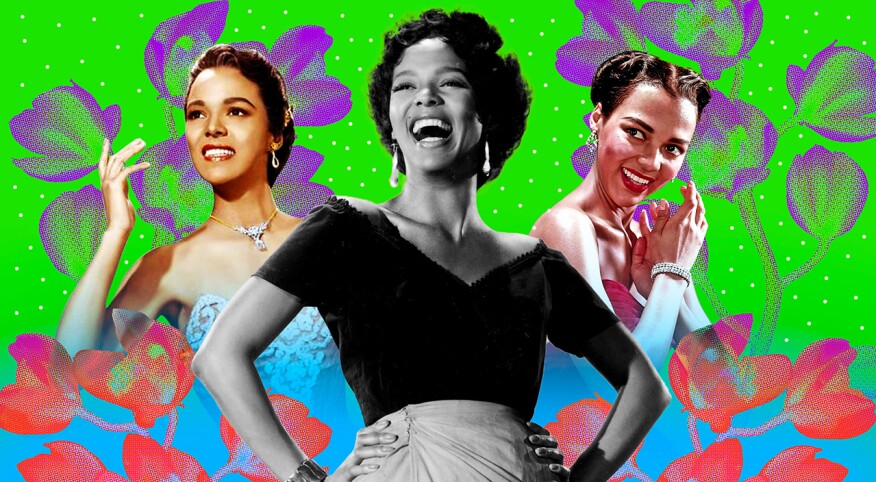 Long before singers Beyoncé and Whitney Houston sizzled on the big screen, actress Dorothy Dandridge danced, sang and dazzled her way into the hearts of fans around the world.

Dandridge exuded raw sexuality in the 1954 all-Black musical Carmen Jones, an international hit that catapulted her to instant success. Dandridge's smokin' hot portrayal of Jones was something never before seen on screen from a Black actress. With drop dead gorgeous looks coupled with bold red lipstick, a snatched waist and shoulder-baring dresses, she lit up the screen. Actresses Pearl Bailey and Diahann Carroll played her equally hot gal pals in the film, bringing the first Black Girl Magic squad to moviegoers. Add a young shirtless Harry Belafonte to that mix and you have an iconic film, released during the height of Jim Crow, that was loved by movie fans of all races all over the world.
Hollywood was not ready for a sexy Black leading lady in the 1950s.

Before landing the role of Carmen Jones, Dandridge was already a talented in-demand nightclub singer touring the globe, including all-white venues. She even sold out the Mocambo nightclub in Los Angeles with Desi Arnaz in 1951. A beautiful singing voice, poise, charm and subtly sexy dance moves earned her a diverse fan base.

Her elegant style is legendary. She was glamorous in sophisticated strapless gowns and elbow length gloves, wrapped in fur stoles and dripping in jewels. In every photo, Dandridge was flawless. She was Black Excellence. As the first Black woman to be nominated for an Oscar for best actress, she tops my list of African American Hollywood glamour queens. After the success of Carmen Jones, Dandridge was admired around the world and even appeared on the cover of Life magazine (the first Black woman to do so) and People Today. However, despite all of her accomplishments, offers did not pour in for Dandridge. Hollywood was not ready for a sexy Black leading lady in the 1950s.

She signed on for smaller roles in notable films like The Decks Ran Red, Tomango, Moment of Danger, the British film Malaga and a supporting role in the Hollywood hit Island in the Sun, a story about racial tensions in the West Indies. She next landed the gritty Golden Globe-nominated part of Bess in the classic 1959 musical Porgy and Bess, alongside Sidney Poitier and Sammy Davis Jr., with costars Pearl Bailey and Diahann Carroll, once again.

A lack of quality roles coming her way, along with a string of failed relationships, led Dandridge to return to her roots as a nightclub singer. Her life was, unfortunately, cut short by a prescription drug overdose shortly after her nightclub return, at age 42. Whether her death was an accident or a suicide has been debated.

As one of the few Black actresses to reach star status in the 1950s, Hollywood queen Dorothy Dandridge was adored by Black America. She appeared on multiple covers of Ebony and Jet. Had she been alive today, she would be a superstar with a long career. Her film appearances and nightclub performances opened doors for other talented actors and singers of color like Pearl Bailey, Diahann Carroll, Ruby Dee and Rita Moreno.

In an era where substantial roles for Black actors were scarce, Dandridge made the bold decision to turn down parts that were stereotypical. She most famously turned down the role of the slave, Tuptim, in the 1956 Hollywood hit The King and I starring Yul Brynner. She understood her reach and influence. In an effort to make a difference, she became involved with the NAACP and the National Urban League.

With the voice of an angel, Dandridge mesmerized audiences with effortless talent and smoldering good looks, raising the bar for all performers who came after her. Her autobiography, Everything and Nothing: The Dorothy Dandridge Tragedy, which was released in 1970 and written shortly before her death, chronicles her triumphs and struggles in her own words.