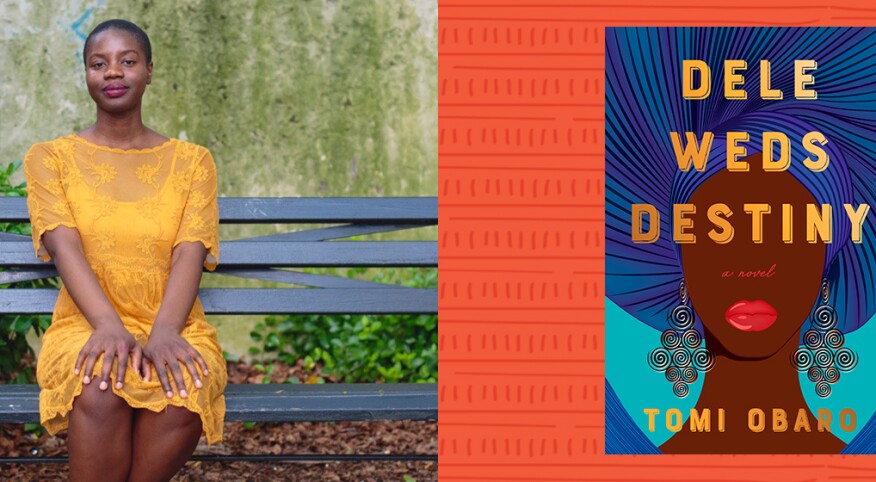 The endurance of female friendship. The complexity of mother-daughter relationships. The richness of Nigerian traditions. The clash of culture and class. The intricacies of sex and love. These are the themes explored in Tomi Obaro's debut novel Dele Weds Destiny. And you can enter for a chance to win a copy in our new Sisters giveaway. This giveaway has ended. Stay tuned for the next one.

About the story
The novel follows Funmi, Enitan and Zainab, who meet while attending university in Nigeria. The three young women are vastly different. Funmi is bold, beautiful and blunt; Enitan is homely and the brainiest of the bunch and is eager to escape her mother's smothering attention; and Zainab is a refined and reserved writer, raised by her father's first two wives after her mother died in childbirth. Despite these differences, Funmi, Enitan and Zainab forge a friendship that defies space and time.

The novel opens with the women preparing to be reunited for the first time in 30 years. Funmi's daughter, Destiny, is getting married, and the friends are coming together again in Lagos for this momentous occasion. But as the big day approaches, it becomes clear that Funmi isn't going to get the perfect ceremony she's been planning and praying for. Enitan, who now lives in America, brings along her 19-year-old daughter, Remi — the girl's first visit to Nigeria.

From the food and customs to the pageantry of the wedding ceremonies, the novel is steeped in Nigerian culture but delves into matters that are relatable to almost anyone, regardless of their background. The novel bounces back and forth from the women's college years to the present day to reveal captivating and heartbreaking stories about their loves and losses and to show just how layered their lives are.

A conversation with the author
Born to Nigerian parents and raised in England and the Gambia before coming to America at age 11, Obaro got the idea for the book in 2018 after seeing her mother reunite with old friends for a wedding in London. While Obaro, who lives in Brooklyn and works as an editor for BuzzFeed News, didn't base any of the novel's characters on her mother or her mother's friends, as she sifted through their old photographs, she knew this was the novel she wanted to write.

Read on for more takeaways from Obaro, and then enter to win your copy of this new book in our special Sisters giveaway! This giveaway has ended. Stay tuned for the next one.

(This interview has been edited for length.)

Where did you get the inspiration for the three main characters?

It really was my imagination. There's one character in the novel named Zainab who's Hausa Muslim. I knew that I wanted to have that aspect of having a friendship between two different religions, because my dad grew up in the northern part of the country in a Christian family but grew up speaking Hausa as well. Even though Nigeria is a country that has a lot of tensions between Muslims and Christians, those sorts of relationships exist in real life.

Being aware of some of the characteristics that I wanted these characters to have helped, but in some ways, they arrived fully formed. I knew that I wanted to have someone like Funmi. She was fun to write. She's a character who's more sexually forward and blunt and has a difficult relationship with her daughter. And then Enitan — she's a character who elopes with a white man and lives in New York. The idea of there being a dramatic elopement and how that tests friendship was interesting.


Is there a character in the book you identify with most?

I think that there are parts of myself in all of them, and to be honest, probably the character who is most like me — even though it's probably unflattering in certain ways — would be Remi or Destiny, the two younger characters in the novel. In Remi's case it's the first time she's visiting Nigeria, and she's somebody who can be annoyingly earnest and annoyingly politically correct, so to speak. I think that there are elements of my younger self in her and with Destiny too. She's somebody who's grappling between doing what her parents want her to do and doing what she wants to do, and I think that's certainly a relatable experience to a lot of children of immigrants.


Was it important to you to write a novel set in Nigeria?

I wouldn't say that it was important in the sense that I felt this duty to do it. I think in some ways it was kind of scary, and so that's what was attractive about it. I'm someone who didn't grow up in Nigeria. I don't speak Yoruba. So a lot of the novel writing was inhabiting characters who are not like myself and giving myself the authority to write about these characters and write about Nigeria, or at least Lagos and Kaduna. That was scary, and I think the scariness is what made the idea of writing this book interesting to me.


In the novel you shift between two different time periods and between the different perspectives of each of the three main characters. Why did you decide to structure the story this way?

I knew that I wanted us to be able to see the characters over time, both in the past and in the present. I wanted to establish early on that these women were once teenagers and got into silly arguments over boys and had sex. I didn't want it to just be solely fixated on their lives in their 50s.


What role do you think storytelling can play in bridging the gap between generations?

I think it provides context from generation to generation. It often helps people realize, at least for younger generations, that their mothers or their aunts or whatever female figures are in their lives often did at some point struggle with some of the same things that they may be struggling with now.

This giveaway has ended. Stay tuned for the next one.