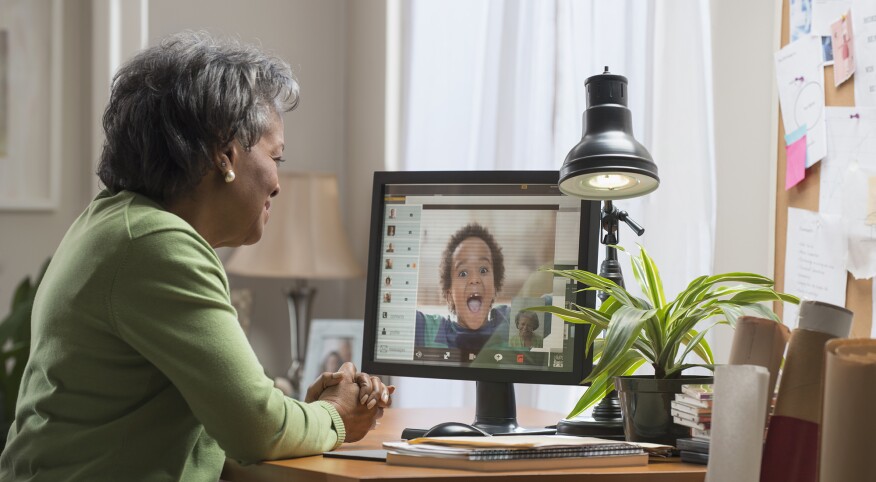 We're in a heavy time during this pandemic. The news is beyond sad, and people have lost loved ones, friends and more, in addition to managing economic fallout. But if we're able to communicate with our loved ones, if we still have them here, we can celebrate with them. Even now.

Whether you want to see your mom but can't because of social distancing or the inability to travel — or you are distanced from your children or other loved ones — consider these 10 caring ways to connect. Because even though these times have made us adjust our lives, every day we have is a gift. And love is love, whether it's near or far, on Mother's Day and beyond.

1. Connect via video. Texts are nice and phone calls are great, but there's nothing like seeing your loved ones' smiling faces. So dial in (offer or ask for help if needed) and start a video call. Does your house of worship offer services via videoconference? You can view them together. Then consider keeping this habit up even after Mother's Day. Connection — even when it's digital — can help us avoid loneliness.

2. Give a love coupon. Some people's love language is acts of service. If that describes the one you're celebrating, plan to do something she's been wanting. Or something she needs. Maybe her grass needs to be cut, and you have skills with a mower. Or maybe she could use organizing help, and you're the clean-up queen. Whatever you choose, create a coupon just for her. Think creatively and plan for the future.

3. Share a sweet playlist. Sharing this playlist for Mother's Day with songs from Stevie Wonder and Etta James can help make any mom's day. Or curate your own unique list of songs with meaningful lyrics to show you care.

4. Make a heartfelt movie or slide show. This gets us back to childhood, when handmade gifts were the best. We're at home more these days, so take some time to create a short movie or slideshow of your favorite moments together. The memories can keep you both smiling on the days when distance has you feeling down.

5. Watch a movie or show online. Does she appreciate screen time? Snuggle on your sofa and have her do the same at home. Then choose a movie or series to watch together. You can go old-school and push start at the same time. Or watch via Netflix Party for synchronized video and chat capability. You can start with one of the shows from this list.

6. Send flowers. Flowers are popular for a reason. And this year your order can make her smile and help a local business. "No contact" delivery options are available via sites like 1800Flowers.com and FTD.com. Just know operators are doing the best they can with available supplies and bouquets may vary slightly. Your loved one can wash her hands with soap and water for at least 20 seconds after handling the delivery, as with all packages, to be safe.

7. Have dinner delivered. Mother's Day is a time when we treat our loved ones to lunch or dinner, but different times call for different measures. Have a favorite restaurant deliver a meal to remember. Apps like Uber Eats, Postmates or DoorDash make all kinds of delicious cuisine available for home dining. Safe food handling and handwashing advice still applies.

8. Have a physically distant dance party. If your mom or loved one lives within driving distance, swing by to check in and wave from a respectable, 6-foot social distance outside. Then turn on some tunes to have an outdoor, physically distant dance party —these are a thing now, OK — or tell each other stories in the driveway. It might feel odd to keep your distance, but the space will help protect her. And the time is what matters.

9. Buy a book. These days, a little escape doesn't hurt. For instance, Terry McMillan's latest, It's Not All Downhill From Here, contains humor and plot twists. If you'd rather not mail a book, consider gifting a digital book. Or gift an audiobook, so she can sit back, unwind and listen. And if it's a title that interests you, why not order your own copy and share the experience?

10. Visit a museum virtually. If you'd dreamed of taking your mom or loved one on a trip, you still can. Kind of. For now, travel the world via an online museum tour. Just find your favorite location to see the offerings. You can choose from the Louvre Museum in Paris, the Museum of Modern Art in New York, various Smithsonian museums in Washington, D.C. ,the Rosa Parks exhibit at the Library of Congress, also in D.C. and more. Hopefully, you'll be able to journey together soon enough.