Do you want to move with confidence like Beyoncé, glide with grace like Misty Copeland, pop and lock like Ciara or show off some sexy pole skills like J.Lo? Yes? If you have always loved to dance, consider a class.

Here are a few dance studios around the country with classes for all dance and fitness levels. You can opt to drop in for a single class or take a series of lessons. Some studios even offer online classes.


The Ailey Extension, New York City
alvinailey.org/extension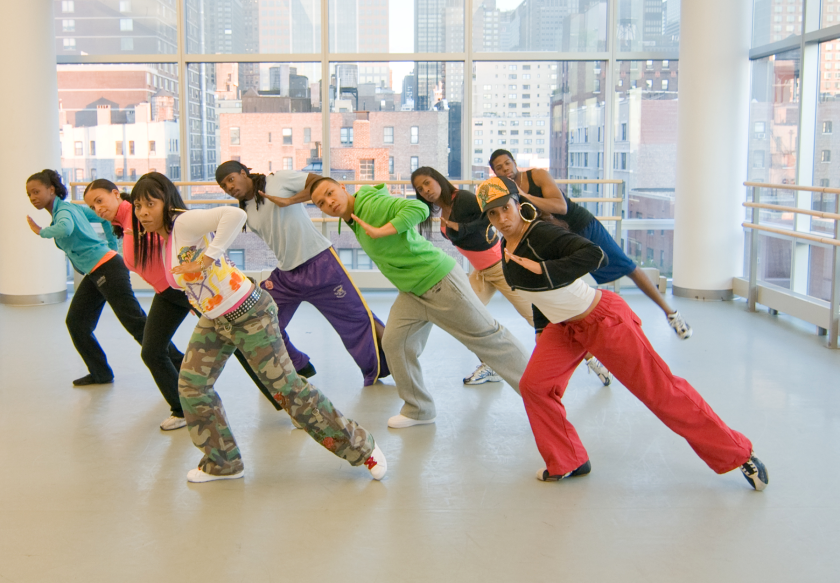 One of the premier studios for modern dance in the U.S., here you'll find instruction, programs, workshops, student performances and prominent instructors from all over the globe.

Owner/Founder: Founded by legendary modern-dance choreographer Alvin Ailey, who believed that dance comes from the people and should be given back to the people, accessible to everyone. Robert Battle, the current director, upholds that legacy.

Known For: In-person and online instruction in modern dance as well as world, jazz and ballet for absolute beginners to professionals.


The Debbie Allen Dance Academy, Los Angeles
debbieallendanceacademy.com

With a core belief, as expressed on their website, that "arts education defines discipline, creativity and self-confidence," the DADA is known for its esteemed faculty and commitment to the art of dance.

Owner/Founder: Debbie Allen, world renowned director, choreographer, author, dancer and actor.

Known For: Youth and adult instruction. Open classes allow people of all skill levels to explore the world of dance with world-class instructors.


Cumbe, Bedford-Stuyvesant, Brooklyn, New York City
cumbedance.org

Cumbe is a sacred space for African and diaspora dance and music. The donation-based classes are for people of all ages and fitness levels.

Owners/Founders: Dominique Bravo, codirector, is an attorney who has always represented talented creatives and devoted her life's work to culture and social service. Pat Hall, artistic director, is an internationally acclaimed dancer-choreographer and teacher.

Known For: Affordable in-person and online African dance and drum instruction for all skill and fitness levels.


The Secret Garden Pole Fitness Boutique, Atlanta
sgpole.com

Yes, Atlanta is famous for its strip clubs, and so one might be forgiven for mistakenly thinking that this studio — or this dance form — is just for entertainment pros. But did you know that elite pole athletes have an international federation and compete in championships all over the world? In fact, the sport has attracted a growing number of men and has begun the process of applying to the International Olympic Committee for inclusion as a future Olympic sport. With classes for all fitness levels, the owners welcome everyone.

Owners/Founders: Native ATLeins Hennessy and Cherokee became pole fitness instructors in 2016. Three years later, they opened their own studio, which they describe on their website as "a pole fitness community that is passionate, creative and supportive."

Known For: Classes like Beginner Pole Seduction and Naughty X Nature. Birthday, bachelorette and private group instruction.


TRILLFIT, Mission Hill, Boston
trill.fit

There's a Saturday night dance-party vibe every day at this studio. Classes are high-energy, hip-hop-inspired and designed to burn maximum calories.

Owner/Founder: "I couldn't find a gym or fitness studio where I felt like I belonged, so I created one," Heather White told Women's Health magazine. White, a senior manager at Puma, started TRILLFIT as a pop-up in 2015.

Known For: Their signature dance-cardio class featuring a DJ.


NC Dance District, Charlotte, North Carolina
ncdancedistrict.com

A hip-hop dance studio for beginners and all levels, including professional. Group and private instruction for adults, teens and kids is offered.

Owner/Founder: Ana Ogbueze, a former dancer for the NBA's Charlotte Bobcats, is known for her over-the-top, high-energy choreography.

Known For: Hip-hop dance classes where you'll learn all the hottest moves seen in music videos.


Brukwine, locations in New York City and Houston
brukwine.com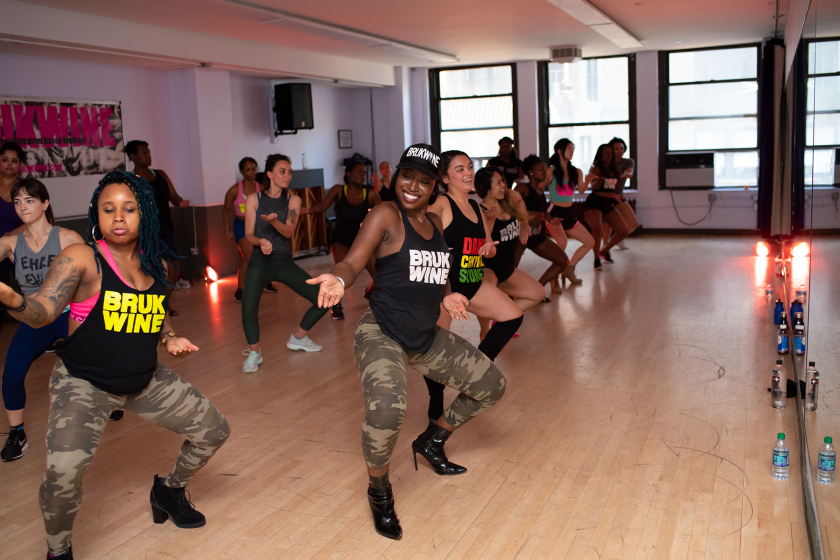 A Caribbean-inspired dance workout that will teach you the sexy art of wining so that you can work it like Rihanna on the dance floor. Follow Brukwine on Instagram @brukwineaddiction to find out where their in-person classes are being held weekly, or sign onto their site for on-demand classes.

Owners/Founders: Tamara Bradshaw and Autavia Bailey have both been performing, touring and teaching for 10-plus years. Between them, they have performed for Beyoncé, Rihanna, J.Lo, Missy Elliot, Lady Gaga, Alicia Keys, Ciara, Diddy, Gwen Stefani, Sean Paul and others.

Known For: Their Reggae/Dance Hall in Heels class.


Urban Movement Arts, Philadelphia
urbanmovementarts.com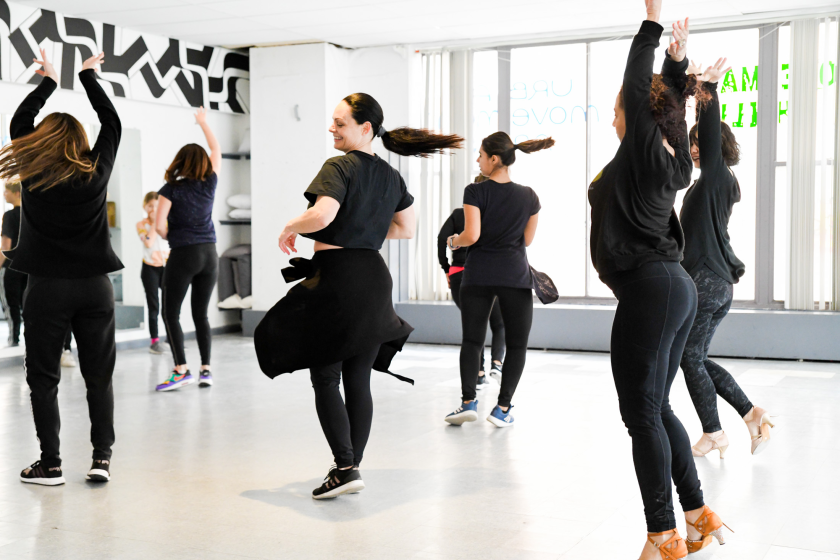 Urban Movement Arts believes everyone is meant to dance. UMA is a safe space with adult classes for beginners to those with professional aspirations. It welcomes those simply looking for exercise, fun and making new friends.

Owner/Founder: Vince Johnson is a former principal dancer for Rennie Harris Puremovement. His dance foundation is based in martial arts and hip-hop dance. He has also led a hip-hop class on "house" at Princeton University's Lewis Center for the Arts.

Known For: Hip-hop classes as well as The UMA Dip, a personalized and slower-paced program for beginners, guiding students in the basics of connecting with and controlling their bodies.