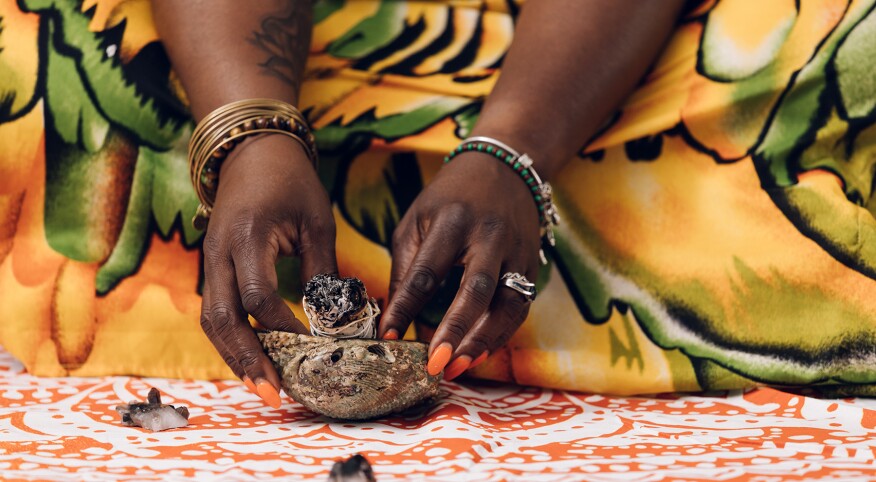 We live in an era when self-care can be the default response to suffering. And as a therapist this can be perplexing, especially since self-care can be promoted under the guise of "treat yourself" and can be seen as needing to book a vacation, go to the spa or spend on some luxury item.

As a Black woman, my ancestors did not have access to spas, vacations or even the crumbs left behind on a silver platter, yet, they were the ones under the most mental anguish and turmoil, experiences that I could never know or even relate to. I often think about my ancestors when I think about my family and the ways dysfunction crept into my home. Spa packages and vacations did not harness the power to help with many of the issues my family members were presented with that were often passed down through generations.

In my household, I was exposed to things like family secrets, what was called "a good whooping," arguing and more. But what I also know is that these things didn't start with my parents. These issues were in the family way before them, and my parents were only raising me up through the lens of discipline and love that their limited minds knew.

What to know about intergenerational trauma

Now as a therapist, and a Black woman, I am always thinking about Black pain and Black healing. In many ways, I think the legacy of trauma is still being played out through actions of the family. And psychologists are studying the impact of what has been called "ancestral trauma" or "intergenerational trauma." (One of the first articles on the topic was written by psychiatrist Vivian M. Rakoff back in 1966 to describe the effects of the psychological distress amongst children of Holocaust survivors.)

Intergenerational trauma is simply the effects of unresolved trauma, whether individual or interpersonal, that gets passed down the family tree and affects the family system as a whole. However, a more pervasive form of interpersonal trauma is defined as historical trauma, that specifically affects BIPOC (Black, Indigenous, People of Color), which is the consistent act of violence and oppression that marginalized groups of people have faced for centuries. These can be hard to resolve because these traumatic experiences are still present until this day.

Though Black pain is still in existence, and I had to grow up enduring it, as I became an adult and began to develop emotional maturity, I also started to get a better understanding of Black healing. I saw a way out of the cycle of brokenness and repeated patterns, and I knew it could be done with the guidance of my ancestors and practices that were created for my emotional healing.

How to engage in ancestral healing

If you're interested in working to break negative cycles in your life and transform your healing practices, here are four ways to engage in ancestral healing.

Writing or audio journaling. This practice can be both healing and insightful. When I find that I am unable to get my thoughts out on paper, I use the recording app on my phone and I just talk. It can be freeing to hear yourself speak boldly and courageously about your struggles, and both writing and recording can allow you to see your experiences from an objective perspective.

Smudging. People from various cultures have practiced smudging. In the Native American tradition, smudging is seen as a bridge to the higher realms, a way to clear spiritual and emotional negativity that has built up in a space or a person. My ancestors who were Natives on the land of Panama passed this tradition down to my mother, who was the first to teach me about this practice before it became mainstream.

Knowing the history of smudging can be important because it can be seen as cultural appropriation amongst non-Natives. Alternatives that are ethical and non-appropriative can be to use incense and essential oils and to use crystals. There are many ways to cleanse your energetic space while upholding the traditions of others.

Culturally supportive therapy. This form of therapy, which acknowledges the person's race and cultural beliefs as a significant role in their mental healing, can play a huge role in the cultivation of Black womanhood and joy. Not all therapists are culturally competent, but finding one who shares your identity and is committed to justice healing can be cathartic.

Having a Black woman therapist has helped me in many ways, such as teaching me to become more assertive as well as nurturing over my well-being. The work I've done with her has helped me pay attention to patterns and cycles that need to be broken in order to create more joy and less intergenerational harm. And as a therapist myself, I believe in the importance of culturally sensitive therapy because it views and honors the person as a whole. And it gives insight to areas of life that can manifest as mental health related conditions that aren't even in the Diagnostic and Statistical Manual of Mental Disorders (a handbook widely used by clinicians as a guide to diagnose mental disorders).

Acting out your family traditions. You can lean into family traditions and customs such as making medicinal herbs when feeling unwell, listening to the music of your parents and grandparents, and listening to stories that are centered on Black liberation.

There is so much beauty to be found in healing. There are multiple directions to go in when we are seeking liberation and, most importantly, the journey never ends. This work will not be achieved overnight, so don't try to rush the process. But allow yourself to lean into something new.