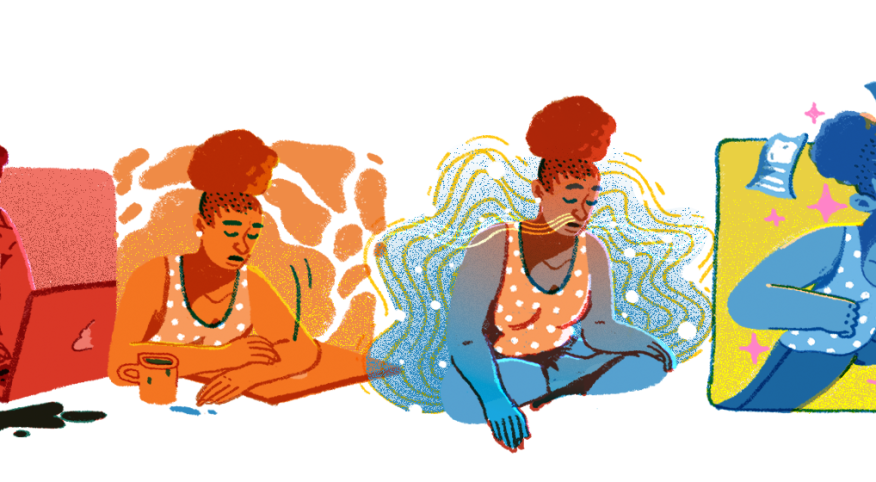 Olivia Affuso had been meditating off and on since her 20s but never seriously committed to the practice. Then 2020 happened.

With the COVID cases rising, the 54-year-old health equity researcher was worried about her mother's well-being. And as if coping with a global pandemic wasn't enough, Affuso, who's based in Birmingham, Alabama, was also going through a divorce.

"Early in the pandemic, I found myself basically becoming unglued," she says. So, she turned to meditation. "I started looking at what kinds of meditation practices that help you when you're not grounded, when you have broken heart, when you have barbwire around your heart," she says.

Affuso found heart coherence meditation, which uses your heart rhythm to help you quickly reach a state of calm. But she soon realized that meditation was not only healing her heart but also mending her mind.

Before starting her meditation practice, she was struggling to stay focused at work and with writing. "I couldn't string two sentences together," she says. She was having trouble with her memory, too, something she thought was caused by stress and menopausal symptoms keeping her up at night. But after consistent meditation, her writing became more fluid, and she noticed she was able to better comprehend, remember and paraphrase information she read for work. "That's when it became really clear that something was working here," she says. "I was feeling like I was getting back to myself."

How did meditation make such a big difference? Research has shown that heart coherence meditation can improve memory, and this may be because, as one meditation coach once stated, it's like "mindfulness on speed," quickly training you to be present and calm. And several studies have found a correlation between mindfulness and better brain health. That's why meditation has the power to boost your memory, mood and more.

Why mindfulness matters

The way mindfulness meditation helps your memory is twofold. First and foremost, being stressed out is bad for your brain cells.

"[Stress] kills them off and shrinks both the prefrontal cortex and the hippocampus, both areas of the brain responsible for memory and learning," neurologist Majid Fotuhi, an affiliate staff member at the Johns Hopkins University School of Medicine, told AARP. In fact, a review of studies published in 2018, which followed almost 30,000 people for at least 10 years, found that people who reported "clinically significant anxiety" were more likely to develop dementia later in life.

But mindfulness meditation can help you keep calm and carry on. Mindfulness meditation also can boost memory by making room in your brain for new information. Mindfulness focuses on the present moment and teaches you to dismiss distractions like random memories and worries. Mindfulness meditation calms your brain so you can block out what scientists and researchers call proactive interference. In other words, when you can be more mindful and more present, your brain can do a better job of taking in and remembering new data.

A study by researchers at Massachusetts General Hospital found that mindfulness training improves the density of the hippocampus, which is a region of the brain that plays a key role in both working memory and long-term memory.

And a small UCLA study found that people over age 55 who enrolled in a 12-week program consisting of weekly hour-long sessions of meditative yoga, as well as 20 minutes of at-home meditation, had significant improvements in their ability to remember word lists and their ability to find and remember locations.

How to get started with mindful meditation

If you're thinking you don't need meditation because your mind and memory are sharp, consider the other wellness benefits, such as support of restful sleep and support of weight management. With all that's going on in this world, it's safe to say that any Black woman may benefit from mindfulness meditation.

If you're new to meditating, the Mindfulness Meditation Institute recommends that you begin by meditating for about five to 10 minutes at a time. Then gradually increase your sessions to about 20 minutes or more. These free meditations can help you get started.

For your memory, your mood and your overall wellness, start making time to meditate today. You deserve it.