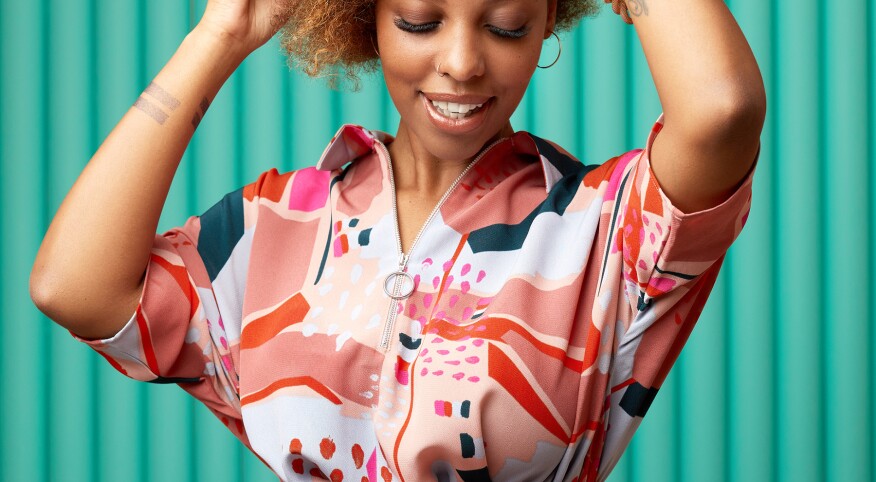 You know the feeling. Your body melts into the shampoo chair as your stylist works her magic fingers. You inhale a pleasant herbal aroma and you exhale stress … aaahhhh.

Missing the day spa or salon? You're not alone. Pampering rituals, like the pleasures of a salon scalp massage, might not be in the cards right now due to the pandemic. But we need such restorative routines now more than ever. Doctors are seeing more patients coming in with hair loss, hypertension, bruxism (teeth-grinding), headaches and insomnia due to the stress of the coronavirus pandemic. Luckily, some relief can be found at our fingertips. Learn the surprising health benefits of adding regular scalp massages to your self-care routine at home. Plus, Sisters asked a stylist to the stars to show us how to do it right.

Massaging the scalp regularly creates an environment for healthy hair growth due to increased blood circulation, according to trichologist and hairstylist Kari Williams, who has styled the tresses of Brandy, Ava DuVernay and Meagan Good.
Scalp Massage Benefits

Can help increase hair thickness

Massaging the scalp regularly creates an environment for healthy hair growth due to increased blood circulation, which carries much-needed nutrients to hair follicles, according to Los Angeles-based trichologist and hairstylist Kari Williams, who has styled the famous tresses of Brandy, Ava DuVernay and Meagan Good.

There is some evidence that certain essential oils often used in scalp massage, including lavender and rosemary, may promote hair growth, but more study is needed. Aromatherapists also know that peppermint helps relieve headaches, and it's thought that lavender imparts calm.

May aid in lowering blood pressure

While a healthy diet, weight loss and medication remain the most common forms of treatment, a 2016 study concluded that female participants showed a significant decrease in both systolic and diastolic blood pressure after receiving 15- and 25-minute scalp massages twice a week for 10 weeks straight. "One of the factors that contribute to high blood pressure are taut muscles, as it can cause constriction in the blood vessels resulting in high blood pressure. A massage will increase blood flow to the area by releasing muscular tension," says Miami-based licensed massage therapist Carmen Barcelona, who suggests seeing a certified or licensed massage therapist for trigger-point therapy and/or a deep tissue massage.

Scalp massages can deliver some great health benefits, particularly if you do them daily. Make them part of your morning routine after waking up or sneak one in during the middle of your work day, which is more doable if you're working from home. Try trading massages with others in the household for a true indulgence.

Helps relieve tension headaches and muscle tension

If you can't seem to make it through a week without a tension headache, try giving yourself a regular scalp massage. "A scalp massage stimulates the parasympathetic nervous system," says New York-based licensed massage therapist Sakinah Irizarry. "When activated, it reduces the amount of stress hormones your body produces. Breathing is slowed, digestion improves and the body's muscles relax and release their tense state." In addition, the American Massage Therapy Association reports that a scalp massage can be effective in relieving the intensity of tension headaches, as well as how often they occur and how long they stick around. A scalp massage can also relieve neck tension, which is thought to trigger some tension headaches. (Sometimes, headaches hint at a more serious condition like a brain tumor or aneurysm. Mention this symptom and any other changes to your doctor.)

Bruxism (aka teeth grinding), insomnia and chronic stress are also common issues right now due to the pandemic. A professional massage therapist may offer relief, as frequent head and neck massages may relax the jaw and nearby muscles. But do consider the risks of virus exposure and how the spa works to minimize those risks, along with the benefits of treatment, before deciding whether to book a session.

Pro tips for massaging your scalp with essential oils or shampoo

Wash day is a great way to start this habit. You can spend a few extra minutes in the shower massaging your scalp with oil before your next shampoo, or without oil during the shampoo itself. You can also do a massage on dry hair and leave the oil in, if you're not worried about altering the style. Follow these steps:


If using essential oils, be sure you've done a patch test — on your forearm or the back of your ear — to rule out a potential allergic reaction.
Dilute the essential oil with a carrier oil (e.g., jojoba or argan) to reduce irritation and help the essential oils better penetrate the skin.
Using light to medium pressure, move your finger pads in circular motions all over your scalp for at least five minutes.
If incorporating essential oils into your wash-day routine, you can massage the oils into your scalp and then shampoo your hair as usual.
For a salon-like treatment, infuse the oils into your conditioner or use with a carrier like avocado as a hot oil treatment. Sit under a hooded dryer for 15-20 minutes while wearing a plastic shower cap.
Rinse your hair with cool water if you're using oils as part of a conditioning treatment.