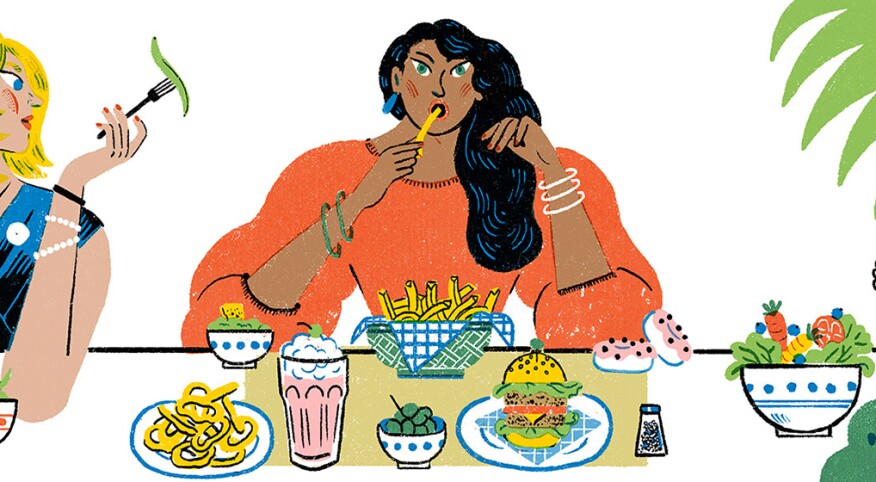 We've all read the advice on clean eating. Maybe you've tried to do all the things to detox your diet. Maybe you've read the labels on all the foods in your pantry and fridge and threw out everything with added sugar and ingredients you couldn't pronounce or that your grandmother wouldn't recognize as food. Maybe you cut back on animal-based protein. If so, it's possible you're so stressed over what you should and shouldn't eat, that it's harder to enjoy meals.

Here's advice that's easier to swallow: Instead of obsessing over what foods shouldn't be in your kitchen, focus on the ones that should. When it comes to maintaining a healthful and safe diet, variety is essential.

"Choosing variety will help provide a better mix of nutrients and reduce your potential exposure to any single pesticide or contaminant," says Marisa Moore, an Atlanta-based registered dietician nutritionist who doesn't believe in labeling any foods off-limits.

"It just usually backfires for people," she says. "The key is really tuning into what works and what doesn't work for your body and really thinking about how you feel after what you eat." Judging by the mouthwatering recipes she shares on her website, she's definitely cool with finding pleasure in what's on the plate. Instant Pot Butternut Mac and Cheese? Yes, please!

As an integrative dietician, Moore focuses on the whole person, not just a meal plan, when working with clients. Here are her pro tips, plus a few pointers on enjoying a wide range of flavors and foods.


Fruits and Vegetables

Find the freshest produce for fantastic flavor. Once you discover how fresh-picked ingredients elevate a recipe, you'll love eating local. Many markets have a local produce section. Check out your local farmers market or Community Supported Agriculture (CSA) program, too. You can find one near you at LocalHarvest.

Don't panic if it's not all organic. Worried about pesticides or other contaminants? To cut costs on your grocery bill, opt for organic when buying anything on the Environmental Working Group's Dirty Dozen list (foods that are contaminated with more pesticides than other crops according to EWG's analysis of USDA data). And you can go conventional when buying fruits and vegetables from the Clean Fifteen (foods that have the lowest amounts of pesticide residues).

Buy a veggie brush. Here are more tips from the U.S. Food & Drug Administration on how to properly clean different kinds fresh produce.

Simplify your lifestyle — in the freezer aisle. If need to add some frozen fruits and vegetables to the mix for the sake of your budget and schedule, that's fine, too, Moore says.

Load up on legumes. Stock your pantry with favorites like chickpeas or black beans. "I'm a big fan of keeping canned beans and peas for quick plant-based recipes," Moore says. "You could absolutely buy the dry ones and cook them from scratch if you have the time. Do whatever works for your lifestyle." Be sure to rinse canned beans to help reduce the sodium.


Fish, Meat and Poultry

Keep prep time in mind. If you're an omnivore, choose a variety of lean meats but shop with your schedule in mind. "Do you have time to cook a whole chicken from scratch or does it make more sense to buy a weekly rotisserie chicken?" Moore asks. "Do you have the know-how and time to have fresh salmon or does it make more sense to have canned salmon and to break it up and put it into a salad?"

Leaner is greener. "All meat is not created equal. Lamb, beef, pork and cheese generate the most greenhouse gases. They also tend to be high in fat and have the worst environmental impacts," notes the EWG. Check out their "Meat Eater's Guide" to choose meat that's better for you and the planet.

Layer on the flavors. If you threw out all the marinades and bottled sauces in your kitchen because of the high sodium content, that doesn't mean your food has to be bland. Always have plenty of spices, citrus and healthy oils on hand. "I think those are important because it adds the flavor to your meal so you can be excited about cooking," Moore says.

You can even make your own salad dressing using olive oil, lemon juice and vinegar.

Mix fat-free Greek yogurt with your favorite spices to make a sauce for chicken or fish.


Snack Foods

Think of your snacks as mini meals. "When we think about snacks, the key is to have foods that are filling and for that I generally recommend that the food has plenty of fiber and protein," Moore says. Snacks could include almonds or pistachios, sunflower seeds and pumpkin seeds. Greek yogurt and fruit can also serve as healthy snacks. To avoid additives and high sodium, opt for unsalted, unflavored nuts and seeds instead of salted or smoked.

If you like chocolate, have some. Moore says you should also feel free to keep fun foods like chocolate in your kitchen, too.

Detoxing your kitchen can be a lot less stressful if you first detox your mind and examine your relationship with food. "It's about knowing your body, how you feel after you eat and what's driving your eating decisions," Moore says.