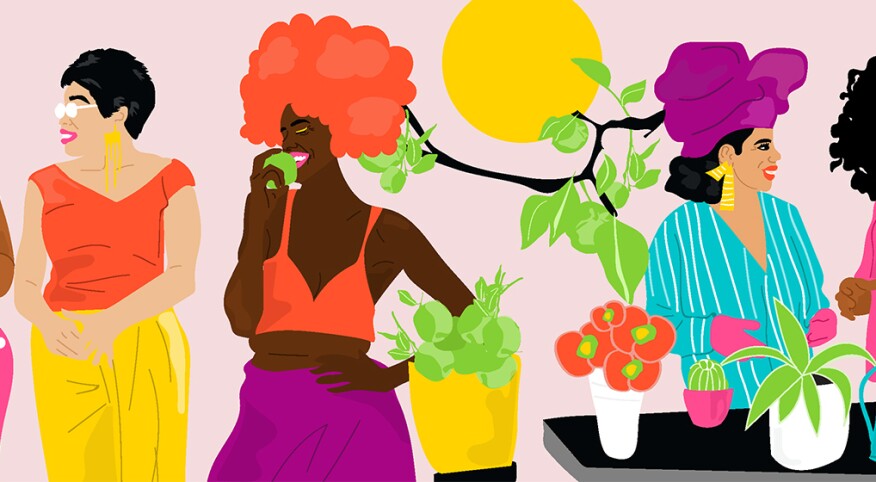 Editor's note: You'll be reading about many aspects of Black Girl Joy, our newsletter's theme for 2021, over the coming weeks. This is the first in a series of articles about how you can live more healthfully, happily and in harmony within the beautiful, blessed vessel that is your body. You won't want to miss a single issue of Sisters!

A friend I'll call Renée hadn't stepped on the scale since the start of the pandemic. Choosing a casually festive outfit for Christmas Eve, she ditched her 24/7 loungewear look and reached for her favorite jeans. They didn't fit. Neither did the next size up. The largest pair she owns, foraged out of storage, were uncomfortably tight. Renée's not the only sister facing a moment of truth right now.

The new year is finally here, and for those who typically gain a pound or two over the holiday season, they are probably added to the quarantine 15. The weight is likely a result of more days spent indoors, snacking more and moving much less. Not to mention the stress and anxiety from months of racial and social upheaval and a noxious election season.

A new study lead by researchers at Bowling Green State University revealed that the pandemic has upended the way we normally think about food. Emotional eating may be driving us toward more convenience foods because we're cooking so much and/or homeschooling. We're likelier to choose foods that appeal to the senses (baking makes the home smell wonderful and offers an escape or distraction). We may select cheaper, less healthy foods due to concerns about economic insecurity. Familiarity, nostalgia, comfort and rule-bending (Frosted Flakes for dinner?) are also frequently on the menu, according to the study.

Extra pounds may lead you to jump into quick-fix diets or extreme workout routines that may not be suited for you. Veronica Salaam, a 48-year-old wife, mom of two and a librarian in New Jersey, was inspired by the mother of one of her son's friends, who had lost a lot of weight through kickboxing. Veronica signed up and in her first class dislocated her knee. "It was a mess," she laughs. She switched her focus to her diet instead.

While improving your diet is important when it comes to wellness and maintaining a healthy weight, there are other factors to consider beyond how many calories you burn or consume. You have to look at what's really feeding you and how that may be affecting all aspects of your life.

What's really feeding you?

We may think of the foods we eat as the only thing that feeds us, but "primary foods," as described by the Institute of Integrative Nutrition, are also important. Primary foods are the ingredients in your life that nourish your body, mind and spirit. They include:


When you get your fill of primary foods, you are less likely to turn to high-fat, high-calorie foods for comfort or distraction. Instead, you are more likely to find satisfaction in whole foods — vegetables, fruit, grains, legumes and protein. You're also more likely to eat when you're hungry rather than because you're bored, stressed or trying to fill a void in your life.

When you're in pain, stressed or anxious, food can seem like a best friend; the one true thing you can always turn to. Food never pushes back and never says no. In fact, even before the pandemic, 43 percent of women reported having overeaten or eaten unhealthy foods in a recent month because of stress, according to a report by the American Psychological Association.

You may also turn to other problematic behaviors, such as unnecessary shopping, to fill you up and distract you from that particular emotional discomfort that bell hooks, author of All About Love, calls "spiritual hunger."

Think about what's really feeding you. If you're having trouble maintaining a healthy diet, it might be because you're feeling "unfed" in other ways. Take a look at your life and consider what may be missing at work, in your relationships, within your spiritual and self-care practices, meaningful movement or in the fun and creative things that bring you joy. Then ask yourself the following questions related to these areas:


Do you feel seen and heard in your relationships?
Are you making time and space to be playful and have fun?
Is your work fulfilling? What about your volunteer efforts?
Are you prioritizing self-care and your spiritual practice?
Do you make time for meaningful movement, whether that's a power walk, joining a class (in real life or virtual), dancing or stretching?

These questions will lead you deeper into understanding your needs and closer toward meeting them on your terms. As you explore, be sure to show yourself some grace. Later this month, we'll show you how to help build this habit with a food diary.
Salaam took a similarly balanced approach as her knee healed. She stopped saying yes to desserts just because they were in front of her. She bought healthier snacks and watched her portions. Eventually, she incorporated movement at a safer pace, walking as often as she could each evening.

Salaam says that as she and her husband supported each other in their weight-loss efforts, they grew closer, "filling up" on their love and respect for each other. "My husband was a role model," she says. "He weighed himself [regularly], and I adopted the same practice." Being consistent allowed Salaam to release 50 pounds, most of which she has kept off, although the quarantine has tested her resolve.

Don't beat yourself up if you get off track. Instead, consider which life ingredients you need and decide to make changes where they are needed so that you can get your fill.