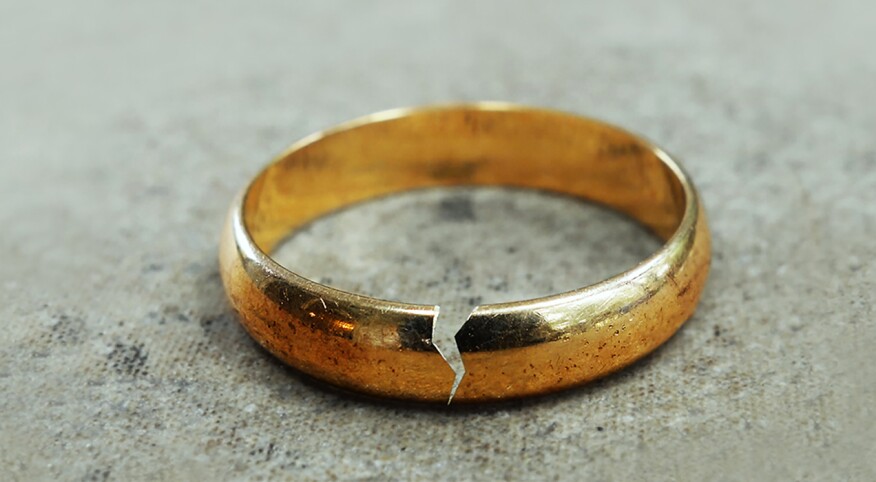 Divorce can happen to the best of us. No matter the love you felt or the dreams you had for your marriage. For instance, actors Lisa Bonet and Jason Momoa surprised fans when they announced their split in January 2022 after five years of marriage and about 17 years together. And in late December 2021, actress Meagan Good and her husband DeVon Franklin, a preacher and author, announced their separation after nine years of marriage.

Divorce certainly can be distressing. Depressing. And difficult. But it also can be freeing. And though you can try to stay together (if you're still working on your marriage, see these six tips), sometimes couples don't.

So, if you're considering a divorce, or have already separated, consider these tips on how to live well.

Real Talk About Life Changes, Shame and Healing

Divorce can feel different for everyone. It may take a while to heal emotionally, let alone financially and spiritually. Divorce, after all, can be costly, not only in terms of assets, but with friendships, your emotional state and more.

Eno Georgette Inwek, a speech coach and life coach in Los Angeles, understands this well. After she and her husband had been together for five years, married for two, he suddenly announced he was done when she was 45. "I didn't see it coming," she says today at 49, explaining that she even became homeless after he told their landlord they were moving. She adds that the money she'd made ended up being in his name, while debt was in hers.

"I was going through shame," she says, noting no one in her family had been divorced. She says she also felt embarrassed about the financial fallout. But people started to show up for her. And she decided to start therapy, finish law school and take care of her health. Today, Inwek, like others, calls her divorce a journey. Though it was difficult, now she says she has a sense of purpose and is "so healed." Life can be like that for you, too.


Tips for Coping and Growth

While a divorce is the end of a marriage, it's the beginning of the rest of your life.

It can be a difficult transition, especially if you've been married for many years, says Chrystal Dunkers, LPC, founder of Point and Pivot Counseling Services in Somerset, New Jersey. But she adds, "It's sort of like a rebirth."

Dunkers counsels women experiencing difficulties in interpersonal relationships and has the added perspective of going through a divorce herself. While she agrees divorce can bring up feelings of shame, she says it also brings a chance to learn how to speak your needs and exist in the world solo. As we grow, she says, there can come a point where we figure out that a relationship doesn't serve us anymore.

Consider these steps to cope and live well.

Grieve the loss. "With divorce, there are a bunch of losses that, you know, require attention," says Dunkers. You can feel these losses during the process, soon after and even years later. So, Dunkers suggests riding the waves of emotion and sitting with your feelings, adding, "Don't try to suppress them and push them down."

Plus, when you allow yourself to go through stages of grief — denial, anger, bargaining, depression and, eventually, acceptance — you can move forward in a healthy way. You also may try activities like journaling, meditating, talking to a trusted friend or praying.

Avoid harmful behaviors. Whether your divorce has yet to happen, or happened years ago, Dunkers cautions against maladaptive ways of coping, referring to behaviors that can stop you from adapting to circumstances that are new or difficult. Avoid things like heavy drinking, succumbing to uncontrolled anger, excessive daydreaming instead of participating in real life, self-harm and sexual behaviors that can have dangerous consequences. If you need help with these types of actions, or feelings like grief or shame, reach out to a licensed mental health provider.

Learn and embrace what you like. Here's where you can try activities that can help you thrive. When was the last time you could sprawl across the bed and sleep with the temperature on whatever you want? What would you do if you could spend a day any way you wanted to instead of compromising? While you may have new responsibilities, especially if you have children, Dunkers says divorce can be a great time for self-reflection.

Remember Inwek? After her separation, she began going to the beach daily and started helping other women in need. In your own life — from the small things to the bigger bucket list items — give yourself the freedom to explore.

Embrace your ability to grow. This is big. Set aside time to take an inventory of what has gone well in your life and what you may want to work on. Think about what you want for your future. And more. Remember, no one is perfect.

"I think, in retrospect, when you go through a divorce, it gives you an opportunity to be self-reflective," says Dunkers. "In my own experience, I recognize that while the divorce was painful when it was going on, it was probably the best outcome." She continues: "I'm married again, this is my second marriage […] but I know I chose a thousand times better because I was older, and I was able to be more self-reflective."

But also know you don't have to couple up to find happiness. Joy can be yours alone.

As Inwek shares about divorce: "I'm so happy that that happened. The life that I'm living now is so much more beautiful than it would have ever been if he had not excused myself from my life."

Do you see that? Your life can be beautiful, too.