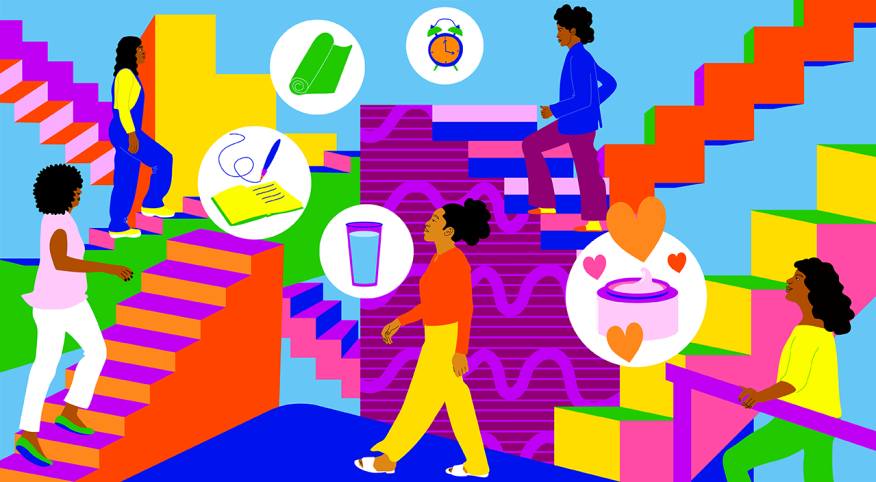 There it was: a pedicure foot bath stuffed onto a shelf. Forgotten. I had used it a few times several years ago for a product review. Why hadn't I used it more often? And how many other beauty devices were stowed away that should have been helping me relax and look and feel great?

My daily schedule has blocks of time dedicated to writing articles and meeting deadlines; running errands and paying bills; taking Spanish, meditation and fitness classes; and doing numerous household tasks. But I'm slacking on the self-care, and by that I mean pure, no-guilt indulgence. That's it, I thought. I'm going to add more self-care practices into my daily routine.


Putting self-care on your calendar may help you establish wellness and beauty rituals


It didn't take long for that thought to disperse into the ether, along with the plan to get eight hours of sleep, until I read about the holistic skin care and integrative wellness company Solvasa's 21/90 Day Journal (part of the Goodnight Intentions bundle, which includes Tranquil Cleansing Butter). The journal builds on the idea that it takes 21 days to establish a habit and 90 days to make it a lifestyle. It makes suggestions for what to add to your routine, with QR codes that link to videos and information on things like Box Breathing, Gratitude Brain Facts and Lymphatic Drainage Massage (now on sale for $40, SolvasaLife.com).

"There are myriad benefits of having wellness rituals," says wellness coach Vivinne Williams (VivWill.com), who offers three journals, including the Journal for Black Women: Affirmations & Gratitude: 52 Weeks of Pages for Journaling & Prompts ($15, amazon.com). "Since we want to focus on daily life, on regularity, it's essential to keep them small and doable." She suggests establishing a keystone habit, "one that by itself creates deep positive ripples into the rest of your life."

According to the National Institute of Mental Health, "Self-care means taking the time to do things that help you live well and improve both your physical and mental health," and can help you manage stress, lower risk of illness and increase energy. "Even small acts of self-care in your daily life can have a big impact," it says.

According to PsychCentral.com, here are some potential consequences of not practicing self-care:


Low energy
Feeling hopeless
Less patience
Increased headaches, stomach aches and other physical symptoms of stress
Difficulty falling and staying asleep
Challenges in choosing healthy food and urges to eat "comfort" foods
Worsening mental health symptoms like depression or anxiety
Feeling "burnout"
Difficulty concentrating
Strain or distancing in the relationship with your spouse or partner
Less patience with your children
Reduced performance at work
Less motivation to engage in social activities

Williams explains that "each of three primary habits — meditation, exercise and a regular sleep schedule — has profound effects." One habit she mentions is a priority for me: getting to sleep by 10 p.m. "If we strive to sleep by 10 p.m.," she says, "we will have more energy and mental clarity, thus affecting the rest of our lives."

I also found the Juara Bali Spa-liday gift set, which fits the theme and is a fun way to add daily self-care. The set contains items that make bath time a relaxing getaway: candlenut body creme, body polish, soap and a travel-size hope candle. It comes with a 30 Days of Self-Care beauty calendar, with daily prompts that are not just beauty-related. For example, one of the daily tips is to spend time with friends, because it's good for the mind and soul. ($129, JuaraSkinCare.com).

While the Solvasa journal has areas for daily intentions and gratitude, activities, self-care and writing, I needed a separate one for more extensive journaling about the days' events, dreams (from sleep and goals) and more. Breathe … Be You, from the Artistry of Essential Oils, is a lined journal that starts each entry with the affirmations to read for the day. There are also sections with essential oil recipes to try. ($23, TheArtistryofEssentialOils.com.)

With inspiration and journaling tools in hand, I was ready to begin my new habits.


A great start to the day …


Wake up and stretch. Beth Frates, M.D., director of wellness programming for the Stroke Research and Recovery Institute at Spaulding Rehabilitation Hospital, told Harvard Health that stretching wakes up the body and improves circulation, turning on the parasympathetic system and putting you in "a more relaxed state of mind before getting out of bed and [helping] set the tone for a calm morning and day." So instead of immediately jumping out of bed (unless I really have to!), I'll put my knees and feet in the air for knee pulls, ankle rolls, shoulder rolls, neck stretches and a gentle full-body stretch.

Tell yourself it's going to be a great day. Just before starting my morning cleansing routine, I look in the mirror and state an intention or affirmation for the day.

According to WebMD, people who suffer from sinus problems may benefit from daily use of a neti pot, which rinses out the nasal passages and relieves nasal congestion. But after symptoms improve, using a neti pot too often can cause irritation, so I do this once a week. It has already helped with reducing itchiness under the roof of my mouth, often an allergic reaction to cleaning. (LOL). (Remember to take proper care of your neti pot and use only as directed to avoid a serious infection.)

I've added lymphatic massage to facial cleansing, using either a gua sha tool, a jade roller or Solvasa's crystal energy wand (which vibrates and makes the massage even more soothing), and I sometimes add dry brushing just before a shower or bath, which is said to help improve circulation and exfoliate the skin. I also add a shower steamer like the Radiant Rhino's Elevate ($25, TheRadiantRhino.com) to the shower floor or use an uplifting essential oil spray to boost my mood while showering.

Next, I drink hot water with lemon (which may help modulate lipid metabolism), then do five minutes of meditation or deep-breathing exercises and qigong tapping (a type of acupressure my tai chi teacher uses for warmups and to energize the body). I'll do a few minutes of sun salutations or a qigong form if I don't have classes scheduled for later in the day.

I write down my intention for the day in the journal, then get on with the tasks for the day.


Midway through the day …


Since I'm usually working on a laptop, I make sure to take breaks to do gentle neck stretches and eye exercises to sooth eye strain. Between 11 a.m. and 1 p.m. is when the heart is active, according to the Chinese body clock (based on the belief that our organs are at peak activity during certain times of the day), so I avoid caffeine and anything stressful or that raises my blood pressure. This is a good time to connect with people, meet friends for lunch or make a visit to the neighborhood garden. Then, 1 p.m. to 5 p.m. is a good time for work or study. (I've been studying Spanish.)


A bedtime routine to prepare for a restful sleep …


This has been the most difficult part for me since I'm a night owl and have a decades-long habit of writing at night. My goal is to have all work done by 7 p.m., when I start preparing for sleep. I soak in a warm bath and take an evening meditation or yoga nidra class. Just before bedtime I brush my teeth and do my nighttime facial cleansing routine, adding a facial skin care device for more thorough cleansing.

I might do some light reading and journaling, writing down what went well that day, and end with a statement of gratitude to influence peaceful sleep. I try my best to stay away from the laptop, phone and TV during the 15 minutes before shut-eye, and shoot for getting to sleep before midnight. The goal is to be asleep before 11 p.m.

I add one indulgence for the week, usually on Sunday, a pampering treat that I don't do every day, such as a facial steam or a facial mask that I apply while soaking my tootsies in a foot bath.

My mind and body seem to function better with this routine, but it depends on what's in store for that day. But now I don't get frustrated if I fall off. A major part of self-care, after all, is being kind to yourself.