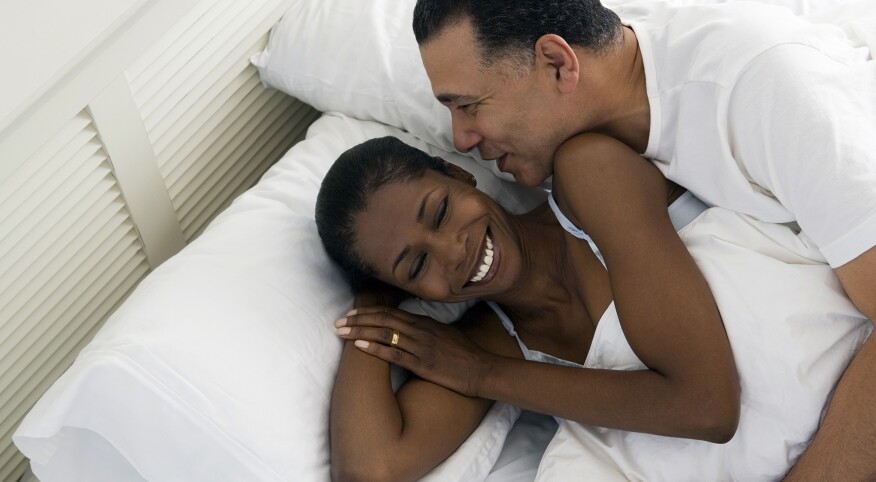 Girlfriend, being grown and sexy transforms the way we pursue pleasure, doesn't it? We're older and bolder, and we know what we want. We likely have more privacy, fewer distractions or less worry about unintended pregnancy. But we may also contend with intimate dryness, painful penetration or bladder leaks. Many folks over 40 lament that their neck, back, knees or other areas are stiffer than they want. Or maybe a penetrative partner's erection isn't as stiff as they want. With hormone shifts and other body changes, you or your boo may find yourselves missin' your go-to position.

You've read in Sisters about ways to care for your body that might help you enjoy good loving. Healthy habits can support intimacy, desire, arousal, heathy function and yes, yes, YES!!!— stronger, longer or more frequent orgasms. What we're sharing real talk about today are ways to arrange your bed that can set you up for more satisfying sex — partnered or solo. We're not talking about bedding like shams, comforters or duvet covers; we'll explore handy items for bedding a lover.

Pillow Talk: More Cushion for the Pushin'

According to Hilda Hutcherson, M.D., a professor of obstetrics and gynecology at Colombia University, bringing pillows into play during sexy times can help lovers get out of a rut and explore new ways to pleasure one another. The right pillow can support achy muscles and joints, and help partners discover angles that hit the right spots. "One of the benefits of using pillows for support is that sometimes a patient will discover new areas of the body that are stimulated, because people tend to have sex the same way their entire lives," she shared in the medical journal Practical Pain Management.

While one can experiment with extra-firm everyday pillows, options exist that have been designed for support during pregnancy, therapy, intimacy, acid reflux and other situations. Some common pillows used during sexual activity include wedges and larger ramps (which can support hips, back, neck or other areas on an incline) and cylindrical bolsters, according to thehealthy.com, a medically reviewed website. Cube-shaped pillows can provide level support, height and stability under the chest. Also available are sex-toy mounts, for hands-free use of vibrators and similar items.

Some pillows come in regular or plus-size. Many are made from high-density foam; others are inflatable for travel and easy storage. Trying new positions using wedges or pillows is one routine change that may help reinvigorate intimacy and sex, according to Medical News Today. If you are considering a pillow to address a pain, mobility or another medical issue during intimacy, it's a good idea to bring it up with your health care provider. A few ways people enjoy pillows:

Relieve the pressure
Many people feel more comfortable with some cushion under the neck, back or knees.

Worried about a weak bladder in the bedroom? "Raise the pelvis so the urethra isn't positioned against gravity," Kathryn Ellis, a sexuality counselor and doctor of occupational therapy, told Sisters. Try lying on your back with a pillow or wedge under your hips to tilt the odds of staying accident-free further in your favor.

Level up
Sometimes an awkward height differential cramps your bedroom style. Raising one partner up for better alignment might elevate enjoyment as well.

Hit the spot
You may have heard of coital alignment technique, a modification on missionary sometimes called the CAT position. This puts special focus on the clitoris, according to the Journal of Sex and Marital Therapy. The same journal reports that over a third of women studied needed clitoral stimulation during intercourse to orgasm and another 36 percent didn't need it, but had more enjoyable climaxes when it was incorporated. Using a pillow or supportive wedge under the bottom partner's hips can help tilt the vulva to support this position, according to mindbodygreen.com.

Enjoy the view
"A pillow under the head or neck during any position that involves lying down not only adds comfort but makes it easier to make eye contact with or view your partner without neck strain," Anne Hodder-Shipp, a multi-certified sex and relationships educator based in Los Angeles, told Yahoo.

Try something new
A cushion may make experimenting with new angles or positions more comfortable, whether during penetrative, oral or solo activity. According to an article on Healthline.com describing ways to get harder erections without medication, a person experiencing erectile dysfunction may benefit from medical evaluation. But in cases where the ED symptoms may be stress- or lifestyle-related rather than physical, spicing things up with new positions might help.


Some pillows you might like:


Wedge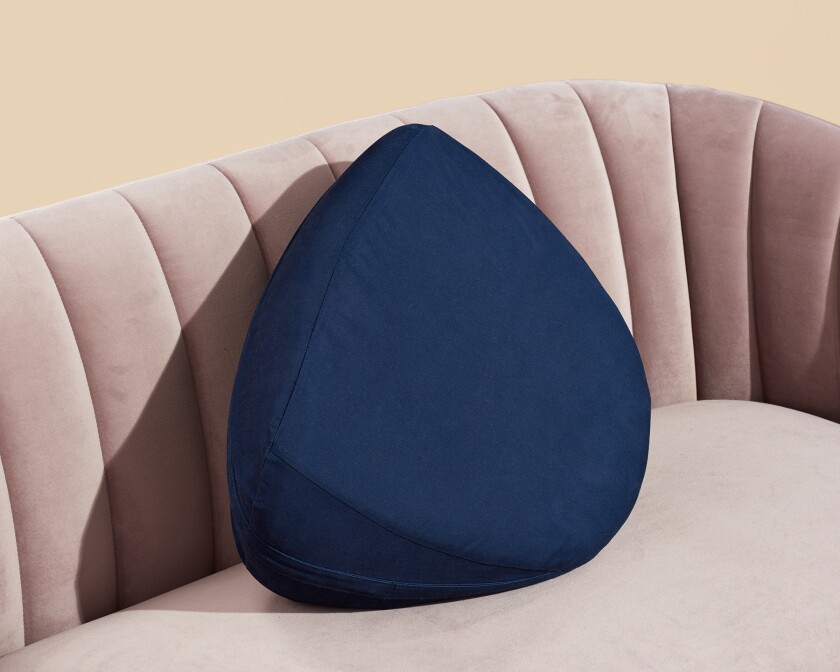 Pillo ($95; dame.com)

Polyurethane foam
Cotton outer liner, machine wash, hang dry
Water-resistant nylon inner liner

Kiss Wedge ($75; liberator.com)

Positioning pillow in decorative kiss shape
NaEnsen Sex Toys Wedge ($16; amazon.com)

Inflatable
Designed to hold a sex toy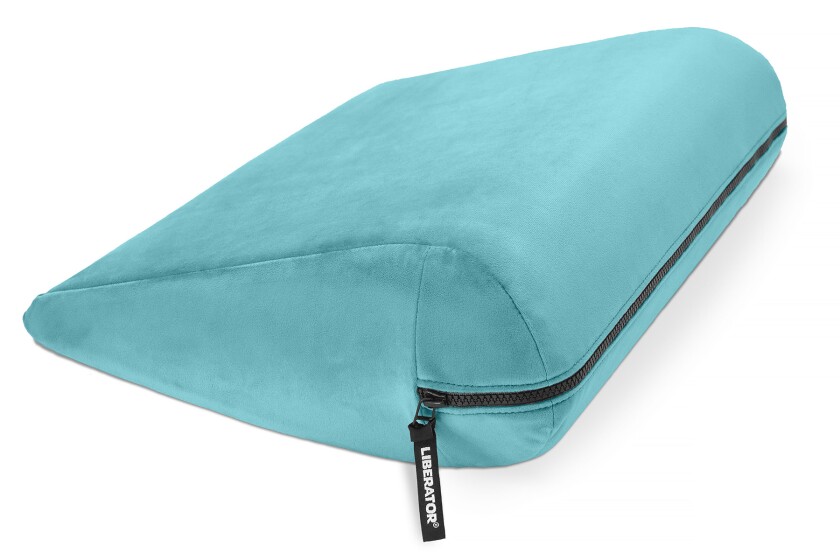 Jaz ($95; liberator.com)

Compact positioning wedge
Multiple colors
Removeable cover
Convertible

Drive Medical Folding Bed Wedge, 12" ($53; amazon.com)

Multipurpose bed cushion
Folds from a wedge into a block
May be suitable for pregnancy, acid reflux, circulatory problems and other conditions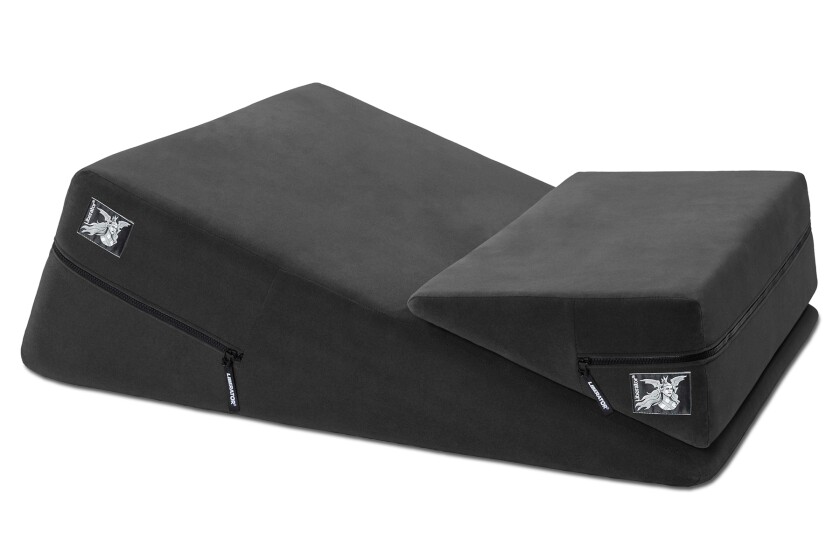 Liberator Wedge Ramp Combo, Plus-Size ($299; liberator.com)

Large convertible cushion can be configured into different shapes to offer full-body support and stability
Recommended by the manufacturer for couples over 300 pounds
High-density foam, with removable microfiber cover that is machine washable
Multiple colors

Bolster

XXL Round Cervical Roll Cylinder Bolster Body Pillow ($40; allsetthealth.com)

Removable washable cover
Memory foam
Multipurpose pillow for neck, back and spine relief during sleep

Liberator Whirl ($180; liberator.com)

High-density foam bolster
Microvelvet fabric is machine washable
Multiple colors

Blanket protection: More pleasure, less laundry

Simply put, a comfy barrier that resists liquids is a postcoital insurance policy against stained sheets and sleeping in the soggy spot. A dedicated bedspread for sexy times comes in handy, especially when it's time to reach for a tube of lube.

Some blankets you might like:
Mini 30" X 36" Two Pack, Waterproof Fleece Blankets ($64; nomorewetspot.com)

Top 100% Waterproof Blanket Midsize 60" X 40" ($70; amazon.com)