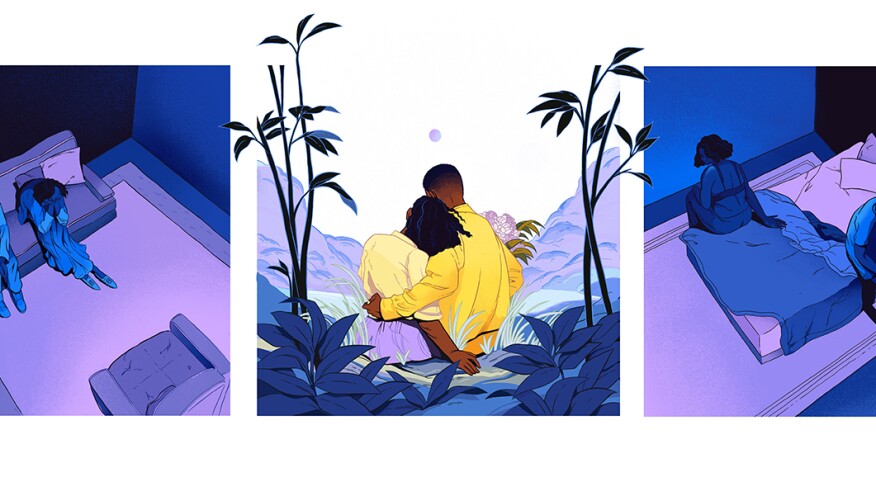 The coronavirus pandemic has disrupted life as we know it. It's changed the way we shop, how we work, the way we socialize and how we educate. The pandemic has also brought new challenges to our romantic relationships. Couples' counselors observe that it's introduced new relationship tensions or intensified existing problems.

In many cases, it's had a chilling effect on sexual intimacy. "At first, I tried to keep our regular weekend sexy times routine, but it's harder and harder to get in the mood with so much daily stress," a close girlfriend confided recently. "Plus, being all up under each other all the time, we feel like roommates." She decided not to force attempts at lovemaking after she suspected her partner faked his last climax. Since then, she says, "We haven't had sex in weeks."

What many couples are facing right now is a cycle of fatigue, anxiety, resentment and disruption — stressors that can feed off one another and set the stage for burnout and bedroom buzzkill. Fortunately, those challenges can be worked through. Sisters talked to several therapists and marriage counselors about some of the common problems couples currently face and how to address them.

The problem: Your finances are stressing you out
The financial fallout of the pandemic has hurt our community significantly. A Pew Research study shows that 44 percent of Black households have experienced a loss of wages. And 73 percent of Black adults said they don't have enough emergency funds to cover three months of expenses.

Wynn Helms, a licensed marriage and family therapist based in Sherman Oaks, California, says financial issues among couples is a big deal right now. "With so many people out of work and a lot of people living paycheck-to-paycheck anyway, it causes a lot of stress," she says. That stress often leads to anger, arguments and alienation.

The fix: Helms says couples must learn to communicate openly about their financial struggles, which takes practice and patience. A great way to do that is to set aside a specific time to work on your budget and discuss financial matters. Consider having a weekly money date with your partner to discuss upcoming bills, your spending and any concerns you have.
"Your self-care is important. Your couple-care is just as important."
Kimberly Hagen, Ph.D., marriage and family therapist
The problem: You're doing all the things
The pandemic has introduced new roles and responsibilities into our lives, especially for parents and caregivers. And studies show that typically women are taking on more of those added duties, even when both parents have jobs. This unbalanced division of labor not only leads to being overworked and overtired, but it can also lead to resentment in the relationship.

"Trying to manage being a teacher, a principal, a dean and the cafeteria person is hard," says Kimberly Hagen, Ph.D., a marriage and family therapist. Couples feel like their workload has increased a lot, she tells Sisters. "They feel like they had better boundaries when they were at work. Now it's a lot looser, and it's really hard for people to set boundaries and be aware of them," Hagen says.

The fix: With all these additional responsibilities, Hagen, whose practice, PsychThink, is based in Los Angeles, says we need to make sure we're taking care of ourselves and our relationship. "Your self-care is important. Your couple-care is just as important," she says. Hagen suggests scheduling time for both. Additionally, bring up any issues you have about the division of labor to your partner. "You have to be able to talk," Helms says. "It's either that or have a totally silent, passive-aggressive home, which is not good for children."

The problem: You (or your partner) are overconsuming social media and news
During this time of reduced social activity and more time at home, our social media and news consumption is higher than ever. Between social justice issues, weather-related events, politics and the pandemic itself, there's enough to keep us glued to our screens 24-7. But this means we're connecting less with our partners.

SharRon Jamison, an Atlanta-based life coach and minister, says she counsels many couples who complain about their partner's screen usage. "The problem is now we are electronically connected, but we're not emotionally close," she says. People think being there physically is enough, but that doesn't mean they are present, Jamison says.

The fix: Stop "doom-scrolling," and seek ways to connect with your partner. "I suggest limiting the access to the news," Helms says, especially considering the current racial and political climate. "The more you [consume], the harder it's going to be to stay centered and balanced so that you can stay balanced and centered with your partner," she says. "Know what's going on, but 24-7 news is just going to make you mad." Jamison, who owns the Jamison Group, a personal development organization, and is a minister at Victory for the World Church in Stone Mountain, Georgia, tells couples she counsels to have fun together. "For example, dance together or build something," she says. "Read a book together. [Just] do something together."

The problem: You've lost touch, literally
Hand holding. Hugs. Cuddling on the couch. Many couples find it difficult to be intimate during this time, particularly those whose children are at home learning remotely. Other couples who have gone long stretches without intimacy pre-pandemic, find it hard to connect physically.

The fix: If it's been a while, Jamison suggests couples refocus on nonsexual touch. "Maybe a foot rub, maybe it's a shoulder rub," she says. "There are small steps to try to reengage sexually." If time, space and kids are more the issue, get creative and be intentional. You may need to schedule "sexy time" as a part of your couple-care, as Hagen suggests. And remember, there's always the closet quickie.