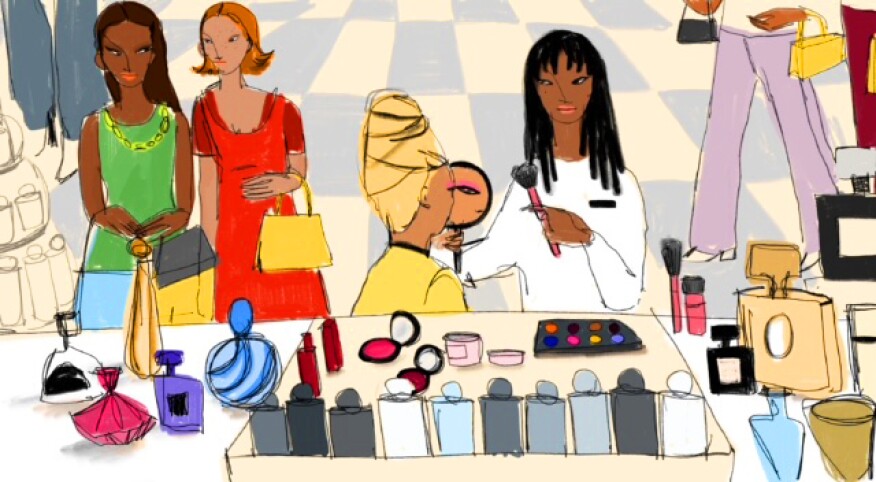 Are you interested in addressing a beauty concern such as melasma, hooded eyes, hyperpigmentation or oily skin?

Are you tired of your makeup routine but aren't sure how to switch things up?

Do you dream of getting your makeup done professionally but can't fit it into the budget right now?

Do you have a special event coming up that you would love to have a new look for?

If you said yes to any of these, we have a solution for you … head to your nearest department store for a free makeover.

Yes, free.

Whether you want a pick-me-up or need to get dolled up for an event, many beauty counters and cosmetic retailers will do your makeup and offer expert advice at no charge. You can learn what makeup shades work for you, tackle new trends, ask questions and discover solutions to your makeup and skin care dilemmas.

Here's what you can get and what you need to know about free makeovers.


What You Can Get
Complimentary makeup services will vary by retailer and location. Here's an overview of what's available.


Department stores
Most department stores offer free makeup application, skin care help and tutorials at their branded beauty counters. For example, Macy's customers can swing by the Anastasia counter to get a bold matte lip, head to Dior for a private makeup lesson with a makeup artist or get an express facial at the Philosophy counter.

Be sure to explore the services at your favorite store. Bloomingdale's, Belk, Nordstrom and other retailers offer a menu of complimentary makeup and skin care services.


Beauty store chains
Cosmetic and makeup chain retailers like Sephora and Ulta Beauty also offer free makeovers and tutorials. However, in some cases, you may have to agree to make a purchase. For instance, at Sephora, customers can get a free 20-minute one-on-one session with a beauty advisor with a $50 or more in-store purchase. Typically, these sessions are a mini-makeover targeting one specific area or technique, such as a smokey eye, brows, lips, foundation, etc.

Ulta Beauty customers can receive a complimentary one-on-one consultation with a licensed skin therapist. Services vary by location, so check your local store to see what they offer.


Freestanding makeup brands and salon chains
If your favorite makeup brand has freestanding stores, they likely offer complimentary makeup services. Many Merle Norman Cosmetics studios offer free makeup lessons with beauty consultants. These are a great way to learn how to apply makeup correctly and ask all the makeup questions you're afraid to ask. Other complimentary Merle Norman services include a foundation check to ensure you're wearing the correct shade, a 10-minute express facial with your choice of aromatic scrub and a skin care analysis to address acne, wrinkles or other challenges.

MAC Cosmetics offers free personalized 15-minute makeup services. Choose from targeted tutorials such as Love Your Lips, Wow Brows, What's Trending and more. Or overhaul your daily makeup routine with their Essentials tutorial.

You can also find free skin care, makeup and even complimentary hair services at salon chains. For example, you can get a 20-minute custom facial, makeup lesson or a hair and scalp check at some Aveda stores and salons.


What You Need to Know
Now that you know where to get free makeovers, here are some things to keep in mind.


You'll need to plan ahead
In most cases, you'll need to make an appointment for your free makeover. If you're getting one done for a special occasion, book it early to get your desired day and time.


Complimentary services may be scaled back
If you've gotten free makeovers at beauty counters in the past, you'll notice that many companies have scaled back their free offerings in this post-COVID era. Finding complete face makeovers for free is less common; several beauty brands and cosmetic companies offer targeted services and tutorials focusing on one area, such as eyes, lips, brows, etc. Research various stores to find the service you're looking for.


You may be tempted to spend money
You won't be required to purchase the makeup and products used during your makeover, but you may want to. After all, if you love the look the makeup artist created, you'll want to re-create it at home. So, make sure you know going in that while the makeover or skin care service may be free, it's meant to incentivize spending. Consider setting a budget ahead of time or plan to be firm when you feel the tug to buy.