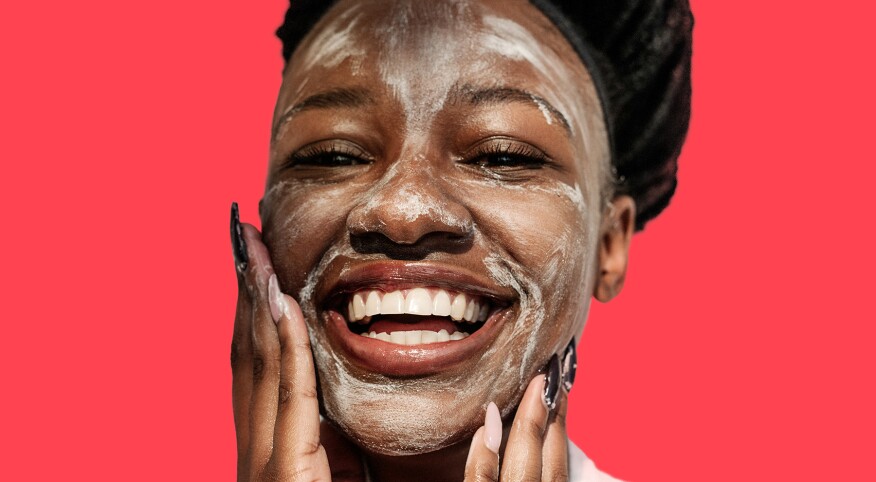 Select a cleanser that makes your skin feel soft, supple and clean.
It might be a bar soap, liquid, milk, foam, gel or cream. Trendy micellar water contains tiny balls of oil molecules suspended in water and, in my opinion as a beauty expert, is better for a light cleanse and for those who wear minimal makeup or have sensitive skin. At night, use a separate makeup remover (wipes are great) if you wear any combo of full-coverage face makeup, concealer, blush, bronzer, waterproof mascara, eye shadow and liner and sunscreen.


Beware of facial scrubs with harsh particles, extra-zealous polishing tools and high-power at-home peels. These can actually be abrasive and tear or irritate the skin. Exfoliation is essential to remove or dissolve dead cells that linger on the surface of the skin, giving it a dull, dry look. Choose a creamy cleanser with vitamin C, a low-concentration alpha hydroxy acid (AHA) or an enzyme mask with cell-dissolving pumpkin or papaya. Use it once a week for a healthy look; better absorption of all topical serums, creams or oils; and easier makeup application.


Keep your skin care "cocktail" simple
Just like with your hair products, it can take a minute to discover the right mix. If your skin looks shiny and red, feels tight or is sensitive to the touch, rethink your product regimen. Some very effective active ingredients can become irritants when layered with others at the same time. Never combine retinol and vitamin C, AHAs or beta hydroxy acids (BHAs — usually it will read salicylic acid); vitamin C and AHAs or BHAs; AHAs and BHAs. Space it out. You might use a vitamin C serum in the morning under a skin-plumping, hydrating hyaluronic acid moisturizer, for example, and apply a retinol cream at night. Redness is always a red flag that there's inflammation, dangerous for skin that has issues like rosacea (Black women get it, too) or a history of allergic reactions. Just stop using it. And for ladies who prefer actual researchers and scientists to do the homework on compatibility, sticking to one skin care line may be the most reliable way to go.


Skip the YouTube videos and avoid being a product junkie
Ignore exaggerated claims and check product reviews, even from girlfriends. The more products you layer, the more chemical overload. Fewer products — but the right ones — can deliver your best-quality skin. Maybe it's just cleanser, serum and moisturizer with an SPF upon waking, and then a makeup remover, cleanser and moisturizer or oil in the evening. Done! Read the ingredient list. Sometimes "new" products are just repackaged old ones with a change of one ingredient, or a different texture or delivery system (for example, a pump dispenser instead of a jar, or a gel-cream instead of a cream).


Don't sleep on the benefits of serums 
Serums are super-concentrated treatments designed to deliver specific problem-solving ingredients deeper into the skin, thanks to a smaller molecular structure. Serums contain a higher level of an ingredient. For example, that might be hyaluronic acid (for hydration), vitamin C or antioxidants (for brightness), retinol (to smooth lines), peptides and niacinamide (for firmness). Apply a serum to damp skin before a moisturizer. It takes just a drop or two for the entire face.


Use skin oils as team players or stand-alone solutions
Face oils have essential fatty acids that help keep the skin's outermost lipid barrier layer strong and supple to prevent water loss. You can use them in place of a primer or to spot-treat areas. If layering an oil, it goes before makeup ... or as a final step at night. Pat an oil into your skin — don't blend it around as you do a cream. Oils of argan and maracuja are two of the most popular for parched, dehydrated or sun-damaged skin.


Use the same moisturizer in the a.m. and p.m. if you want, but know this: 
If properly applied, a daily moisturizer with broad spectrum SPF 30-plus will prevent UVA (aging) rays from doing their dirty work year-round. Designed to be worn under makeup, they are usually light and nongreasy. Using that same SPF cream before bed won't hurt, but you'll miss the extra hydration of a separate, richer night cream with skin-repair ingredients. If your face is very dry, using that rich night cream for morning and evening is perfectly fine — just be sure to add sunscreen somehow during daylight hours.


Don't assume that makeup with SPF can always sub for sunscreen
Some tinted moisturizers, CC and BB creams and foundations do come with built-in SPF 30-plus and skin-improving ingredients. If the SPF is lower than 30 and you plan to be outdoors or exposed to the sun for a long period of time (like at a farmers or flea market, a football game, lunch outside at a bistro), apply a light sunscreen over it. That goes for driving for hours, too, since UVA rays penetrate glass. We don't apply makeup with the same thoroughness as moisturizer or sunscreen — we blend it out. Remember if your ears, neck and hands are exposed, they don't get makeup but do need sunscreen.


Sandwich sunscreen after all skin care and before makeup
With treatment products, don't expect overnight results
Expect weeks of use before you begin to see a change. Giving up too soon (unless you are experiencing irritation or breakouts) is what beauty marketers count on to get you hooked on the next formula. Patience is a beautiful thing — and so are you.

Note: This story is adapted from aarp.org. Click here for more info.