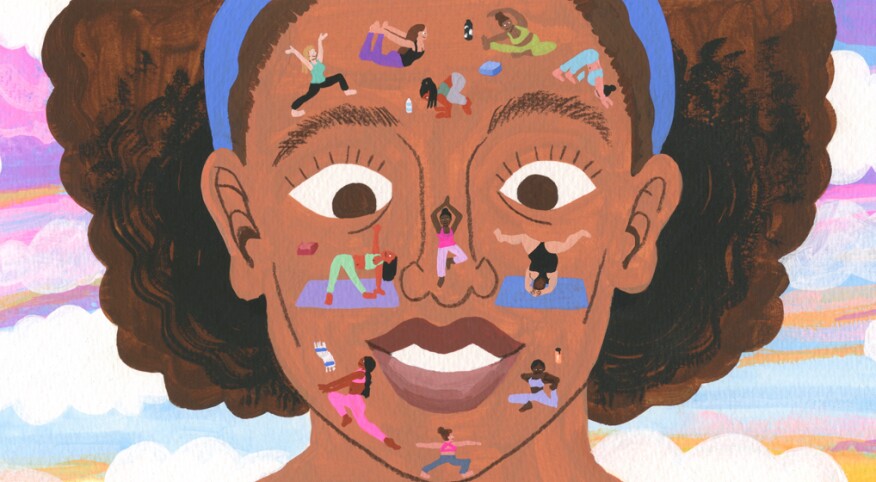 The number of face yoga videos on the internet these days is as mind-boggling as the number of muscles in the face (43, if you're interested.) Facial exercises are nothing new, but the face yoga trend seems to have received a boost thanks to a small 2018 study by Northwestern University, which found that face yoga made participants look three years younger. The participants (women ages 40-65) were trained in 32 specific facial exercises, done 30 minutes daily for eight weeks and then every other day for 12 more weeks. By the end of five months, there was improvement in 18 of 20 facial features, particularly in the upper and lower cheek areas.

"Though the study showed decent results, it's fairly challenging to adhere to this regimen," says dermatologist Peterson Pierre, M.D., of Pierre Skin Care Institute, who was not involved in the research study. "In fact, study participants had a hard time sticking to the schedule after the study was over in spite of good results."

While the study showed evidence that facial exercises may improve facial appearance and reduce visible signs of aging, more studies are needed to discover how the exercises work and which ones are effective.

Some dermatologists believe facial exercises can actually cause more wrinkles. "We know that the more you use a muscle, the stronger it gets and the deeper the lines get," Pierre says. "That's the entire premise behind Botox [which restricts movement of facial muscles], [an injectable] wrinkle relaxer."

Nadira V. Persaud, author of Press Here! Face Workouts for Beginners, doesn't believe the issue is that facial exercises cause wrinkles, but that one needs "to always use an oil or have some slip on the skin" when doing them. She also thinks that dermatologists may worry that their nonsurgical treatments can have a negative effect when used along with face exercises. "If you only use topical products, face exercises are safe," she says. "However, if you opt for injecting your skin with chemicals, it is advisable not to perform [the exercises] or to speak to your practitioner first."

Other proponents of facial exercises note that if wrinkles do occur, the exercises are not being done properly.

But a 30-minute routine? I think I'm doing something if I remember to use eye serum after my facial moisturizer! If you're time-poor, suggests Persaud, "cleanse, tone and moisturize (including SPF) and try to include at least my Complexion Enhancer exercise. Being mindful of tension in your face is just as important," she adds, which is why Persaud offers exercises that you can do anywhere.

If you have medical issues, consult your doctor or dermatologist before doing facial or other exercises. Never apply extreme pressure to the temples or in and around the eye area. Applying facial oil or serum beforehand reduces friction on the skin.

If facial exercises have you skeptical, you might be stoked to know that a regular workout (strength training, running, walking, cardio, yoga) not only helps you keep the calories down and the inches off, it also helps take years off your face. A consistent routine increases blood flow and nutrients to your body, including your face. It also boosts the production of collagen, essential for cell renewal and soft, smooth and firm skin.

5 Facial Exercises
Here are five facial exercises Persaud recommends. They can be done standing or seated in front of a mirror.

Full-Face Circulation

This exercise releases tension held around the mouth during times of stress that can cause "trauma lines" around the mouth and deterioration of elasticity. By reenergizing the area, says Persaud, you can avoid deep lines.

How to do it: Purse the lips tightly together. Slowly move the mouth in a continuous circular motion. Make five circles in a clockwise direction. Then make five circles counterclockwise. Repeat five times.


Full-Face Motion

Stress and tension can lead to puffiness and lack of tone. This exercise keeps muscles active and stimulated.

How to do it: Screw up the face and eyes as tightly as possible. Quickly open the eyes and mouth as wide as possible. Repeat five times.


Face Activator

Some facial muscles are less engaged than others, but this exercise offers full-face activation.

How to do it: Open the eyes and mouth wide, stick out the tongue and make the sound "ahhh" from the back of the throat. Repeat five times.


Complexion Enhancer

The fluid movements over the face in this exercise help tone and brighten the complexion. Be sure to apply facial oil.

How to do it: Align both index fingers with the nose, with thumbs positioned under the chin. Using firm pressure, slowly glide the hands over the cheeks to the outer part of the face. Repeat five times.


Eye Sweeps

Lack of sleep and imbalances in specific organs can cause fluid retention around the eyes, leading to puffiness. This lymphatic drainage exercise helps reduce fluid retention.

How to do it: Apply eye cream or serum to the area under the eyes. Place the middle fingers under each eye close to the nose, then gently sweep outward. Repeat 10 times.

Remember, the benefits of facial exercises tend to be incremental over time, but they will be of little help if you have unhealthy lifestyle habits. Don't smoke. Stay hydrated. Eat a healthy diet. Avoid excessive UV exposure, and reduce stress.