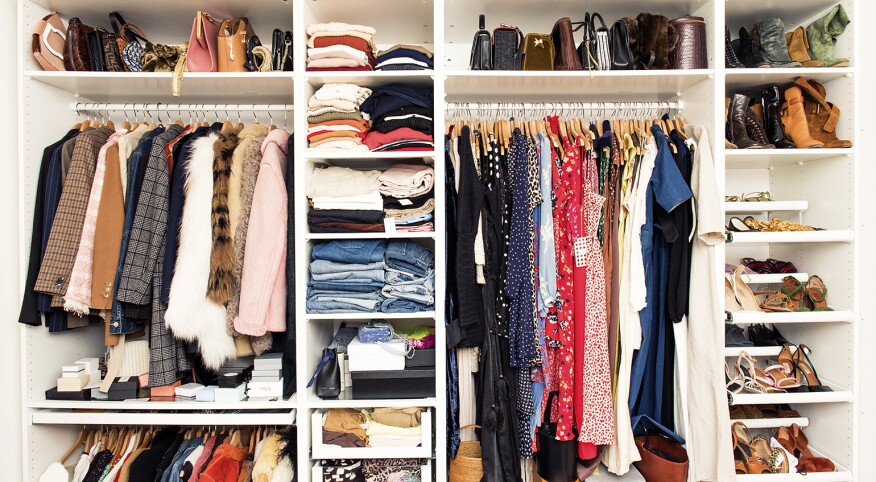 "Fall Sale!"

"All Summer Styles Must Go!"

For shoppers, these are the real signs of the season, encouraging us to snag something new as summer gives way to fall. According to the U.S. Bureau of Labor Statistics, Americans spend an average of $1,850 per year on apparel and related services. African-American women spend an average of $418 and $406, respectively, on clothing and footwear we "need" to get us through the year.

But what if you could step into fall in the trendiest styles without spending that $800? Let me show you how it can be done in just one money-saving, outfit-making, fun-filled session each weekend in August. Grab a girlfriend and a bottle of wine, press "play" on your favorite tunes and let's get this party started.

Weekend 1: Go treasure hunting for trends (90 minutes)
• Get metallic. Shimmer and shine were all over the fall fashion runways. Metallics are easy to wear if you treat them like neutrals, so pull out those silver flats or the bronze belt tucked in the back of your drawer.
• Hunt for animal print. Tap into your instincts. If you want to slay this fall, cheetah, python, zebra and leopard are all spot-on.
• Add novelty patterns. Everything from paisley to butterflies to hearts will be having their moment, so add them to your "keep" pile.
• Let the flowery fabrics flow. Normally, you'd pack away your florals and tropical prints as Labor Day approaches. Not this season. The fall runways were a garden in bloom, so use your botanical-inspired garments as layering pieces.

Other items to set aside: anything leather (it's a cold-weather classic); quilted, puffer or oversized coats ("blanket dressing" will be big) and neon-bright hues (replacing traditional jewel tones as autumnal accent colors). Luxe, textural brocades and jacquards are also keepers. These go-to trends, along with your favorite pieces, will be the building blocks of your new wardrobe.

Weekend 2: Get daring with pairings (60 minutes)
Invite a girlfriend to put together some looks for you. Challenge yourselves to create a girls'-night-out look, a weekend-brunch look, a dinner-date look and a work look. She may help you see the contents of your wardrobe in a new light.

• Winterize tropical and floral prints. Pair them with black tights or accent them with plaid or houndstooth pieces, which is also a fall trend.
• Shift into neutral. The bone, beige and chocolate hues that sashayed down the runways really flatter our skin tones.

Weekend 3: Crack open the jewelry box (20 minutes)
Put your bold accessories to the front — you'll be wearing them in heavy rotation this fall.
• Let your style dangle. Designers showed plenty of shoulder-dusting earring styles, from bold to delicate, made of everything from leather to feathers to pearls.
• Rock out. Your diamante choker can add sparkle to a conservative button-down.
• Stay in the loop. They've always been one of our around-the-way style staples, but hoop earrings are now runway showpieces too.
• Pin on a brooch. Wear them in clusters or add one to a necklace as a pendant.
• Keep your orphan earrings. Did you lose the mate to a matched set? Good news: Wearing only one earring or a mismatched pair is definitely in.

Don't be afraid to mix it up. Stud earrings can sub as brooches or double-wrapped necklaces can serve as chunky bracelets. You'll want to show off anything with rhinestones, pearls or tassels, so look in your chest of baubles and imagine the perfect outfit to showcase those sparkly or bright pieces.

Weekend 4: Work the runway (90 minutes)
By now, you should have a freshly edited wardrobe full of on-trend clothing and accessories. It's time to try them on! Take a mirror selfie or two, or have someone snap pics of you to see how your new outfits look all put together. Dressing dilemmas are officially in the past.

Weekend 5: Reward yourself (60 minutes)
You're free to spend (wisely). Fill in your fall fashion gaps with one or two trends such as patchwork, an embellished kitten-heel shoe or a mini handbag you can hang from the strap of a larger tote. And don't forget those wardrobe-stretching basics. Give yourself a budget to buy one or two items that can be worn hundreds of times with the things you already own, like a statement scarf, a belt in a solid color or neutral print, a nude pair of pumps or some solid color shirts for layering. Then step boldly into fall like the thrifty fashionista you are.

Bonus: Once you've streamlined your closet, you're bound to end up with high-quality pieces that you'll no longer wear. Why not sell them? Click here to learn how one member of the sisters squad earns up to $2,000 a year!