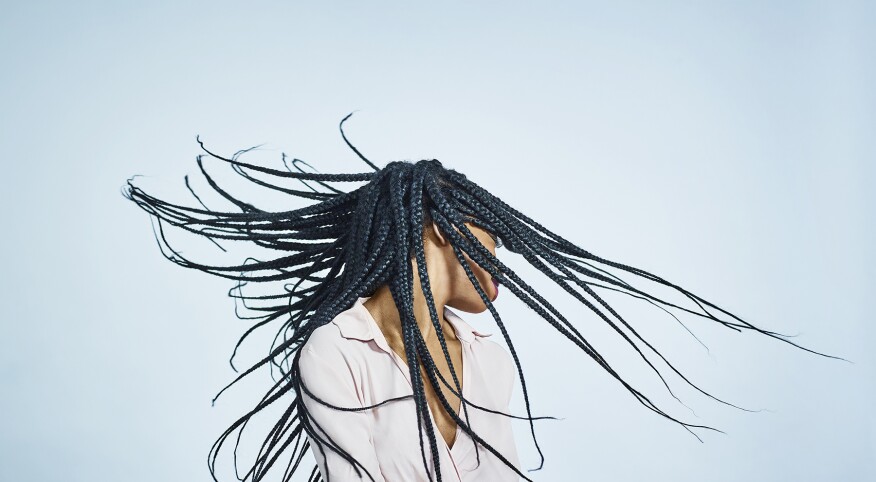 For many sisters, box braids are a summer staple due to their versatility, convenience and majestic appearance. But if you're itching to try something new, passion twists or mermaid, goddess or boho locs (aka crochet styles) could be your next protective style as the warm weather hits. Tyra Banks, Meagan Good and Cynthia Bailey have all been spotted rocking these regal looks.

Not familiar with crochet? "Crocheting is a technique for braids, twists or curly protective styles that involves adding extensions to natural cornrows using a latch hook," explains Chicago-based hair stylist Mo G Taylor, who specializes in protective styling. The extensions can be braided, twisted, locked, curly or straight. Here are just a few options.

Passion twists, for instance, look like a cross between goddess locs and Senegalese twists. Water wave (silky, wavy textured) braiding hair is used to achieve silk-textured, springy twists.

Goddess locs have wavy hair at the ends.

Mermaid locs combine locs and wavy hair.

Boho locs most resemble traditional locs, except they have their own unique waves, twists and curls throughout.

You can sport most crochet styles for six to 12 weeks depending on the type of crochet and the size, says Taylor, adding that smaller twists last longer. She also suggests finding a stylist who provides the braiding hair so it's one less thing you have to purchase. Protecting your real strands and preserving your look is a must no matter what. Here are six stylist-approved ways to get the most out of your protective style this summer.

Prep your own hair

Your natural hair should be in tip-top shape. Cleanse and deep-condition your mane the night before your appointment, advises Taylor. Good to know: While you should absolutely nix any split ends, trimming them too close to your appointment can prevent your stylists from getting a good grip as they install braids and/or twists. Taylor also suggests working in leave-in conditioner and heat protectant, then blow-drying your hair. This last step gives your finished look a smoother appearance.

Bring a photo

Be prepared to explain exactly what you like about it to your stylist. Pro tip: To ensure your chosen stylist is actually capable of executing the style, make sure the photo is from your stylist's portfolio and not a random stylist's work you spotted on social media.

Sleep on silk

Passion twists, boho locs and other crochet styles can set you back $150-$250. Wearing a silk or satin head wrap at night not only preserves your style investment, it will help your hair retain its moisture. Sleeping on a silk or satin pillowcase delivers similar benefits.

Two head wrap options: Mulberry Park Silks Silk Head Scarf Bandana (MulberryParkSilks.com) and All Silk Headband (GraceEleyae.com)

Three pillowcase options: Slip Silk Pillowcase — Standard Queen (Sephora.com), Blissy Silk Pillowcase (Blissy.com) and Morning Glamour Satin Pillowcase (MorningGlamour.com)

Cleanse carefully

Water can unravel crochet styles. The good news: Using a water and tea tree oil spray once a week (or more often if you hit the gym regularly) can keep them looking and feeling fresh, according to Taylor. Spray water combined with a few drops of tea tree oil directly onto your scalp, but close your eyes and shield your face while doing so. The tea tree oil works to naturally cleanse and soothe the scalp, as well as prevent bacteria, yeast and fungi from developing. Not into DIY? Pick up a product designed to cleanse roots without disturbing protective styles.

Two options: Cantu Apple Cider Vinegar Root Rinse (Amazon.com) and Taliah Waajid Refresh & So Clean Dry Gel Shampoo (NaturalHair.org)

Keep your scalp moisturized

Those with dry skin may want to consider oiling their scalp a couple times a week, but once a week should be plenty for oily skin types. Pro tip: Taylor oils her own scalp using a spray bottle to make the process quicker and to prevent the applicator from dispensing too much product.

Two options: Jamaican Mango & Lime Island Oil (JamaicanMangoLime.com) and SheaMoisture 100% Pure Jamaican Black Castor Oil (Ulta.com)

Take care of tangles

After taking down your twists, Taylor suggests detangling your natural hair using your fingers before shampooing it. "[With protective styling], you can [experience] a lot of buildup at the roots. When taking out each twist, try to break that product apart with your fingers and get it detangled," says Taylor. "[By using your fingers], you're able to feel all the kinks and knots. You can also use a wide-tooth comb, but a comb can miss certain parts." Good to know: On average, our hair sheds between 50 and 100 strands daily. But when your natural hair has been tucked away underneath a protective style for six weeks or more, those shedded strands accumulate until removed. So don't panic if it looks like you're losing a lot of hair when taking down your twists.