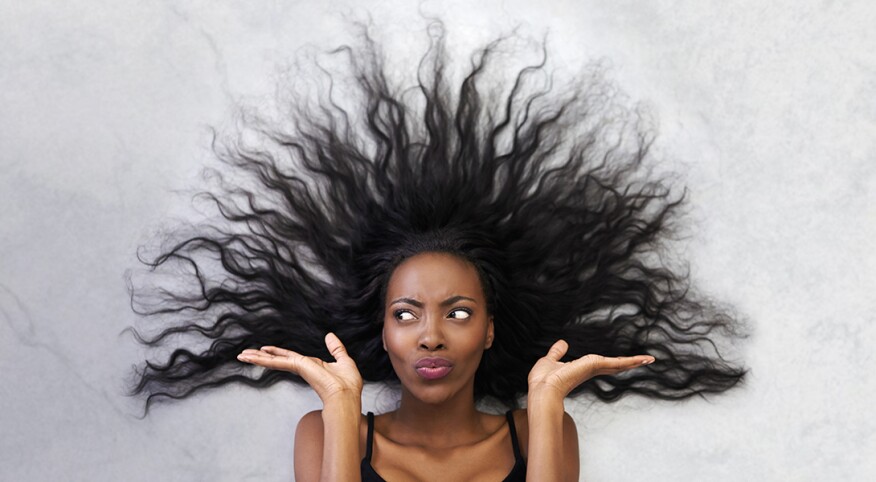 From scorching hot appliances, to harsh chemical relaxers and color, to tight lace front wigs, we put our precious locks through a lot, says Chicago-based, licensed hairstylist Tia Robinson. Tamera Mowry-Housley chopped off several inches after years of damage. Naomi Campbell admits she lost all her hair due to extensions and takes care of it differently now that it's growing back. The good news? It's never too late to make amends with our hair. Here's what you need to know:

Spot hidden hair problems.
Lack of moisture, dullness and dry, brittle strands are visible signs of damaged hair. But even great-looking hair can have problems. High porosity (hair that quickly absorbs moisture) and unruly tangles even after a lengthy detangling session could indicate that your mane is crying out for some serious TLC.

Break that breakage cycle.
With kinks, coils, curls and waves, protective sebum (oil) from the scalp takes longer to travel down the entire hair shaft, causing dryness. The result: weakened strands. Other factors, including over-styling, excessive heat, over-processing and wearing tight ponytails can make us that much more susceptible to hair breakage. Sometimes, breakage hints at an underlying medical condition or an unbalanced diet. Mention this and any other physical changes to your doctor.

Trim an inch to grow two or three.
Regular trims every four to six weeks are an absolute must for growth and length retention.

Give thirsty tresses a drink.
Washing your hair once a week is fine. Find a good deep-conditioner that restores moisture to the hair shaft. Two options: Carol's Daughter's Monoi Repairing Hair Mask and DevaCurl's Melt Into Moisture Matcha Butter Conditioning Mask.

Chill on the heat styling.
Limit your use of flat irons and blow dryers.

Mess with it less.
Opt for protective styles that don't require daily manipulation, such as simple braids and twists. Just be sure they aren't installed too tight, and that they are removed after four to six weeks. The way you comb and detangle your hair also plays a role in how it bounces back, says Robinson, who suggests brushing from the ends up to the roots.

Trade in your cotton pillowcase.
Use a 100-percent-silk pillowcase to reduce the amount of friction against your strands, which will ultimately lead to less breakage.

Finally, consider doing the big chop.
"When you feel you've reached the point of no return due to extreme damage and split ends, it's time for the big chop," explains Robinson. "The hair will no longer break off at the ends as it grows, making new growth more apparent." Still on the fence? Consider this: Post-big-chop hair is easier to manage because you're not dealing with multiple textures.