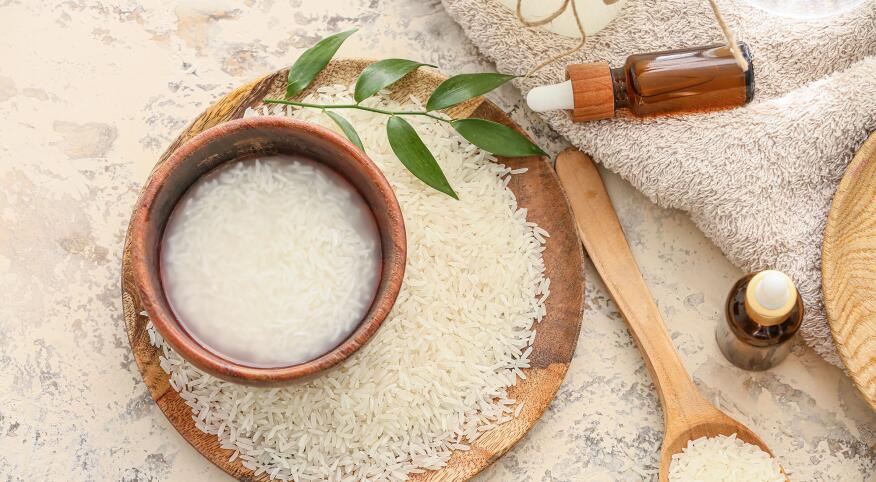 What's an inexpensive food staple that could help your hair look shinier and get stronger?

Well, if you have rice in your pantry (mm-hmm), it can be used to make rice water, a beauty treatment that goes back centuries to the Heian period in Japan.

But while it has historic roots, rice water is trending today. So much so that some Black girl celebs and influencers are talking about it, and even making products with rice water for us.

For instance, La La Anthony now has her Inala line. Tracee Ellis Ross — she of the fab curls — has a hair mask as part of her Pattern hair line that contains the ingredient. And Mielle Organics, which makes products for Black hair, has a rice water line.

So how does rice water work, and how can you use it to strengthen your strands? To get the scoop, we talked with Gaby Longsworth, Ph.D., scientist, certified hair practitioner and founder of the educational site AbsolutelyEverythingCurly.com.


What is rice water?

As you might guess, rice water is the liquid you get after rice is left to soak. "The beauty of rice water is that anyone can make it because it's cheap, obviously; it's very easy to prepare; and it actually works," says Dr. Longsworth, noting there are a few tricks to using it. (More on those in a bit.)

It contains helpful vitamins like B and E, along with antioxidants. It also contains lots of starch and is packed with protein, Dr. Longsworth explains. And you can apply it as a homemade rinse, or find it in various products.



How can rice water help your hair?

In so many ways, sis. Here are four, according to Dr. Longsworth.

It can make your hair softer. Chalk that up to the vitamin E content, in part, Dr. Longsworth says, as rice water can coat your hair and help with softness.

It can strengthen damaged hair. If your hair is damaged or colored, there may be gaps in its cuticle layer. This is where the proteins from rice water (or other sources) can be useful. Think of it as a roof that's missing shingles, says Dr. Longsworth. Proteins can help fill those gaps. (If you have questions or concerns about damage or other issues with your hair, talk to your health care provider.)

"The folks that benefit the most from a rice water rinse are those that have damaged hair or high-porosity hair," Dr. Longsworth adds. Plus, if your hair is stronger, it may break less, which can make it appear as if it's growing longer. (We'll take it.)

It can give structure. If your curls are weak and floppy, instead of fierce and fabulous, rice water can provide more structure (like other products with amino acids or hydrolyzed protein), says Dr. Longsworth.

It can bring out shine. Yep, a rice water rinse also can bring more luster to your mane. And who doesn't want to be brilliant?



How to make your own rice water rinse; plus, best practices for products

You can use rice water via a purchased product like a hair mask, shampoo or conditioner. Or you can make it yourself.

Here's a budget-friendly recipe:


Rinse ½ cup of uncooked rice.
Put rice in a bowl with 2 to 3 cups of water.
Mix the rice and water and let it sit. You may wait as little as 30 minutes or a few hours, or as much as 24 hours, depending on the strength you desire.
Strain rice water into a clean bowl.
Fill a small container with rice water so you can apply it. Refrigerate the rest.
In addition to the products we referred to from Inala, Pattern and Mielle Organics, Dr. Longsworth mentions an unscented shampoo bar by Viore, as well as the Product Junkie Naturals brand. (Check out the Product Junkie Naturals' Rice Water Deep Treatment Hair Mask.)


Here are four more tips from Dr. Longsworth on best practices.
1. In a product that you buy, ideally, rice water should be listed as one of the first five ingredients.

2. If your hair is not damaged, rice water can make it feel rougher, because you're adding another layer (remember that roof analogy). So if you have healthy hair and are using a homemade product, concentrate the rinse on the middle or the ends of your hair after you shampoo, since your ends are the oldest. (Side note: Some sources suggest leaving it in for up to 20 minutes before you rinse hair thoroughly.)

3. Don't overload on protein products, especially if your hair is healthy. If you're using a rice water rinse, maybe pause on any protein shampoos and conditioners or related hair treatments.

4. If you have a dry or itchy scalp, you may want to avoid putting rice water on it, as Dr. Longsworth notes it made her scalp itchy when she tried it. Start the application a few inches below your scalp.

There you have it. If you make your own rinse, it's a cheap way to try to strengthen your strands. Or you can go the product route for an easy option. Turns out this pantry staple goes beyond rice and beans, and all of those other great dishes. Cheers to that.