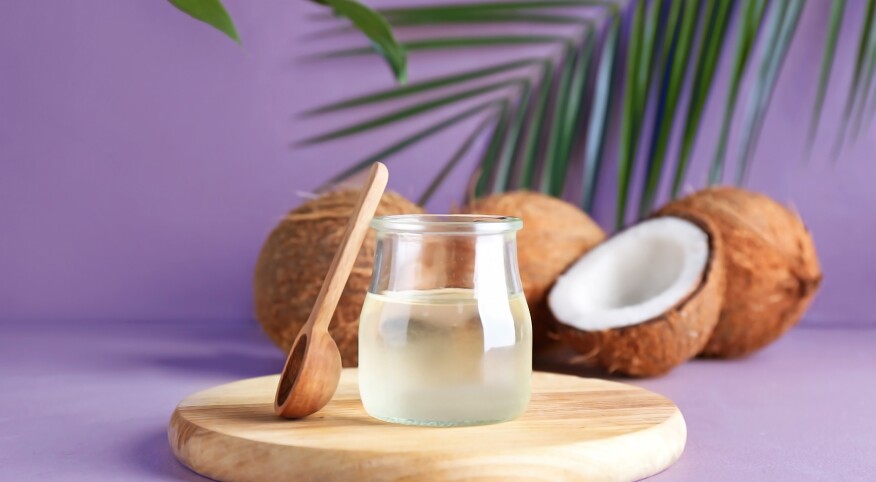 More coconut oil–infused products are popping up on store shelves these days, but are they worth the hype? Although cosmetics containing coconut oil are a good place to start, sometimes it's better to go straight to the source for a chance to reap the full benefits. Coconut oil isn't hydrating on its own, but it prevents water loss for a moisturizing effect, making it a tried-and-true beauty favorite. Plus, the fatty acids in coconut oil work to promote a healthy scalp, which is the foundation for thicker, longer hair. When purchasing a jar of coconut oil, look for raw and organic, since it retains more nutrients — important if you also use it in cooking. (Set some aside in a separate container for use in the vanity.) Read on to find out how coconut oil might become your next beauty staple, from giving you softer skin to taming frizz and flyaways.

Good to know: Some people are sensitive or allergic to coconut oil, as with many natural ingredients. Do a patch test on the back of your ear or your inner arm.

Improve your skin's moisture barrier and soften lips and cuticles

After stepping out the shower, lock in moisture by using coconut oil in place of body lotion while your skin is still damp. Rich in vitamin E and fatty acids, coconut oil is great for repairing cracked heels. While you're at it, dab a little onto dry lips and cuticles.


Seal in your conditioner

On your next wash day, apply a thin layer of coconut oil to your strands after slathering on your favorite deep conditioner to seal in all those hair-loving ingredients. Licensed hairstylist Tamara Johnson, whose celebrity clients include NeNe Leakes and LisaRaye McCoy, suggests sitting under a steamer for 15 to 20 minutes to "help deposit moisture into the hair shaft."

Pro tip: Since coconut oil is heavy, it may not be ideal for low-porosity hair, which struggles to absorb moisture and products. A clean strand of low-porosity hair floats at the top of a glass of water for a while, whereas a quickly sinking strand indicates high-porosity hair. Because coconut oil retains your hair's natural protein, Johnson warns against putting it directly on your hair as too much protein can lead to dry, brittle strands.


Protect your hair from chlorine

Are you enjoying long hours by the pool this summer? First, protect that gorgeous melanin by applying (and reapplying) plenty of sunscreen. Next, if you're rocking natural curls or a protective style like braids, coating your strands in coconut oil may help prevent them from absorbing chlorine. Coconut oil also filters a portion of the sun's harmful UV rays, but outside the pool, you'll get broader-spectrum protection from a wide-brimmed hat with a UPF rating. To preserve your style, avoid coating silk-pressed hair with oil.


Tame frizz

According to Johnson, frizz happens when the "outermost cuticle layer of the hair shaft is raised," but working a tiny amount of coconut oil throughout your hair before stepping outside can repel water absorption. It can also help with flyaways.


Soothe eczema and psoriasis symptoms

A small study concluded that eczema patients experienced fewer symptoms after applying virgin coconut oil twice daily to the affected area for four weeks. More research is needed on the effectiveness of coconut oil with psoriasis. However, because eczema and psoriasis share similar symptoms of dry, itchy and scaly skin, coconut oil can relieve those uncomfortable symptoms, according to board-certified dermatologist Jeanine Downie, M.D.


Try oil pulling for a brighter smile

Because of coconut oil's antibacterial properties, swishing a tablespoon of it around in your mouth (a.k.a. oil pulling) can help improve your oral health, according to cosmetic dentist Catrise Austin, D.D.S., who famously transformed Cardi B's smile. What's more, a small study concluded that 10 minutes of daily oil pulling using coconut oil reduced the amount of Streptococcus mutans, a type of bacteria that's linked to plaque buildup and tooth decay. After oil pulling, spit into a trash bin, since oil may clog your pipes once it solidifies, and brush your teeth as usual.