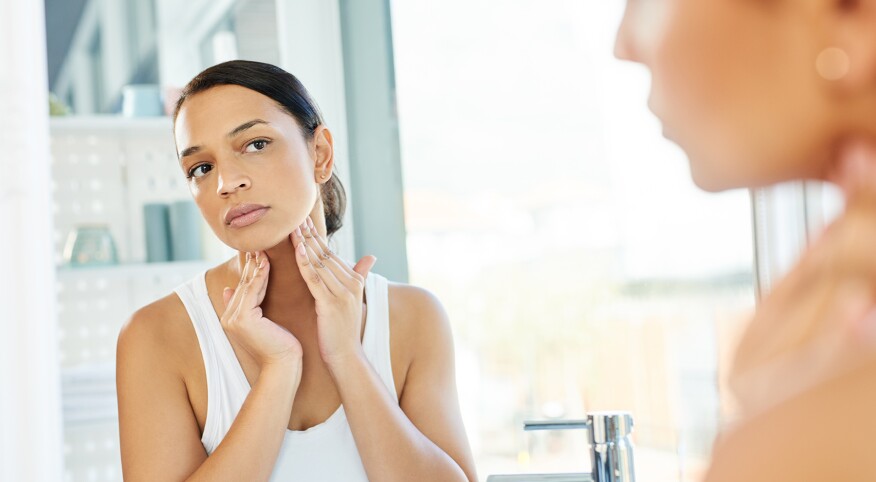 Changes in skin tone, laugh lines and crow's feet are physical hallmarks of having had the privilege of living meaningfully into middle age and beyond. Other subtle changes mark the passage of time, too. For instance, skin elasticity slowly decreases as we get older, so our jawline becomes less defined, making a double chin more noticeable. For many sisters, a double chin is hereditary, and for others, it results from weight gain.

Now, there's not a single thing wrong with a double chin — they're adorable on babies, aren't they? But some women are initially bothered when changes to the shape of their face make the lady in the looking glass seem unfamiliar. All sorts of changes that happen during perimenopause and later can take a minute to adjust to. Know that a double chin is normal and natural with age, but it's absolutely your choice if you'd rather minimize it.

Posing for a holiday, passport or ID photo? Celeb photographers have a little hack for an instantly refined jawline. Remember that schoolyard game where you had to pass an orange from person-to-person using only your head? With your head upright, hold your chin and neck as if you are holding an imaginary piece of fruit, like a peach, between them. This sneaky little adjustment just slightly juts the chin and stretches the skin taught.

Whether you want to look slimmer on video calls or feel more confident taking a selfie, here are four more tips that can help you put your best face forward sans the surgery.


Good Posture

Sitting up straight not only makes your face look slimmer and taller, it strengthens and tones your chin and facial muscles, preventing fat from accumulating under the chin. It's also believed that performing daily chin exercises may have a similar effect.


Makeup

With a little practice, contouring with a cream foundation stick can instantly give you a more chiseled appearance. "I recommend going up to three shades darker than your natural skin tone," says Mindy Green, a licensed cosmetologist and owner of MG Beauty in Silver Spring, Maryland. "Apply the contour along the jawline and under your chin down to the top or middle portion of your neck." After blending, set your contour with a darker powder to keep it place.

Pro tip: Playing up your eyes with smokey eyeshadow, volumizing mascara or winged eyeliner, as well as highlighting your cheekbones, can help divert attention from the chin area. "Opt for a neutral lip if you want to draw attention upward," adds Green.

Three contour products to try: Black Radiance True Complexion Contour Palette, $8.99 (BlackRadianceBeauty.com,), Juvia's Place 3-in-1 Shade Sticks, $16 (JuviasPlace.com) and MAC Cosmetics Studio Fix Sculpt and Shape Contour Palette, $40 (MACCosmetics.com)


Weight Loss

If your double chin is due to weight gain, shedding those extra pounds should do the trick. However, sisters over 40 have to be careful not to lose too much facial volume or lose weight too fast with a fad diet. The reason: By our 30s, we start losing collagen, which is correlated with skin elasticity, firmness and plumpness. Besides maintaining a healthy diet, daily exercise can help you lose weight at a healthy rate and keep it off longer. One study concluded that participants reversed weight gain through walking as little as 30 minutes a day.


Noninvasive Procedures

For a long time, surgery and/or liposuction were the only ways to get rid of a double chin, but Kybella and CoolSculpting (aka cryolipolysis) are now common cosmetic procedures worth asking your doctor about. Here are some differences between the two:

CoolSculpting uses a special freezing device (between 39 and 41 degrees) to destroy fat cells under the chin. Each session lasts between 30 and 60 minutes. A serious, though extremely rare, complication is one you've heard about in the news recently. Paradoxical adipose hyperplasia (PAH) is an adverse effect that causes fatty tissues to grow instead. In September, supermodel Linda Evangelista revealed that she developed PAH after CoolSculpting.

Kybella works to eliminate fat cells through multiple injections under your chin. A trained health care specialist injects deoxycholic acid, a synthetic form of a natural substance in our bodies that breaks down fat cells. Swelling and bruising may occur. Rarer, more serious side effects include nerve injury, trouble swallowing and pooling of blood under the skin (hematoma).

Good to know: Both procedures require multiple treatments over the course of several weeks or months, but results tend to be long-lasting. No recovery time is needed for CoolSculpting. Downtime with Kybella is minimal. Let your surgeon or dermatologist know your medical history, including any previous cosmetic procedures.