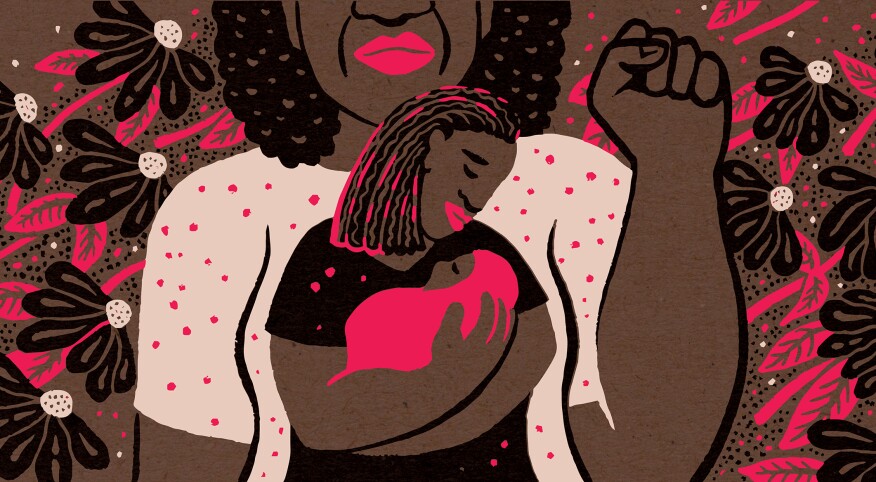 James Baldwin wrote, "people are trapped in history and history is trapped in them," and if this is so, I look at those people, particularly some white Americans who practice their racism in silence, through their vote or physically, as an enemy of not just my Blackness but my Black womanhood and humanity itself.

These difficult days of protests and a pandemic, every time I look at my 13-month-old grandson on the computer screen, a Black boy, an innocent toddler, a beautiful Black flower growing in a lush field of Black flowers in a place, a country, that indiscriminately plucks up Black boy flowers due to racism, prejudice, discrimination, biases, overt and covert microaggressions, open violent acts, premeditated violence, accidental violence, firing, accusing, imprisoning, tracking, tracing, stopping, fearing, shaming, maiming and wounding them. Yes, I am afraid for my grandson.

I cannot imagine what my daughter feels. But our eyes speak in the coded language of every Black mother and grandmother since the enslavement of African peoples in this country — how can we protect him at all costs; protect him to the best of our ability even as white eyes follow him? How can we keep him safe? How can Black grandmothers keep their Black grandsons safe from history, from romanticized antebellum lore or a founding myth that failed to include them? From a moment in time constructed solely for the purposes of disempowering and dehumanizing them? Safe from principles and values that pervade a psyche. Safe from a white middle school teacher, college professor or employer who enacts a social more he or she has been taught consciously or unconsciously to do or say when it comes to my grandson, to my daughter, to Black children, women and men. How can we undo a racist imagination?

I am writing toward a cohesive answer for this even as I acknowledge I don't have it yet. Except to say that I will do the same for my grandson that I did for my daughter — a Black girlchild in a place that saw her through the eyes of Middle Passage history as a mammy, a Hottentot, property, a breeder — I made sure that everyone from her teachers to her parents' friends knew I was watching them. That I was that kind of Black Indian mother that would confront them and shut down any kind of racial intentions toward or against her. And now, I write to weave these kinds of public prayers around my grandson because as a writer and lecturer, this is my magical work: this is my march, my slave song, my academic interrogation. My life's query: how to keep Black boys and girls safe. Black mothers have practiced this kind of prayerful magic since African colonization with every breath and in our sleep. We will continue until racism no longer harms us. We will resist. We will do our art. We will parent and protect and practice love like religion. We will force history to reimagine us as we reimagine ourselves into an unfettered existence in America.

We will survive this again.